Buncrana Tidy Towns Initiative have officially launched their 2018 Tidy Towns competition season.
Speaking after the event which took place at the Lake of Shadows on Saturday the 26 May BTTI Spokesperson Sinéad Ní Bhroin said volunteers have been hard at work over the last number of weeks preparing the town for the Tidy Towns Competition judges arrival next month.
She said "BTTI submitted our competition submission this week – a 30-page full colour brochure detailing the array of projects we have undertaken over the last 12 months, a detailed route for judges with pull out map and our 3 Year Plan.
"We have painted numerous public building exteriors, maintained various public spaces, held our Young Environmentalist of the Year and Best Kept Residential Garden and Business competitions, undertaken a number of biodiversity projects and installed over 100 additional flowers boxes throughout the town.
"Our Plan also includes a number of projects of special note with a particular focus on our Pollinator Plan work in conjunction with town Gardener George McDermott and Donegal County Council. We are so grateful to George who always goes above and beyond the call of duty for us."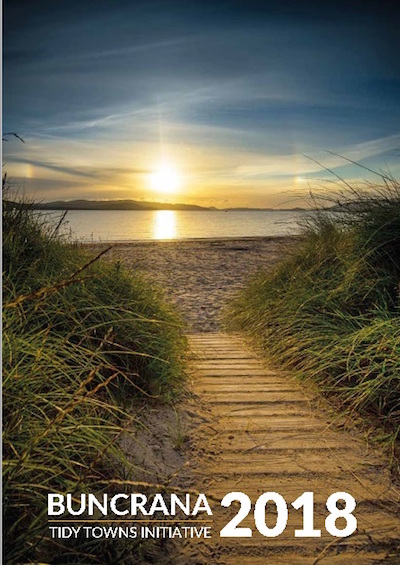 Buncrana Tidy Towns are three-time gold medal winners for 2016, 2017 and 2018.
The group said they could not have increased our points year on year without the support of our community, local businesses and the workers and management of Donegal County Council.
"We are really grateful to local photographer Adam Rory Porter for use of his beautiful photographs of Buncrana for our competition submission, to Miss Ireland Lauren McDonagh a proud Buncrana woman for endorsing our work in the plan, to our Mayor Cllr Jack Murray, to Wild Inishowen and to our principal Sponsors SuperValu Buncrana.
"2018 marks our 20th year entering the Tidy Towns competition. We have high hopes that this is going to be our best year yet."
Tags: