Finn Valley College held its annual Awards Ceremony last Thursday, 24th May with special guests and special moments for all the students and staff. This ceremony is one of the highlights of our school year where staff take the opportunity to acknowledge the efforts and achievements of the students in the same academic year.
Guest of Honour on the night was Dr Martin Gormley, Co. Donegal ETB Director of Schools. Martin gave a very inspirational speech where he advised students to stay grounded and study hard as no matter what path you choose in life education is the gateway to all career opportunities.
Guests were treated to some beautiful music by our school choir led by Mr Godliman and Miss Mc Cafferty, while Ms Ashlean McGeehan was MC on the night.
A wonderful night was had by all, with teachers saying they are extremely proud of the many talents and successes of their students.
Congratulations to all the students who were nominated and received awards. As there were so many awards presented and too many to mention the overall and individual awards were presented to:
Junior Male Student of the Year Student of – Jason Patton
Junior Female Student of the Year – Aisling Davis
Male Senior Student of the Year – Matthew Floyd
Female Senior Student of the Year – Chloe Irwin
Past Pupil Award – Meghan Walden
Caretaker's Award – Lucia Tothova
Excellence in Drama – Logic Cech and Gloria D'Olympio
Art – Texaco Children's Competition – Lauren O'Donnell
Girls Active – Lily Corry and Meghan Walden
Minor Female Sportsperson – Codie Walsh
Minor Male Sportsperson – James Doherty
Junior Female Sportsperson – Caitlin Mc Nulty
Junior Male Sportsperson- Caolan Mc Clintock
Senior Female Sportsperson – Meghan Walden
Senior Male Sportsperson- Darragh Gallagher
PLC Female Sportsperson – Truda Mc Daid
PLC Male Sportsperson – Conor Scanlon
Students also received awards for a wide variety of other co-curricular and extra-curricular activities such as Health Promoting Schools, Enterprise, School Bank, Gaisce, Training in Tourism, Gaelic, Girls Active, School Ambassadors, Student Council etc. Congratulations again to all those who were nominated for awards and to all the award winners.
See photos from the event in our gallery below: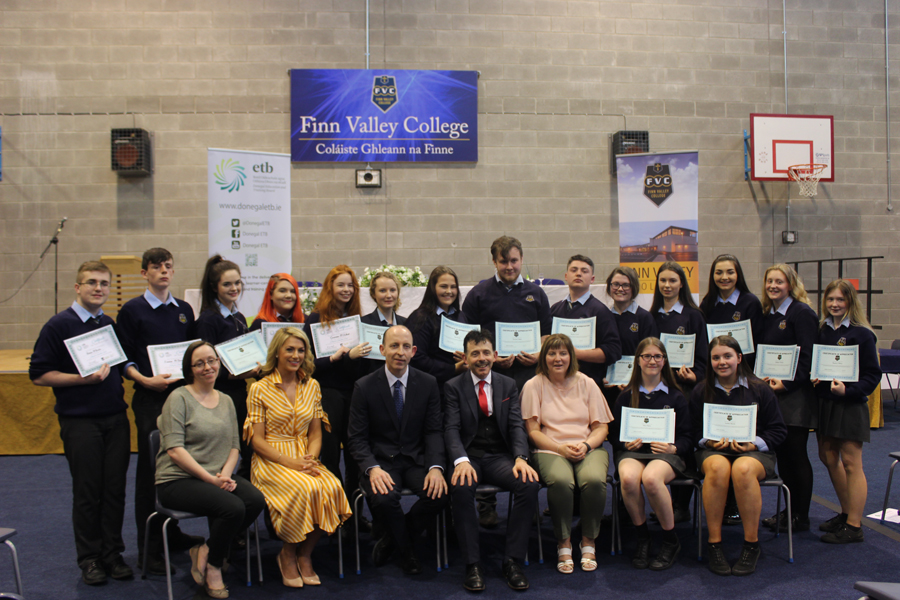 Tags: