Frank McGlynn has for years been viewed as Donegal's most consistent footballer.
A real fans favourite, McGlynn is a mainstay of the Donegal panel and has been part of the team since his debut in 2006. At 31, he has played under several managers in his years with the squad going through many different tactical styles as well.
The powerful wing-back has caused defences terror over the years. His attacks from deep have opened up many solid backlines, with the Glenfin man rattling the back of the net for Donegal on occasion as well as knocking over multiple important scores.
McGlynn along with Neil McGee are now the most experienced members of the Donegal squad in terms of longevity. Despite achieving everything he possibly could for Donegal, McGlynn continues to perform at the highest level with his knowledge for the game seen as a vitally important guide for the younger players in the squad.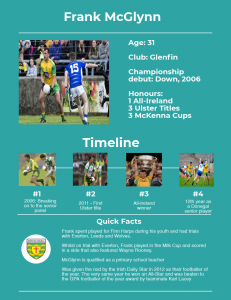 In the two games to date this year, McGlynn is yet to get his name on the scoreboard but this hasn't halted the impact he has had.
McGlynn is still one of Donegal's most important ball carriers and so far has been crucial to getting the side up the field.
Donegal have racked up huge score lines this year but the defence has caused a few calls for concern with both Cavan and Derry racking up 1-15 and 0-16 respectively.
In the past Donegal teams have been very tight at the back. Rory Gallagher followed through with the blueprint that Jim McGuinness had started but now Declan Bonner is setting the team up in a manner that is totally different to his predecessors.
Speaking at the press conference for the Down game on Tuesday, Bonner said that it was alarming the amount of scores his side were conceding but said that they will be able to change their style of play if they have to.
He also added that no side should be scrutinised for the manner in which they play. "It's part and parcel of the game, it will happen all over the summer and all commentators will talk about it. There's no rule-book to say you can't play like that, if a team wants to play 14 men behind the '21 they can do that. It's there and you have to adapt to it, that's what it's all about."
McGlynn remains a key member of this squad and he will be expected to be given one of the tougher marking jobs in the upcoming fixture with Down.
In both the Cavan and Derry games McGlynn was called ashore with a few minutes to go receiving a standing ovation. Expect much of the same this Sunday if the Glenfin man gets substituted and Donegal are on their way to an Ulster Final.
Tags: