Donegal enter Sunday's vital clash with Down having won five out of the last six battles between the two sides.
Some have been highly important tight clashes, with others ending in high scorelines. We looked through the last five encounters between the sides and gave a brief recap of each encounter.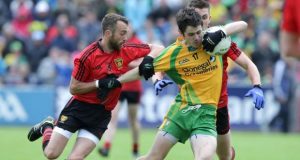 Ulster SFC Semi-final, Donegal 0-12 0-9 Down: June 23rd 2013
A year on from comfortably defeating Down in Clones this contest was much tighter. Donegal were far from their best nut still managed to force their way into an Ulster-final. Both Michael Murphy and Colm McFadden were in emphatic form up-front hitting 10 of the teams 12 scores. Down put real pressure on Donegal and with just a few minutes remaining they were still very much in the game. As was seen many times from Donegal during this era they held on strongly and grinded out yet another vital victory.
Donegal: P Durcan, P McGrath, N McGee, E McGee, Declan Walsh, F McGlynn, A Thompson, R Bradley, R Kavanagh (0-1), David Walsh, L McLoone, M McHugh, P McBrearty (0-1), M Murphy (0-5, 4f), C McFadden (0-5, 2f). Subs: M O'Reilly for David Walsh, M MCElhinney for Bradley, R McHugh for McGlynn, R Wherity for McLoone, D Molloy for McBrearty.
Down: B McVeigh, D McCartan, B McArdle, K Quinn, D Rooney, P Turley, R Boyle, K King, K McKernan, A Rogers, M Poland (0-1), N Madine, C Laverty, B Coulter, D O'Hare (0-6, 5f). Subs: R Mallon for Quinn, J Johnston (0-1) for Coulter, D Savage (0-1, f) for Madine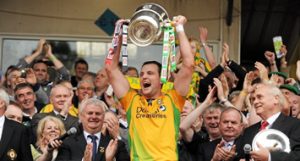 Ulster SFC Final, Donegal 2-18 0-13 Down: July 22nd 2012  
A second Ulster title for Jim McGuinness and his side and one that ended up with an All-Ireland victory. Goals from Leo McLoone and Frank McGlynn helped steer Donegal along the way and proved to be important. Every one of the forward line scored for the Tir Chonaill men in what turned out to be one of the most one sided Ulster-finals in history. Down tried their best to make the game into a battle. Both Benny Coulter and Daniel Hughes were big doubts entering the game and although Coulter started he was withdrawn early on before being put back on in a final bid to win the game. In reality the game was over with twenty minutes to go and Donegal strolled on to win back-to-back Ulster titles.
Donegal: P Durcan, P McGrath, N McGee, F McGlynn [1-0], Declan Walsh [0-2], K Lacey, A Thompson, R Bradley [0-1], R Kavanagh, David Walsh [0-1], L McLoone [1-0], M McHugh [0-2], P McBrearty [0-1], M Murphy [0-1], C McFadden [0-6]. Subs: M McElhinney [0-2] for David Walsh, C Toye for McLoone, D McLaughlin [0-1] for Bradley
Down: B McVeigh, D McCartan, D Gordon, D O'Hagan, A Brannigan [0-1], B McArdle, A Carr, A Rogers [0-1], K King, D O'Hare [0-2], K McKernan [0-1], L Doyle [0-4], M Poland, B Coulter, C Laverty [0-1]. Subs: E McCartan [0-1] for Coulter, C Maginn [0-1] for Carr, D Hughes [0-1] for O'Hare, Coulter for McKernan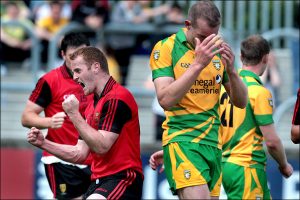 Ulster SFC Quarter-final, Donegal 2-10 Down 1-15: May 30th 2010
On a disappointing outing for Donegal they struggled to keep to grips with the travelling Down side. The sides went in level after seventy minutes of football and the game headed to extra-time. A man-of-the-match performance from Benny Coulter was pivotal to the victory and he as the man who scored the winner. Coulter finished from close range with just minutes to go after Down turned Donegal over in a dangerous position. Dermot 'Brick' Molloy hit 1-3 for Donegal but the 1-4 that Benny Coulter managed for the opposition was key.
Donegal: P Durcan, F McGlynn, N McGee, K Lacey, M Maguire, K Cassidy, B Dunnion, B Monaghan, N Gallagher, R Kavanagh (0-1), C Toye, D Walsh (0-1), D Molloy (1-3), M Murphy (0-1), C Dunne (1-0). Subs: A Hanlon (0-1) for Toye 43, A Thompson for Monaghan 52, M McHugh (0-1) for Gallagher 62, C McFadden (0-1) for Molloy 66, Gallagher for Thompson 71, P McGrath for McGlynn 79, E Waide (0-1) for Maguire 81.
Down: B McVeigh, B McArdle, D Rooney, D Rafferty, K McKernan, J Colgan, C Garvey, D Gordon, K King, D Hughes (0-4), M Poland (0-3), P McComiskey, B Coulter (1-4), J Clarke (0-1), M Clarke (0-3). Subs:C Maginn for J Clarke 47, P Fitzpatrick for McComiskey 54, D O'Hagan for McKernan 62, C Laverty for Poland 78, R Murtagh for Garvey 85.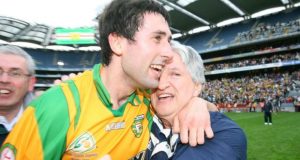 Ulster SFC Quarter-final, Donegal 1-12 Down 1-11: June 4th 2006.
A year before Donegal achieved success in the national league the talented squad met Down in an Ulster quarter final. In what was a nail-biting contest, Donegal aided by the performance of Rory Kavanagh just ousted their opponents. Donegal went in 1-6 to 0-6 down at the break but led on by Barry Dunnion from wing-back they managed to get back into the game. They were forced to cling on towards the end of the game as Down through everything at them, but the full-back line held strong and Donegal prevailed. The fixture gave a debut in the last four minutes to Frank McGlynn who has since become a colossus for the county.
Donegal: P Durcan; N McGee, P Campbell, K Lacey; E McGee (0-1), M Hegarty (0-3), B Dunnion (0-1); N Gallagher, B Monaghan; C Toye (0-1), C Bonner, R Kavanagh (1-2); C Kelly, C Dunne (0-1), M Doherty (0-2, frees). Subs: B Boyle for C Kelly (43 mins), A Sweeney (0-1 free) for M Doherty (53 mins), D Diver for N McGee (67 mins), F McGlynn for E McGee (71 mins).
Down: B McVeigh; M Cole, B Grant, A Molloy; P Murphy (0-1), J Clarke, A Scullion; A Rogers, D Gordon (0-1); E McCartan, L Doyle (0-3, two frees), R Murtagh (0-1); D Hughes (1-3), B Coulter (0-1), M Walsh (0-1). Subs: M Doran for P Murphy (43 mins), C Laverty for E McCartan (45 mins), D Rafferty for J Clarke (57 mins), R Sexton for R Murtagh (63 mins), L Doyle for J Colgan (70 mins).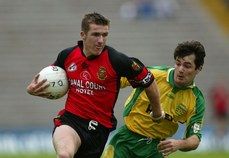 All-Ireland Qualifiers round 4, Down 2-10 v Donegal 3-15: July 27th 2003.
The pairing of Adrian Sweeney and Brendan Devenney proved crucial as Donegal eased past Down. The game was won before the 50th minute mark with Donegal having a ten point lead after Stephen McDermott found the net with a fantastic effort. This lead proved a bridge too far for Down to gap and despite a decent showing from Benny Coulter they could never get close enough to Donegal to cause worry. Donegal got their names in the hat for the All-Ireland quarter-final, whilst Down bowed out after a disappointing season despite getting to an Ulster final.
Down: M McVeigh; M Cole, B Burns, J Clarke; B Grant (0-3), Sean Ward, J Lavery; L Doyle (0-1, 1f), A Molloy; R Sexton (0-1), M Walsh (0-1) , B Coulter (1-1); R Murtagh (0-1), A O'Prey, Shane Ward (1-0) Subs: D Hughes, 24min, 0-1 for R Murtagh, A Scullion 35min for Sean Ward, S Mulholland 46min for A O'Prey, M Higgins for J Clarke, J McCartan 56 for M Walsh
Donegal: T Blake; N McCready, R Sweeney, M Crossan; S Carr, B Monaghan, K Cassidy; J Gildea (0-1), S McDermott (1-1); C Toye (1-1), M Hegarty (1-1), B Roper (0-1); J McGuinness, A Sweeney (0-6, 1f), B Devenney (0-4, 2f) Subs: J Haran 44min for McGuinness, P McGonigle 54min for Roper, J McCafferty, 65min for Devenney.
Tags: