The gardens around the county are in glorious colours at the moment, the colours of Spring have given way for the early Summer flowers.
Gardens are looking lush and plentiful and you should be reaping huge rewards for all the Autumn and Winter work you put in. In our own garden the sweet william are providing lots of cut flowers for the house, the strawberries are starting to crop, Summer flowering alliums are all go and even the shrubs are getting in on the action with the lilac, viburnums and elders coming into flower.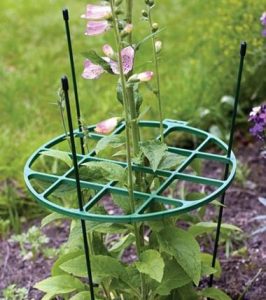 In the garden it's important that today's lushness doesn't become tomorrows collapse. So as plants are growing offer them some support, plants like Peony Roses will need some help in keeping upright – as when these come into full flower the weight of the flowers will mean the stems will drag on the ground.
The same applies to many of our favourite garden perennials, the sheer weight of the flowers can break the stems if they can overshadow neighbouring plants. Early intervention is the key, offer support before they truly need it.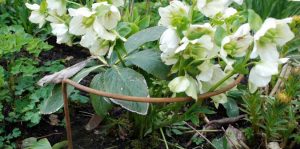 If you go around with string tying things up to sticks it can look like a fat fellow bursting out of a tight shirt! So get in early and offer some support that the plants can grow around and hide, things like Dome Supports and Ring Supports are great for this.
Sunflowers are another plant which will benefit from a nice straight bit of support – they may be small now, but when they're nearly 6' tall with a large flower head they can be flattened by a bit of wind in late summer.  A good thick Bamboo cane or Hazel rod is the answer here, or indeed grow Sunflowers along the fence and use the fence as a support aid.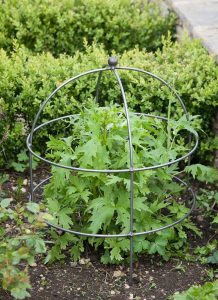 Even on smaller plants, like Lenten Roses, its useful to use small plant support to lift the flowers up and off the ground, or indeed to stop plants from dominating paths and over hanging lawns.
Indeed these simple plants supports are easily made from 6mm steel rods bent around a tree to make a circular shape.
But the key for plant support is early intervention.
Tags: