The annual St Columba Service of Thanksgiving, in Gartan, drew its largest attendance for a number of years on Sunday afternoon – the day after the saint's Feast Day which falls on June the 9th. 
The Service was the first organised by the Rev David Houlton, who was instituted as Rector of the United Parishes of Conwal with Gartan in January this year. He was assisted by his wife, Rev Heather Houlton, the Dean of Raphoe, the Very Rev Arthur Barrett, Rev Canon Brian Smeaton and Rev Katie McAteer. The Bishop of Derry and Raphoe, Rt Rev Ken Good, presided.
The Service is held on the site of Saint Columba's Abbey, overlooking Gartan lakes, near the spot where the saint was reputedly born almost fifteen hundred years ago.
In his sermon, Rev Houlton said he was raised in a church dedicated to St Columba's, in Drypool in East Yorkshire. "Standing here, where Saint Columba lived, if you look at the hills, and you can see the lakes of Donegal, it's not hard to be struck, is it, in awe at the beauty of planet earth – the planet God's given us to live in and care for?"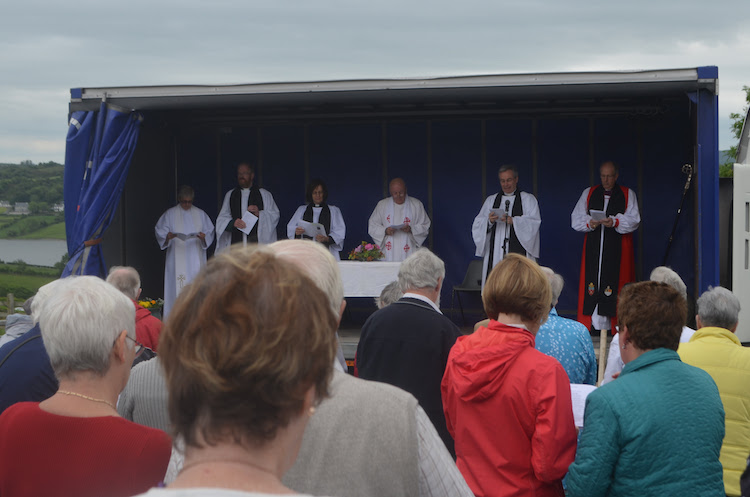 On a good day, the Rector said, it was like a foretaste of heaven, but this world wasn't heaven. "We, too, if we're honest, are far from perfect," he said. "Sometimes we can seem like angels and other times we can be rather more like the other lot. Famously, that is what Saint Columba found out in his own life. Although he was from a good family – well educated, a spiritual Christian and a good leader (he founded abbeys, including in Derry) – Columba, it is said, instigated a battle over the ownership of a book that led to hundreds of people being killed."
Columba mourned this, Rev Houlton said. "It seems to be the reason – that battle – why he [Columba] stepped outside his native Ireland and took the gospel to the pagan Picts in Scotland and from there, of course, his monks took the gospel of Jesus Christ south and east to the pagan tribes of England and the continent."
"Thousands, no, millions of people who were living in darkness outside the Kingdom of God were brought to spiritual life – coming to know God in their hearts and lives – through the Gospel of Jesus Christ and the presence of the Holy Spirit because of his ministry and the monks and missionaries he inspired to take the gospel to other parts of Europe."
Rev Houlton said in our time there was again a dire need for us to be willing to do what Columba and his monks did. "So, may we – all of us here today – like Columba, learn ourselves to grow closer to God, to live more courageously and to become more effective at proclaiming the Good News of Jesus Christ. And may we see a new generation of people becoming his disciples – baptised in water and the spirit, learning to obey everything Christ has taught us and having eternal life with us."
Bishop Good welcomed the "newish" Rector and his wife, Rev Heather Houlton, to Conwal and Gartan, and thanked them – their parishioners and the wider community – for organising the annual Service.
Music was provided by the Britannia Concert Band from Londonderry, which won a Queen's Award for Voluntary Service recently. "I'm thinking of taking back the award," the Bishop joked, "because as I walked past I said to Jim [the band's leader, Jim Goodman] I was enjoying the Cavalleria Rusticana intermezzo, which they played as we arrived, and he said, 'Yes, we thought it would be better than Send in the Clowns.'"
Bishop Good revealed he had visited Gartan on retreat shortly before his consecration as Bishop of Derry and Raphoe 16 years ago. "I did so again yesterday, and I was here, walking around this lake and praying – thanking God that he brought me to this place and this diocese and to these people. I am thankful to God for this place, for the sense of awe here – the sense of his presence – and for the many blessings we've had over those 16 years."