The community of Killybegs has come up with a fun themed way to raise money for their children's play park.
The local committee has organised a movie screening of 'Toy Story', with a difference this Sunday, 24th June.
The pedal powered cinema will see the sound and projection equipment being completely powered by bicycle generators. Teams of volunteers will pedal their hearts out and power a great movie for an important community asset.
Extra cyclists are required to sign up for the event. To help out, message the Killybegs Play Park page here.
"Killybegs Playpark is a huge part of our town and surrounding areas which we have waited many years for," said fundraiser Jackie Byrne.
"The Playpark is funded entirely by the local community through fundraising and donations.
"At present, there is a lot of work needed to be done in the Playpark at a huge cost including the cost of repairs work and installation of new equipment."
This week's fundraiser will aim to source the money needed for repair works. The pedal powered cinema will run in St Catherine's Vocational School Gym on Sunday the 24th of June at 4pm.
Entry: €5 per person.
An online GoFundMe page has been set up to help reach the €5,000 target at: https://www.gofundme.com/hcpuj6-killybegs-playpark-fundraiser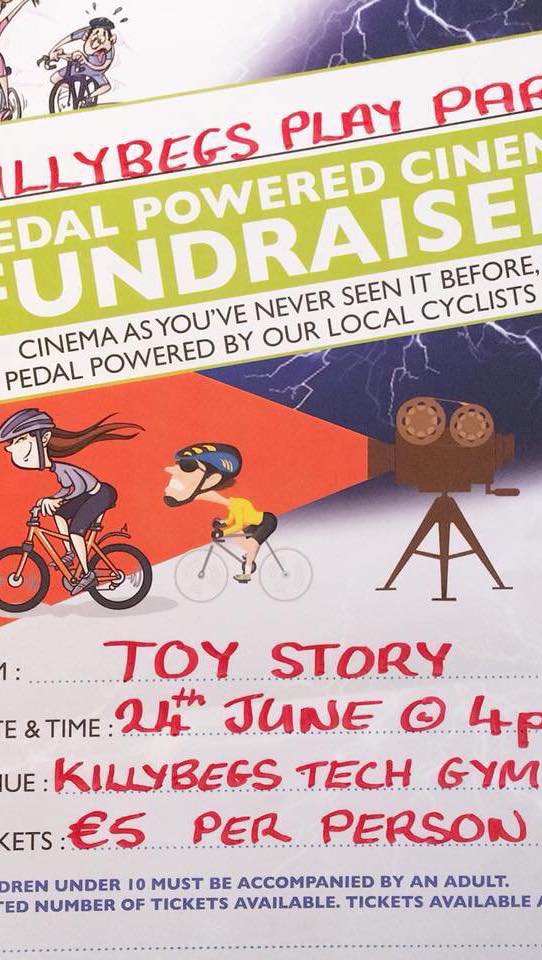 Tags: