In November 2012, Declan Bonner addressed a group of young Donegal footballers and gave them a glimpse of a crystal ball.
It was upstairs in the clubhouse at Sean MacCumhaill Park at a time when Donegal was still giddy from the arrival of Sam Maguire just two months previously.
Bonner spoke to the budding youngsters whom he had guided to success in the Buncrana Cup that August, in his first year as the county U16 manager.
The Lettermacaward man urged them to give themselves the best chance to make it onto future Donegal teams, at minor, U21 and even senior level.
"It's all about how you go about your time and there'll be a lot of work needed in the gym and on the training ground," he said at the time.
Now the senior manager again – for the second time – Bonner is aiming to complete a remarkable haul of provincial tiles having led Donegal to glory at U16, U17, Minor and U21 grades since 2012.
Stephen McBrearty, Conor Morrison, Tony McClenaghan, Cian Mulligan, Eoin Ban Gallagher, Jamie Brennan and Kieran Gillespie have risen with Bonner through the ranks.
Mulligan, Brennan and Gallagher featured in Donegal's U16, U17, Minor and U21 provincial final wins. But for an injury that ruled him out of last year's U21 final, Gillespie would have lined out in the full set too.
"It's no harm in coming up in a winning environment," Bonner remarked this week as he prepares to joust with Fermanagh in Sunday's Ulster SFC final in Clones.
"Ulster medals aren't handed out cheaply. How they have reacted has been very, very good. That's been important for us. We took on this project eight months ago and we wanted to get to the Ulster final. We've made a lot of progress.
"You don't know until you get in there and work, but a lot of young lads have come in and we've blended them as a unit. The guys have worked extremely hard and the older lads are leading by example."
In that Buncrana Cup final, Stephen McBrearty and Gavin McBride netted the goals in a 2-9 to 2-8 win. Georgie Kelly, now free-scoring with UCD in the League of Ireland First Division, was part of that panel; so, too, was Daragh Black, who would try his hand at Finn Harps, foregoing a place in Bonner's Donegal minor squad in the process.
The following year, Donegal saw off Tyrone 2-10 to 1-6 in the Jim McGuigan (U17) final, with Ryan Gillespie and Ciaran Diver finding the net.
Among the substitutes for Donegal that afternoon was Buncrana midfielder Caolan McGonagle, another who has since graduated to senior level.
Bonner spoke often and openly about creating a winning culture in Donegal's teams at the time. He spoke of bridging the age gaps between the key groups – something that meant entering the Jim McGuigan Cup at the outset of 2013.
Last summer, however, Bonner was critical at how he felt the process had stopped.
"We've done reasonably well at underage level in recent times, which is actually surprising considering the lack of continuity and togetherness that we have," he wrote in a column for the Donegal News. 
"I hear people talking about a conveyor belt for players to come up through the ranks, but it's not there."
And yet Bonner's own troupe have defied history.
In 2014, Donegal reached their first ever All-Ireland minor final. They lost to Kerry, but the mould, at long last, had been broken.
Gillespie, McClenaghan, Mulligan, McGonagle, Gallagher, Brennan, McBrearty and Morrison, along with Stephen McMenamin and Micheál Carroll were central players in the cast.
As he has done with the senior class of 2018, Bonner challenged that group from the get go.
"We set our targets high from day one," he said four years ago.
"It wasn't a case of me coming in and just shouting from the roof about winning an Ulster title. We had to set the bar high. I know what they're capable of.
"We have tried to create a winning mentality and you can see that has rubbed off on them. They have such a strong desire to keep winning."
Deep in the bowels of Croke Park, Bonner went around each of the 33 players on the Donegal minor squad and told them to make it their mission to return to the big stage.
"They will want to get back to Croke Park and they will want to win honours for Donegal in the future," he said on a solemn September Sunday.
Bonner could tell, even then, that he was onto something. It is three years now since Bonner complained of the high drop-off rate between Donegal's minor and U16s over the years. The U17 grade had bridged the gap, but he urged officials at the time to take action on a smiler vein between minor and U21 levels.
More than anything, though, Bonner wanted winners and leaders.
The core of his group were making waves in 2015 and senior calls were evident.
"It didn't take much work for us to have our men become leaders," he recalled. "Some of those men are natural-born leaders – and they are definitely leaders."
Many of Bonner's backroom boys have remained the same, too.
Although the likes of Robert Farren, Gary Walsh, Paul Coyle and Sean Nonnan have been and gone, Gary Boyle and Oisin Cannon have been in from those early days of 2012 and are still there; nutritionist Ronan Doherty has been utilised for the same length of time; and Mick McGrath, who is now the county chairman, served with Bonner in his role as the Children's Officer.
Bonner was asked at a press conference this week about the relative inexperience within his backroom team.
In the County Council Chamber in Lifford, Bonner said: "It's been no problem. You're learning all the time. These guys work extremely hard."
That hard work has been a central theme to Bonner's success with Donegal.
By 4 o'clock on Sunday, he could well complete the set of Ulster crowns as a Donegal manager – 20 years after being pipped at the post by Joe Brolly and Derry in 1998.
"The provincial title is what we want," Bonner insisted.
"Any day you're in a final, it's still as good. Some of these boys have lost two of the last three finals. We had plenty of lean years. We were in four or five finals in the late 80s and early 90s, but it dried up then until Jim McGuinness came in in 2011.
"Clones on Ulster final day is where any young lad want to be.
"We are going hammer and tong. Any team who gets to an Ulster final will go at it that way."
For those players who have risen to Ulster football's biggest day, it's the only way they've known.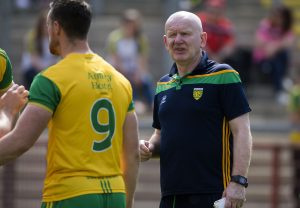 Tags: