Fáilte Ireland want YOU to join the KNOW DONEGAL Local Experts Programme and help grow the visitor economy.
Fáilte Ireland has developed a KNOW Donegal Local Experts Programme to support those involved in the tourism sector and the local community, who welcome and engage with visitors to Donegal.  
So if you want to be a champion of the Coolest Place on the Planet, get involved next week.
This programme will commence with a 3-hour interactive workshop on what to see and do in Donegal at the Radisson Blu Hotel, Letterkenny on the following dates:
Tuesday, 26th June @ 5.30pm
Wednesday 27th June @ 09.30am AND
Wednesday 27th June @ 2pm
At the core of this programme will be a network of local people coming together to share their local knowledge to help visitors make the most of their visit to Donegal. The programme will also feature a number of annual events, social media initiatives, a Visitor Attractions pass and opportunities to network with other tourism businesses and interests.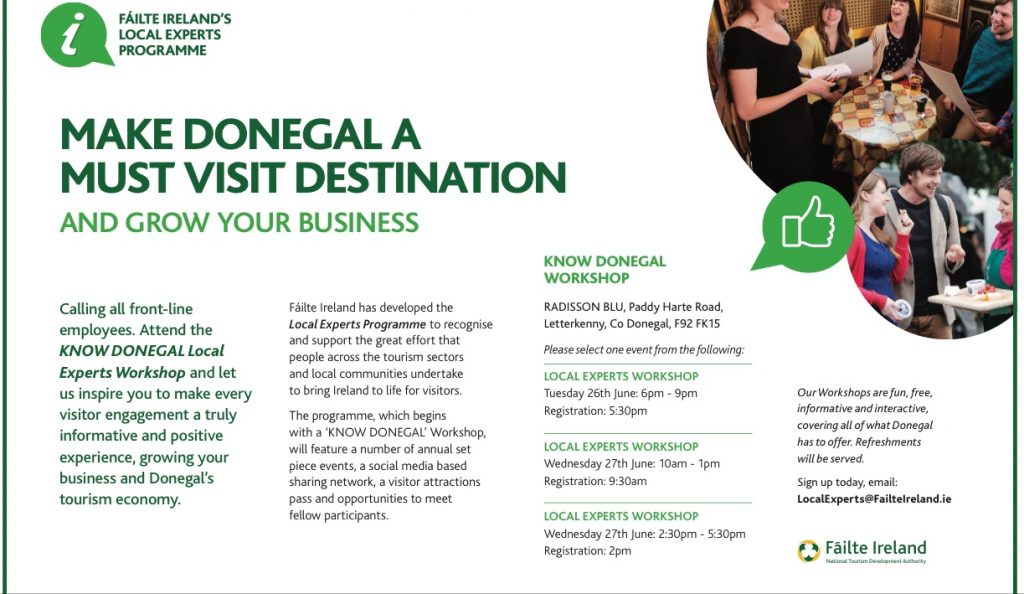 Explaining the programme, Amanda Boyle, Visitor Engagement, with Fáilte Ireland said:
"Increasingly visitors tell us that they rely on and really trust the advice and information received from local people they meet while on holiday. This programme aims to help inspire front-line employees and volunteers to turn every visitor encounter into a truly informative and positive experience. Having completed the programme participants will have complete confidence in making informed 'what to do' recommendations to visitors. "
The National Tourism Development Authority are calling on all visitor-facing employees, local volunteers and people in the DONEGAL community that regularly interact with visitors. So, if you own a B&B, work in a Hotel, restaurant, retail store, taxi company, or if you are active in your local community, this programme is for you.
This is a Free event and places are on a first come first serve basis. To register for the Workshop please email localexperts@failteireland.ie.
Featured image: Fanad Lighthouse via Tourism Ireland 
Tags: