Insurance worker (and Fermanagh star!) Barry Mulrone is normally a very popular chap in the offices of Britton Insurance in Donegal Town.
But he was even more popular today.
That's because his co-workers made sure he got a lovely send-off before the Ulster Final this Sunday.
More than 50 staff at the well-known company donned their Donegal jerseys and even plastered Barry's desk in the green and gold of Tirconail to make him feel at home.
Surprisingly, Barry's Donegal colleagues forgot to mention it to their other Northern co-workers that today was also an official jersey day.
The GAA star appears to have taken it all in good spirits ahead of Sunday's big game.
Needless to say that Barry could well be missing from work on Monday morning.
And, if he is, hopefully, it will be as a result of drowning his sorrows and not because he's celebrating……!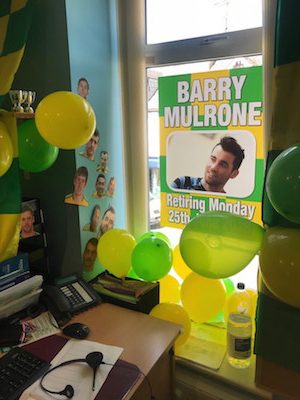 Tags: