It goes back to a bitter January night in 2011 at Páirc Eiméid in Castlefin when a familiar figure emerged from the darkness.
Eyes narrowed and others widened.
'What's he doing here?' was the collective wonder.
"What the hell is he up to," Michael Hegarty remembers thinking when Rory Gallagher walked past him and winked.
Picture: Fermanagh manager Rory Gallagher with Tomás Corrigan at an Ulster GAA press event. 
There was no mass introduction but it soon became apparent that Gallagher was Donegal's new number 2.
Gallagher initially spent three seasons as Jim McGuinness' right-hand man. When McGuinness resigned in the winter of 2014, Gallagher was the favoured choice and spent three years of his own at the helm in Donegal.
It ended forgettably last summer, but now fate has decreed that with Donegal back in an Ulster final it should be Gallagher at the controls of the opponents, Fermanagh.
"He was able to pinpoint things in the opposition, but these were things that you just wouldn't think about," Hegarty said in an interview about Gallagher in 2013.
"Around half an hour into that first session, we knew we'd struck gold in getting Rory Gallagher on board." "When Jim was putting the jigsaw together, Rory was the missing piece."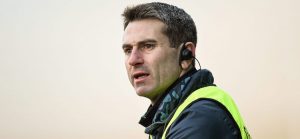 Hegarty spoke of his 'influence and intelligence' while Mark McHugh once remarked that Gallagher's was 'the shrewdest football brain' he'd met.
The exact level of influence that Gallagher had on Donegal was perhaps over-stated at times, but after his departure last year, it became very under-stated.
Now, though, the Belleek native and Killybegs shopkeeper has showed his worth again by taking Fermanagh from the wilderness.
When the Ulster SFC draw was made late in 2017, there were relieving sighs in parts that Bonner and Gallagher would avoid each other this summer. After all, few expected Fermanagh to be one of the last two standing.
"That's the challenge for teams at the minute, that they probably have not considered Fermanagh," Gallagher said last week.
"Probably the advantage Fermanagh has as an emerging team is teams haven't looked at them enough, they wouldn't have looked at Fermanagh as a threat.
"I know when I was involved with Donegal, we wouldn't have known them because you're focusing predominantly on Monaghan and Tyrone because to win Ulster, they are the teams you've got to beat."
A curious story recently illustrates that point. After Fermanagh's last-gasp semi-final win over Monaghan, RTÉ quickly realised they needed headshots of the Erne County players for their live coverage of the final.
Fermanagh's players, it seems, didn't want the distraction and access was denied.
Gallagher has possibly been surprised by Donegal's own rise this year. After his appointment as Fermanagh's manager in 2017, he told RTÉ the scale of task that he felt was facing Declan Bonner.
"An absolute gigantic amount of effort went in to the 2017 season. I feel it's going to take that and even more and more now," Gallagher said.
"I believe because of the success, it is right to have high expectations but I felt at the end of 2016 Donegal were in a position where they would do well to stay in the 8-10 teams in the country.
"I feel they are in a rebuilding phase, they have some very good players but there is an awful lot of young players and there is huge management in that."
As a player, Gallagher always had annoyance at Fermanagh's lack of self-belief. He was absent for some of the county's biggest days, like the run to the All-Ireland semi-finals under Charlie Mulgrew in 2004.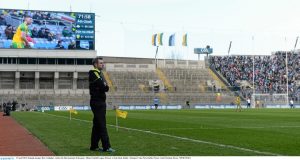 A couple of years before that, Gallagher joined the St Brigid's club in Dublin and worked as a coach.
Barry Cahill recalled of Gallagher at the Castleknock club: "As soon as he came into our club in 2002, he nearly became player-manager at one stage – he was that vocal.
"In training, in the drills that we did, in the tactics, video sessions, you could see straight away that he had the mindset of a coach from his mid-20s onwards. It was no surprise that he took to management like he did."
Gallagher the manager could see something to build in his native county. He twiddled his thumbs for a few weeks after resigning as Donegal's manager, but the calling from home was one he couldn't turn down.
"I felt there was a lot of quick fixes," he said.
"Probably the fact they hadn't won Ulster in their last final appearance in 2008 made the appeal of doing the job even ­better.
"You knew there were very good-pedigree players, they'd a lot of good habits under the previous two managements.
"I felt they were at a good age. They weren't dependent on any 18-, 19- or 20-year-olds. They weren't too old. The age profile was very good."
Gallagher was six years inside the circle with many of those he'll be looking to take down on Sunday.
"You're very secure, content you know most things about them," he said. "But the Donegal management will make their players very comfortable in this period."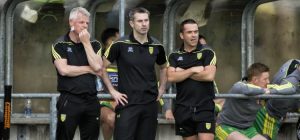 Gallagher was inches from delivering an Ulster title for Donegal in both 2015 and 2016 and surely the pangs of regret are still there.
Now, he's the man looking to topple Donegal's bid for a ninth provincial crown.
Of all the battles that will emerge on Sunday, seeing how Gallagher attempts to take down the house built on foundations he help lay will be one of the more fascinating.
Tags: