The price of the average three-bed semi in County Donegal rose by 7% to €95,000 in the last 12 months, according to a national survey carried out by Real Estate Alliance.
Prices remained static in the first quarter of this year, with no change between March and June according to local agents.
The REA Average House Price Survey concentrates on the actual sale price of Ireland's typical stock home, the three-bed semi, giving an up-to-date picture of the second hand property market in towns and cities countrywide to the close of last week.
"Brexit is having an effect due to the weakness of Sterling," said Michael McElhinney of REA McElhinney in Bundoran.
"The market improved in quarter two, although prices outside Letterkenny still remain below average," said Paul McElhinney of REA McElhinney in Milford.
The average semi-detached house nationally now costs €232,441, the Q2 REA Average House Price Survey has found – a rise of 1.5% on the Q1 2018 figure of €229,111.
Overall, the average house price across the country rose by 8% over the past 12 months – indicating that the market is continuing to steady after an 11.3% overall rise in 2017.
The rate of increase in second-hand three-bed semi-detached home prices in Dublin city and county was just 0.8% in the last three months, with prices falling slightly in one suburb.
After rising by 12.5% in 2017, the average price of a second-hand semi-detached house in the capital has increased by just €5,000 so far this year and now stands at €443,000.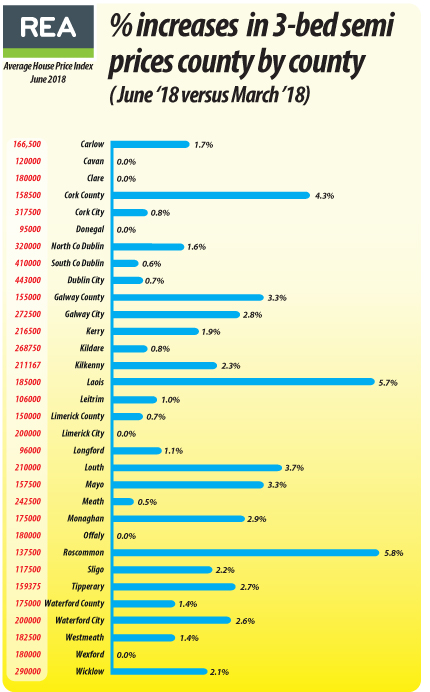 Tags: