Several months ago a simple invitational message was posted on social media by the Managing Director of Donegal Oil, Arthur McMahon.
The Team Donegal Oil charitable foundation was searching for eight ladies to participate in the Donegal Wild Atlantic Way Ultra 555k cycle challenge, and in doing so, raise money for a worthy local charity/cause.
Fast forward to last Saturday shortly after mid-day.
Eight ladies, most of whom had never even met each other before taking on the challenge, crossed the finish ramp at in Letterkenny after completing one of Ireland's toughest endurance cycle events.
The eight members of the Donegal Oil Ladies 555k team had conquered the gruelling 555k cycle around the county's most scenic coastline.
Some of the ladies had never been on a bicycle since they were kids, up until a few months ago!
Others, had some little experience, but taking on and completing the 555k was a completely different proposition entirely for most members of the team.
They were understandably emotional, euphoric and relieved crossing the finishing line. They also felt a deep sense of satisfaction.
A 'bucket list' challenge, that seemed nothing more than a pipe dream a few months ago, had been accomplished.
Family members and their many friends from all over Donegal were on hand, to lend their support and cheer on the team along the route,
At the finish ramp there were great scenes of joy and celebration.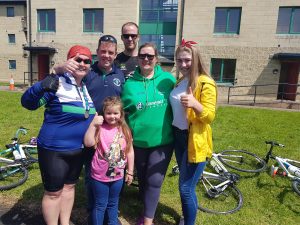 The team completed the 555k cycle in a highly commendable time of 24hrs.06mts, finishing second female team in their category (Teams of 8).
The ladies were; Sally Ann Mulholland (Mullaghduff), Angela Doran (Manorcunningham), Lourde Walsh (Letterkenny), Helena Witherow (Convoy), Sinead McTaggart (Ballyare-Ramelton), Nonie McGirr (Ardara), Mary Rice (Killybegs) and Elaine 'Pops' Boyle-O'Donnell (Ranafast).
"We are absolutely thrilled… it is emotional, to be here," said Sally Ann Mulholland (Head of Home Mortgage Lending/AIB/Donegal) on behalf of the team at the finish ramp.
"We hadn't even met each other, up to a few months ago, but now, we will be cycling friends for life. It has been an absolutely amazing experience,"
"We all bought into the Team Donegal Oil ethos of 'Have A Go' and Rory Kennedy and the support crew made the event happen on the day for us," she added.
Under the expert directions of 'Team Manager' Rory Kennedy (M.D of Smart Renewables) and well known local international rallying co-driver, they had adhered to a well crafted race/logistics plan, which was perfectly executed, with the aid of 'support crew'.
Along the route of the 555k, they had scaled Category One climbs such as the infamous 'Mamore Gap' in Inishowen, Knockalla (Portsalon) ' The Atlantic Drive' (Downings), 'Horn Head' (Dunfanaghy) and the stunning 'Glengesh' hill climb on the outskirts of Ardara.
But, the energy sapping hill-climbs were just a part of the journey!.
They had set out from Letterkenny at 12.20 pm on Friday.
The team was broke into two groups of four-Alpha and Bravo, for logistical reasons only.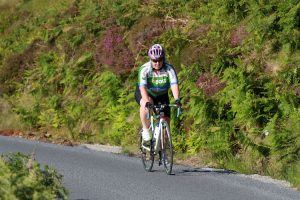 First up was a 103k stretch to Malin Head with Sally Ann Mulholland who led the team out from Letterkenny, followed by Angela Doran, Lourde Walsh and Helena Witherow who all cycled at different sections along the route, to Ireland's most northerly point.
Basking in glorious sunshine they reached picturesque Malin Head in 4hrs.20mts.
Team Bravo, consisting of Sinead McTaggart, Elaine 'Pops' O'Donnell, Nonie McGirr and Mary Rice kept the momentum up on the return leg (104k) back to Letterkenny with Elaine conquering the notorious Mamore Gap near Urris.
And so, the journey continued in this leapfrog fashion, through the Fanad Peninsula, Rosguill Peninsula, through Falcarragh, Gaoth Dobhair, the Rosses and Gweebarra Bay towards beautiful Ardara.
They had approximately three-hours of darkness to cycle from the bottom of Knockalla through Fanad, Downings, Carrigart, Dunfanaghy, Gortahork, Dore, Burtonport, Clooney, Ardara, Glengesh and Glencolmbcille.
When they hit Carrick village shortly after 8.10am on Saturday, it was a team sprint back to Letterkenny on the fifth and final 110k leg leg to the finish ramp.
The ladies were united in their praise of the excellent 'support crew' without whom they said the 555k would never have been possible.
The crew included Gavin McMenamin, Martin Doran, Frank McTaggart, Maurice Rice, Eunan Walsh, Terence Diver, Alan Witherow, with support also from Lydia Rodgers and Josh Rodgers
Elaine 'Pops' Boyle O'Donnell from Rannafast, said others should be inspired by their efforts.
"Without, Arthur and everyone involved in Team Donegal Oil- the support crew, etc, this would never have been possible,"
"I'd recommend this to anyone, especially anybody who is struggling with their physical or mental health. It really does your health and well being.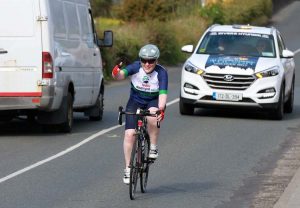 Elaine, had a simple motto for the past few months year.
"It's about completing, not competing.
"It's about finishing lines, and not finishing time. I am slow, and steady, but I will always get there,"
Elaine, had come through a serious illness in the last number of years, but found that the exercise she had enjoyed as a child, had now again given her an outlet again for a much healthier lifestyle.
"It was an amazing year from start to finish, and I found a part of me that I had forgotten for a long time.
The 555k was an emotional roller-coaster for Helena Witherow, from Convoy, who works as a Special Needs Assistant in Raphoe.
Friday, (the day the 555k cycle started), marked the second birthday without her brother, Ambrose Given (jnr) who died suddenly in Dublin at the age of just 39.
Ambrose Jnr, died on October 28, 2016. He would have been 41 on Friday last.
Her proud parents, Sheila and Ambrose Given, her daughter, Riannagh Witherow and younger sister Catriona Given, along with her very proud husband Alan inspired her every inch of the way, along with a huge band of supporters.
Alan was actually part of the support crew for Team Donegal Oil.
"It was emotional starting off on Friday on Ambroses' birthday, two years after his sudden death. When I crossed the finishing ramp, the first thing I thought of was my family, especially Ambrose, I hope he was proud," she said.
Lourde Walsh from Letterkenny, said it was an experience she will never forget.
Lourde, is married to well known local Garda Sergeant Eunan Walsh, from Ballyshannon.
"I am now cycling on a regular basis with the other girls and I am delighted to have met new friends with a common interest.
"This event has brought me in touch with wonderful people, who have become new friends," she added.
"The staff and support crew at Donegal Oil have been a fantastic support to me and have increased my confidence levels.
Sinead McTaggart from Ballyare said the experience will live long in the memory.
"It was an incredible, fantastic journey from joining the team, to finishing on Saturday after completing the 555k.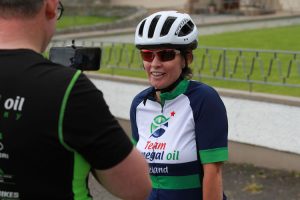 "I personally, took a lot from this challenge, and I'll never be able to thank Rory, Arthur and all the support crew for making a dream come true for me," she said.
Angela Doran started running again five years ago. She only started cycling two years ago.
The mother of three from  Veagh, Manorcunningham hadn't been involved in sport since she had left secondary school….("all those years ago"!).
She may be quietly spoken- but Angela let's her work bike-work do all the talking!.
A proud native of Carndonagh, Angela cycled some of the toughest climbs on the 555k Ultra Cycle including the infamous Horn Head, Knockalla, Atlantic Drive and Glengad.
Technically, they are all demanding, but they also require resilience, determination, strength, and mental toughness. They can 'break' most.
But, she stressed it is all about team-work and the support crew.
"I was really looking forward to crossing the finish line with the girls, knowing we have completed the 555k. Hopefully, we have encouraged others ladies out there to get active and give things a go. You might be surprised what you can achieve!" she said.
Nonie McGirr, who lives in Ardara, and works at SeaQuest Systems in Killybegs, said she really enjoyed the whole experience.
"It was brilliant from start to finish. Glengesh was so lovely, but horrible too, as it always on the bicycle, because it is so demanding. It was on my home patch, and I really wanted to do it," she quipped.
"I've had such an amazing experience with the other girls. We had fun. I'd recommend it to anyone," she added.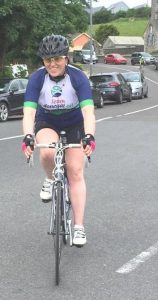 Mary Rice, who works in the Tourism College in Killybegs, had a huge band of supporters with flags and bunting to greet her through the fishing port.
"They were brilliant, to turn out in such number for us coming through Killybegs, " she said.
"It was tough, these endurance events are like that, but we hit our goal and we're all absolutely over the moon," she added.
Arthur McMahon, was busy on the 3,000 miles cycle across America as his ladies team were competing in the 555k.
"The ladies embraced the challenge from the off. They have done us all proud," he said.
"I believe anybody can do anything, if they put their mind to it. Our ethos in Team Donegal is to Have a Go, and I'm absolutely delighted the ladies team had a thoroughly enjoyable and positive experience,
"Who know where they will go from here," he concluded.
The team are fundraising to place a defibrillator on the Port Road in Letterkenny. Donations can still be made on the Team Donegal Oil Facebook page.