A fortnight ago at the finishing ramp of the Donegal International rally I had a chance meeting with one of my old teachers from my national school days in Letterkenny.
Master Martin McGonigley from Fanad was my teacher in  4th class at the old boys school.
He always had the best car of all the teachers in our school and in the opinion of my fellow class mate Martin McHugh, he always said  "McGonigley " must have the best car in the whole world.
One ordinary school day in 1976 Master McGonigley landed to the car park above the cathedral with a RS2000, the first we ever seen.
It was bright yellow and had the drooped snoop with twin headlights, RS alloy rims bucket seats and that signature RS three spoke steering wheel. This week I met up with another one of my teachers Master Frank Breslin and got talking about old times at school and the change that is happening to the boys and girls schools this year.
So this week I'm taking a detour by travelling a different road on a journey of bitter sweet memories from my days of going to national schools in Letterkenny.
Roman Catholic
For a boy of Roman Catholic religion growing up in Letterkenny going to school was a real "roaming" journey. This year the boys school, Scoil Colmcille and the girls school, Scoil Mhuire Gan Smal change from boys only and girls only respectively to mixed schools.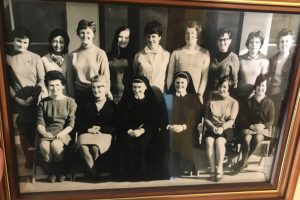 A half a century ago this year I started school in the town for the first time.
In 1968 I made my short journey from Wolfe Tone Place in Glencar with my mother to my first day at school, Ms Anne Kelly was my teacher in baby infants.
My first school Scoil Mhuire Gan Smal was an all girls school except for baby and high infants which had both boys and girls. I still have vivid memories of my first year at the girls school, walking along the single line in the halls in the centre of the terrazzo floors with my finger over my 'bheal'. Whilst getting smells of floor polish from the hall and whiffs of cow dung on a Thursdays.
Thursdays were a big day in Letterkenny for the mart and while half of the infants class were out in the yard skipping, playing hop-scotch and tag. The other half thought they were big men leaning  out over the wall watching the farmers landing into the town on tractors and trailers with cattle for the mart which was across the road from the girls school.
The aroma of cow dung was more likely to be from us boys dilly dallying into school on a Mart day looking around in amazement at Massey Ferguson's, Grey diesels, Ford's, Davy Brown's, cattle trucks and cattle dealers. Not knowing that us townies we probably were stepping on cow dung and mistakenly carrying  it in on our sandals or shoes to the class room.
I also remember walking home from school with my mother,  me full of stories about how good the school was and asking her was it as good for her when she went there. Her reply was a mystery to me, she didn't go to that girls school and pointed across the road to the boys school, that's the school I went to.
Ugly Duckling 
I was on our best behaviour the day of the first school play. I still can remember standing to the left, high up on the stage as a member of the chorus, complete with a toy watch on my arm as I belted out the lyrics of "There once was an ugly duckling".
I still have the faintest of memories of my aunt B, my uncle, Fr. Mark and my grandfather Pop Coyle in the audience miming along with me from the back of the hall. I would like to think that there was another person there that day to support me, my mother.
But I was never sure and was happy enough to think that she was there but that I just didn't see her in the crowd. Over the years I never really wanted to work it out not until this week, when I finally put these thoughts to paper and realise my mother wasn't there in the hall that day but was terminally ill in Hospital.
High Elephants 
Miss Breda Winston was my teacher in high infants which we always called high elephants which always got a laugh.  At Christmas that year I went home on holidays as a five year old child and came back after Christmas after my sixth birthday on the 11th of January as a grown up following the death of my mother on the second day of 1970.
That first morning back to school my teacher Breda Winston met me in the hallway coming into the school with my brother Neilus who started in baby infants in 1969. After we left him to his classroom and settled him in, she then took me and introduced me to the school principal, Mother Bernadine.
I can still hear Ms. Winston saying, 'This is Brian McDaid, son of Mary Ellen who passed away at Christmas'.
Mother Bernadine reached out for my hand and paid her respect on the death of my mother. That was the one and only hand shake I ever got at the time of my mother's death but it was enough that one person understood that this child had grown up very quickly.
Boys school
Master Breslin was my teacher for my 1st year at the Boys school. The name plate on the gable outside his class room said it was St. Columba's, Convent which originally was the first all girls school in Letterkenny. This was where my mother, then Mary Ellen Coyle got her education.
Her cryptic clue now made perfect sense. Fr Servant,  taught me in 2nd year, Liola taught in 3rd year and Master Martin  McConigley taught us in 4th. All these classrooms were in various parts of what was originally St. Columba's Convent for girls and was  to the become Scoil Colmcille when it was extended.
This school has still two different nameplates on each opposite gable in memory of St Columba's Convent school 1898 and Scoil Colmcille school 1956 to this very day.
Back to the original. 
When we went into 5th we moved over to what was originally the first all boys school in Letterkenny, to St. Eunans Monastery. My aunt B now was the historian in the family, she told me this was the school that my uncle Fr. Mark attended and went straight from there to a job in the post office as a telegram boy, before he went on for the priests.
It was also where Charlie my uncle won a scholarship to go to St. Eunans Collage. This school is now called the pastoral centre.
That year we thought we were getting Fr Austin but ending up getting the new teacher a Derryman and landed on his first day with a mop of long wavy hair driving a light blue VW Beetle. His mane was Tom Reddin and boy could he sing.
Any dream will do
Joseph and the Amazing Technicolor Dreamcoat  written by Andrew Loyd Weber and Tim Rice was a broadway hit in 1968 and one of the songs from it, 'Any Dream Will Do' was also number one hit for Joe Cuddy in 1974.
But the only person that I ever heard singing it was our Derry born teacher Tom Reddin, he taught us that song and we were his chorus. Many a day we rattled the long sash windows as we raised the roof of our classroom singing that song at the top of our voices.
From my memory  we were only in the monastery for a couple of months to make room for  younger classes to move to the new school, the present  Scoil Colmcille Then were were on the moved back to the old school where we ended 5th and 6th class there . We had one more short move once a week to the hall in the new school  for the all new subject of the day P.E.
YouTube 
Back in the seventies we had our own YouTube event at the boys school. Master Reddin, ever the progressive teacher was ahead of his time. He came up with the idea of getting a television into the school but funds were low so he asked the students would anyone have an old telly at home. As it happened we did have an old telly but it was broke down and with the repairman.
Master Reddin sent me over to our TV man, who lived in the Burma to see how much it would cost to fix it. Long before YouTube it was TV tubes and valves were all the talk and that was what was broken on ours
with our TV all repaired, four or us out of 5th class were dispatched  over the Burma with the money we collected from both our class and Fr Austin's Class for the repaired TV and carried it back to the boys school.
We must have been an odd looking sight walking along the Burma with a big black and white TV under our arm.
There was nothing special about my school days. I have none of them yellow school reports that I needed to keep, but I still had good school days and memories both sad and happy. Both from girls and boys school old and new that shaped who I am.
All of my teachers gave me something for life along the way for my future. My three brothers all went through this same path with a different combination of teachers.
Eating out.
When we were all at the boys school together we all met up every lunch time and went down the town for our lunch as there was no one at home. My father made lunches for the four of us and one for himself from a Milford loaf, a box of Galtee cheese and Summer County Margarine.
He went to work in the ESB and worried about us all day. We would go down to Danny McLaughlin's at the Market Square, get four cups of tea and quietly eat our own cheese sandwiches in his cafe.
In putting this together this week I thank the principals of both the girls and boys school past and present and all the teachers. Including present day principals Ms. Irene Simmons and Mr. Pauric Cannon who helped with this write up and also two of my class mates Seamus McEwen and Gerry McKeever who refreshed a couple of old memories.
Tags: