Pearse Doherty says he saw first-hand the 'war zone' like conditions being experienced by patients and staff at Letterkenny University Hospital.
The Sinn Féin Deputy was at the hospital this morning to launch his party's campaign to re-open the 19-bed short stay ward at the hospital.-
A petition has been rolled out online – https://www.change.org/p/minister-for-health-simon-harris-t-d-reopen-letterkenny-university-hospital-s-short-stay-ward/share_for_starters?just_created=true – and Sinn Féin activists will be around the county over the coming weeks getting signatures
Last year, an average of 19 people a day were on trollies awaiting admission to LUH. This, in spite of the 19-bed short stay ward remaining closed.
Sean Murphy, the hospital's General Manager, last year explained that the 19-bed ward closed due to the commissioning of two newly refurbished wards – the eight-bed coronary care unit and 11-bed haematology/oncology wards.
Management at LUH applied for €1.8million in funding which would fund the staff to reopen the short stay ward, but their application has not been met favourably.
"It galls me to know there is a solution," Deputy Doherty said.
"In some places, there are no quick-fix solutions but here in Letterkenny we have a solution – open that ward.
"We keep hearing from Government that there is no problem when it comes to money for the trolly criss.  Well, put your money where your mouth is.
"One of the Ministers has actually said that it makes absolute sense what we're saying. That was months ago and yet we still have a trolly crisis in the hospital and we still have beds lying empty.
"We have a Government that is going to a budget scenario in October telling us that we don't need to spend the €900million available to spend. We need €1.8million to deal with the problem here in this hospital.
"The Government have a different view of how they should invest in services than we do. We believe that services are crucial and are a right. That is why they are deciding not to invest in health.
"That's why they say we don't need to put the €900million into health in the budget; that we're better off leaving that for a rainy day. I would say that the patients in there on trollies, it is raining for them despite the sun splitting the rocks out here."
To reopen the ward, it has been said that it would require 15 nurses, four health care assistants, a clerical administrator and four support staff.
Deputy Doherty: "Every single day last year we had 19 people waiting on trollies in there. There is a ward with 19 bed lying empty. My six-year-old son could work this one out.
"I listened to a senior consultant on national radio about the situation and he described it as a war zone. He described the situation that staff were being forced to work through. It's not right and it's not proper.
"It would provide dignity to patients who are lying on trollies. Many of them are in severe pain and distress and are having to be treated in a hospital corridor. That is a personal indignity.
"Their circumstances are being discussed within earshot of someone else. It's very hard and sometimes there is distressing information having to be relayed to them. Not only do we have a problem in A&E, but that has a direct knock-on effect to the rest of the hospital.
"You have surgeries cancelled and people are very aware of that – but that is down to the bed crisis. The capacity just isn't there."
In June, a total of 291 patients were on trolleys at LUH. Today, there were eight people awaiting admission.
Deputy Doherty told of his own personal experience as a patient in the hospital.
He said: "I got absolutely excellent treatment, as many people will tell you who go through the front door and who are able to get a bed.
"On those occasions, staff related to me the crisis that they were in. I could see it with my own eyes, sitting on a chair with half-a-dozen others, and another half-a-dozen around the corner.
"People were taking very seriously ill in front of my very eyes.  That should not be happen.
"Nurses are juggling everything. We don't have an environment where it is appealing for nurses and doctors to come into this hospital. Opening this ward and recruiting nurses will alleviate some of that. It won't fix it all overnight, but it will start to address some of the problems.
Deputy Doherty and Senator Padraig MacLochlainn – who were present to launch the new Sinn Féin campaign this morning with county councillors – have raised the matter in both the Dail and the Seanad on a regular basis.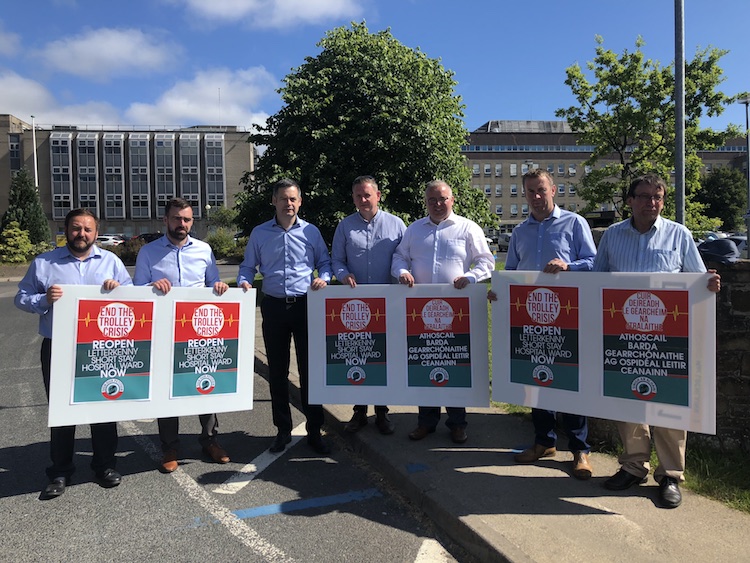 Deputy Doherty said: "This is an appeal for the people of Donegal to get behind us. This is a very simple message. We have 19 patients on trollies on average and we have a ward with 19 beds in it. The management want this opened and they made an application last June to the HSE.
"When you're signing the petition, think of the person lying on a trolley overnight, think of the person who is in pain. Take your time and sign the petition. We're doing this on behalf of others."
Tags: