Deputy Thomas Pringle has presented his online Business Survey results to the Taoiseach in the Dáil and confronted Varadkar over Fine Gael's record on supporting small businesses in Donegal.
The business survey was carried out by Deputy Pringle in recent months and gathered over 100 responses from businesses in Donegal.
Speaking to the Taoiseach, Deputy Pringle said "results from my business survey show that over 80% of local businesses surveyed in Donegal are worried about depopulation and the retreat of rural services. They are aware that all around them post offices, garda stations and even banking facilities are closing down caused by the anti-rural sentiment pervasive in Fine Gael quarters.
"It's time that Fine Gael were called out on their deplorable record in rural constituencies. Rural depopulation is having a devastating impact on businesses struggling with new and existing challenges as they emerge from a long recession.
"I'm not talking about businesses ready to export or IDA sponsored companies. I'm talking about the local coffee shop, hairdressers, butchers, furniture shop or newsagents, business that will never be primed for export."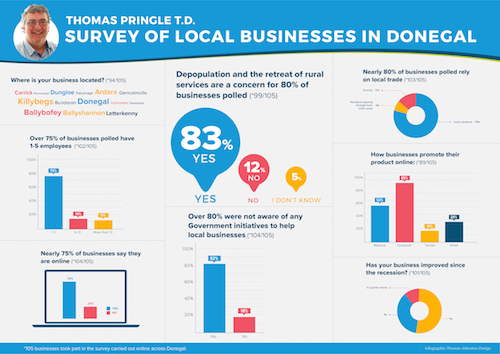 The Killybegs TD added these are the businesses that are largely left outside Government supports yet are the drivers of local economic growth creating sustainable local employment across rural communities and helping to retain rural populations as a result.
"Supports don't have to be financial, they can assist in vital networking between businesses and across sectors such as tourism and retail.
"The Taoiseach was unable to respond directly to my question because he knew he had no sufficient answer as to why support has been so lacking in this sector. Instead he talked about employment levels and other unrelated aspects of Fine Gael policy.
"His reply confirmed the deeply held suspicions of current Government policy, which is simply that Fine Gael don't care about rural Ireland" concludes Pringle.
Tags: