So it's happened, a nationwide Hosepipe ban has come into play, and is expected to last until the end of the month (at least).
So where does that leave us gardeners who utilise water to nurture crops, flowers and displays?
Well to be fair not much has changed, the only thing we can't do is use the hose to water our plants. It's back to the watering cans for us all!
Watering by can is something that I encourage many gardeners to do, as I believe that when you're using a hose you don't judge how little water you're actually applying to the garden, with many just wetting the top layer of soil as opposed to watering deep down to where the roots of plants are.
by DD Gardening Correspondent Gareth Austin
The best time of day to water your garden plants and displays is early in the morning, allowing the plants to get hydrated before the sun (and heat) peaks for the day, watering during the heat of the day is hugely wasteful as a majority of the water will simply evaporate away.
Now plants are fussy where the water comes from that you're using on them, so whether its dish water, tap water, cut flower vases, old tea, or bath water they'll lap it up!
Remember that it's best to target freshly planted plants when water is scares as these will have the smallest root systems so may not have access to enough water to keep them motoring on and establishing, using around 4l/m2 every 2/3 days is plenty, thus deep watering wets soil thoroughly and although the surface may be dry below the soil can remain moist and the plant roots will scavenge down to where the water it – making the plants more drought tolerant and stronger.
However, in times like this many mature garden plants will be showing signs of water stress, indeed many trees are 'browning' where they are under increasing stress caused by the lack of available water in soil.
After you have soaked your garden plants if you do have access to soaked shredded newspaper you could put a layer of this around your garden plants – this will help to reduce surface evaporation.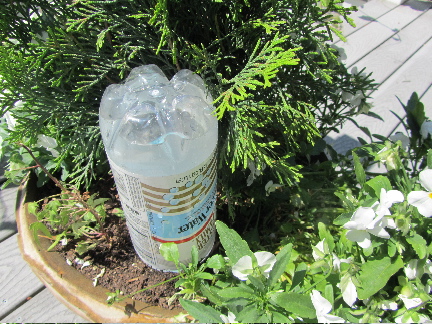 Shallow-rooted plants, flowering plants, large-leaved plants and fruiting plants should all be attentively seen too and should be the focus of your limited water supplies as these will have the greatest demand on water.
And any granular fertiliser application should be avoided – if there is not enough air moisture to turn the fertiliser soluble the fertiliser will instead draw the water it needs from your plants, in turn damaging and scorching the foliages.
So in the garden it's a case of sitting tight, being focussed (and not wasteful) with water and letting the garden see this amazing weather out.