Bonagee United rose above Greencastle at the top of the North West Women's Super League last night while Illies Celtic overcame Fanad United in the other game.
Bonagee United 4 Greencastle FC 1
Bonagee United hit the summit of the North West Women's Super League as they leapfrogged Greencastle with this win at Dry Arch Park.
An excellent second half and a dominant final quarter cemented the win for Bonagee, who saw Natalie McFadden's first-half goal cancelled out after half-time by Kerry Brown.
But strikes from Anna Doherty, Alice Diver and Niamh McGlinchey sealed the win for Bonagee.
The hosts twice had the ball in the net early on, with McFadden clipping home and McGlinchey racing clear to find the net only for an offside call to rule those attempts out.
On 38 minutes, Bonagee took the lead. Shannon McBride's endeavour saw her rob possession from Sarah Faulkner, the Greencastle 'keeper. McBride turned the ball back into the area and McFadden tucked in the opener.
Meagan Havlin and Brown were lively for Greencastle, but they found Clare Friel once more in excellent form in the Bonagee goal. 16-year-old Friel has gone from strength-to-strength this season and again repelled Greencastle with some fine stops.
Amy Thompson, who marshalled the Bonagee defence, shot over the top from a set piece as the home side looked to put the game beyond doubt.
But Greencastle had a good spell of pressure and Brown scampered clear to finally beat Friel for the equaliser. Friel sped out to thwart the advances a couple of times in between and, stung by the concession, Bonagee shook their heads clear again.
On 71 minutes, Bonagee hit the front as Doherty curled beyond Sarah Faulkner after a fine move involving Diver and Siobhan Sweeney.
Soon after, Diver brilliantly made it 3-1 with a majestic front post header, soaring bravely to power home.
With Leona Russell keeping Greencastle at bay, Bonagee were in command and with Sweeney driving them on with an excellent display on the right, they added another when McGlinchey deliciously found the bottom corner late in the game.
Bonagee United: Clare Friel, Maria Carr (Niamh McGlinchey), Leona Russell, Amy Thompson, Chantelle Grant, Anna Doherty, Alice Diver, Siobhan Sweeney, Claire Orr, Shannon McBride (Julie McCloy), Natalie McFadden (Lyndsay McElchar). 
Greencastle FC: Sarah Faulkner, Eimear McLaughlin, Aisling McLaughlin, Kathy McLaughlin, Shannon McDonald, Meagan Havlin, Danielle Barr, Shona Kelly, Kerry Brown, Emer Gillen, Eilish Havlin. Subs used: Melissa McDermott, Georgie Rudden.
Referee: Marty Quinn.
Fanad United 1 Illies Celtic 3 
Reigning champions Illies Celtic Ladies defeated Fanad United Ladies 3-1 in an enjoyable game at Traigh-a-Loch on Thursday evening. 
The first chance of note came in the 15th minute when Paula McGrory beat the Fanad offside trap and raced through on goal however her shot was well saved by Rosheen McGinley.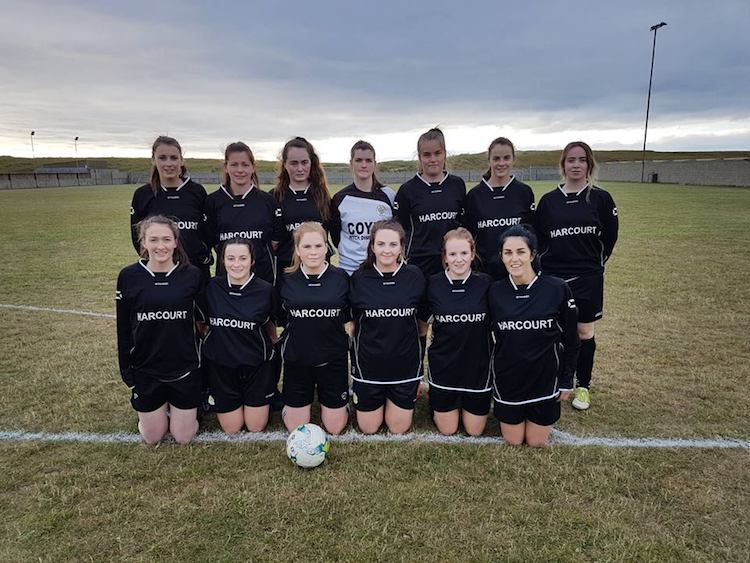 Five minutes later, Hannah Shiels  hit a cross shot that almost deceived Fiona Doherty in the Illies nets but she done well to claim the ball under the bar.
 In the 35th minute Paula O'Donnell showed great skill to control the ball on the edge of the Fanad box and her half volley was well saved by McGinley. With seconds remaining in the first half Illies took the lead through Alison McGonagle who converted from the spot following a hand ball. 
Fanad pressed for an equaliser and in the 65th minute Lauren Carr controlled the ball at the edge of the box but her shot flew over. 
Illies extended their lead with 15 minutes remaining. Alison McGonagle swung in a dangerous corner that was met by Aishling Gillespie who powered her header home. 
Fanad pulled a goal back three minutes from time when left back Hannah Shiels hit a superb right footed shot into the top corner from 25 yards.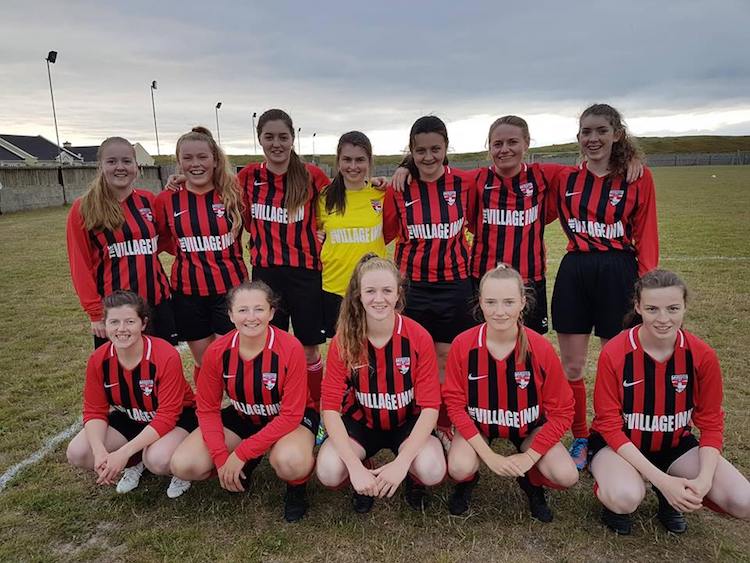 As Fanad pushed hard for an equaliser they were caught on the break when Aisling McDaid sent Paula McGrory through and she made no mistake. 
Player of the match was Paula McGrory who was a constant threat up front for Illies
Fanad United: Rosheen McGinley, Maggie Friel, Zoe Green, Niamh McDevitt, Eimear Sweeney, Lisa Friel, Amanda Callaghan, Lauren Carr, Michelle Doherty, Hannah Shiels, Laura Dugera. Sub used: Lauren McBride
Illies Celtic: Fiona Doherty, Paula O'Donnell, Aishling Gillespie, Noreen Doherty, Tessie Coyle, Danielle Doherty, Beth Doherty, Deirdre Grant, Aoife Bell, Paula McGrory, Alison McGonagle Subs used: Aishling McDaid, Dionne McLaughlin.
Referee: Dessie McLaughlin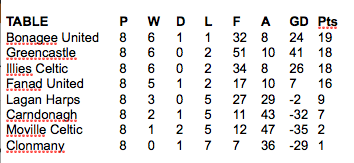 Tags: