A Donegal man won two golds and a silver and the Retro Running World Championships last weekend.
Carndonagh native Garret Doherty scooped the three medals at the seventh running of the Championships in Bologna, Italy.
Doherty won gold in the 1,500m, gold in the 800m and silver in the 3,000m.
Doherty, who turned 40 last month, was competing in the Master 1 category.
"I feel great about my success," he told Donegal Daily/Donegal Sport Hub.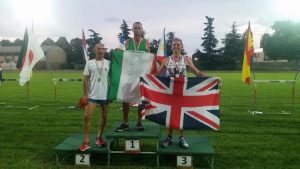 "It was my fifth World Championship and my fourth time to become a world champion."
Retro running is running backwards while looking in front – 'a true body, mind and soul workout' Doherty says.
Next, the Carndonagh man is hoping to prepare a bid to host the Retro Running World Championships in Letterkenny in 2024.