The High Kings are bringing their "Decade" tour to Jacksons Hotel Ballybofey Sunday 29th July 2018.
Tickets are on sale now for the show that promises to be a thrilling experience of the past ten years for the legendary band.
Ten years ago, four Irish singers, performers and songwriters decided to take a calculated risk.
The constituent parts of The High Kings – Finbarr Clancy, Brian Dunphy, Martin Furey and Darren Holden – each had a wealth of history in the music business behind them, but knew that in order to maintain any level of creative interest they would have to boldly go where no other Irish ballad group had gone before.
In truth, back in the mid-late Noughties, Ireland needed a group like The High Kings. The heyday of ballad groups such as The Clancy Brothers and The Dubliners was a distant memory for generations of music fans, and to have another bunch of Irish lads taking up the baton and continuing the tradition was great news to thousands of fans worldwide.
"We could sing well, play our instruments well and harmonise well," says Darren Holden, humbly underselling somewhat the numerous skill sets of the individual members. "People were looking for guys with character, presence – not just cardboard cut-outs – so the respective experience we all had wasn't just helpful but essential. The four members immediately knew that something special was taking place ("we knew within the space of a few songs that there was magic"), and within months had clicked as a creative unit as well as friends.
So in 2013 the group released their third studio album 'Friends For Life', which featured original songs among the traditional fare.
According to Darren, The High Kings stepped out of the shadows by taking the original songwriting route.
"We were delighted! We felt the songs were really good, and we sensed it was the next step. We finally sensed we were about to embark on a new chapter for The High Kings."
To say that The High Kings are charting a new course for Irish ballad music – equal parts rousing and reflective, energetic and insightful – is an understatement. They are, essentially, marking out a new and bright era for Irish folk music, and aiming to bring a broad demographic along for the journey.
Tickets on sale from ticketmaster.ie or Jacksons Hotel reception on 00353 74 9131021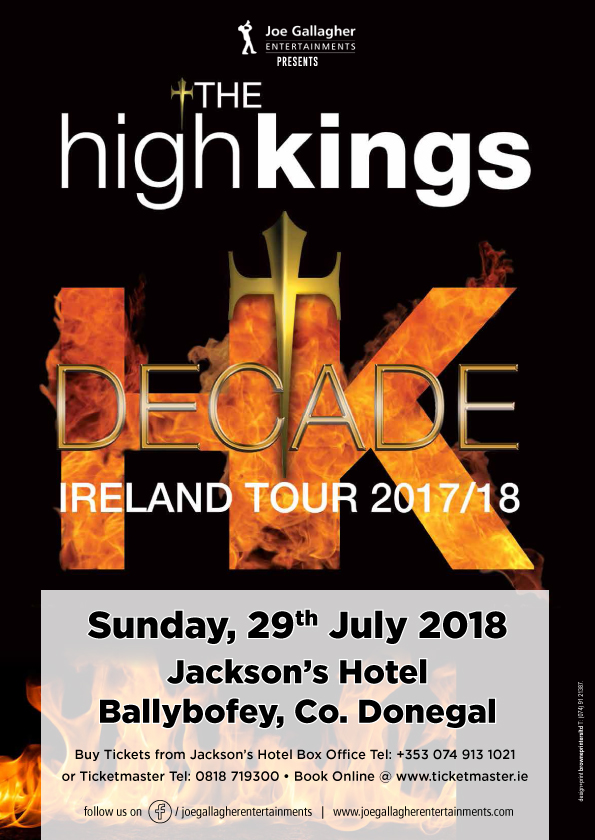 Tags: