It's such a great time of year. The garden is bulging with colour, interest and produce!
Hopefully you're enjoying lots of cut flowers from the garden and your produce is pumping out from the veg plot.
This week we've been reaping the reward of some good work dating back to February with the first harvest of our Onion crop.
These onions had been started off in trays back in mid-Feb followed by planting towards the end of March. By having them growing in trays beforehand the onions benefited from a good start, instead of being set into cold soil they were able to grow away in a nice protected Polytunnel for a month.
The soil was well conditioned with a bag of Composted Farmyard Manure and some Viano Organic Plant Food applied before planting – Onions do very well where they have access to plenty of goodness in the soil, especially the first month at planting.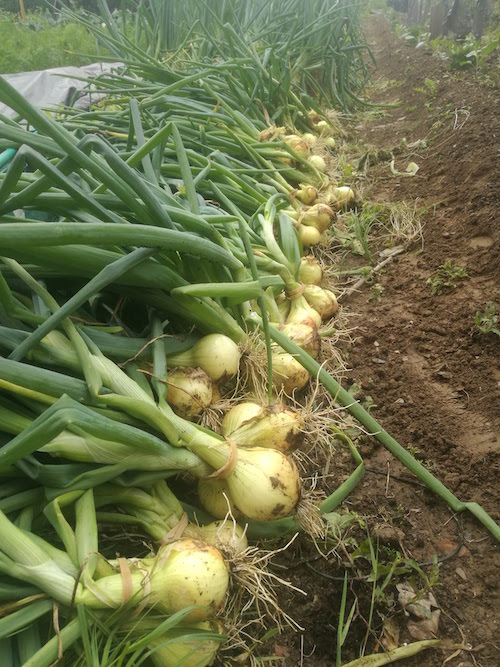 We followed up with a top dressing of more Viano organic plant food in Mid-May.
Onions are perhaps not the most profitable thing you can grow in your garden, sure you can buy 6 onions in a bag from a supermarket for 69c, but the taste of your own is wonderful – especially when they're freshly pulled like this.
After harvesting we'll cover this bed with plastic for a few weeks to encourage weed germination and death, then this bed will be power harrowed and sown out in an over wintering green manure crop.
Elsewhere in the garden the Sunflowers and Sweet Peas are the star of the Cut Flower garden, the sweet peas providing a twice-weekly pic of highly scented blooms for the house and the Sunflowers looking great in tall vases.
The bees also adore the Borage and Teasel flowers in the garden, with each clump of planting having countless bees around them during dry spells.
When the weather fluctuates like this week with the odd spell of rain it's important you stay on top of the weeds, this fluctuation encourages weed seed germination to get out and run a hoe around the flower garden just to nip these young weeds off as they pop up.
It's not been 10 weeks since our MoBactor application to the lawn to control the moss, and now it's time to follow this up with an application of MoBactor Recovery to thicken and strengthen the grass – we'll be doing this ourselves this week so I'll have some updates on how this progresses over the coming weeks.