Finn Harps announced significant changes within the club's academy on Friday evening at a press conference – here, we meet the new appointees.
Picture: Finn Harps Board member James Rodgers with Conrad Clarke, Kevin McHugh, Declan Boyle, Joe Boyle and Pól MacGiolla Bhríde. Picture by Geraldine Diver
While club legend Kevin McHugh will move to take over the Harps Under-13s for the 2019 season, Gweedore man Pól Mac Giolla Bhride will be in charge of the Under-15s, the portfolio currently held by McHugh.
Harps outlined their vision to have Development Squads at the age groups in between their National League teams.
And Conrad Clarke of Erne Wanderers has been named as the Under-12 Development squad manager.
Pól Mac Giolla Bhríde – Finn Harps U15 National League manager
Pól 'Rua', as he is perhaps better known in Donegal soccer circles, was recruited by the Finn Harps academy two years ago now and will take his biggest step yet in coaching as he takes over the club's Under-15 team.
"It's something I always thought I'd like to do," he said.
"I've worked closely with Kevin at the Under-15s, I've seen them train, seen them play and I know the quality. It's something I've wanted to get involved in. The academy has given me the chance.
"I've been involved with the academy for the last two years. I've seen quite a bit of the players I hope to work with and have player ID'd a lot during the Foyle Cup this week.
"When I started off with Trevor Scanlon here, the project was always to keep the pool big and go from there."
Mac Giolla Bhríde made his name as a centre-back in the Donegal League, mainly with his native Gweedore Celtic, while he also featured for Letterkenny Rovers in the Ulster Senior League.
Now, his ambition if off the field.
"I'm very much into developing players," he said.
"I started off at under-6s and it was like a junior infants class with kids climbing up fences!
"I've progressed now to 14-year-olds, who have very much bought into progression and development. The next step now is the National League.
"I'm really looking forward to it."
Mac Giolla Bhríde believes the future is bright for football in Donegal – and, consequently, for Harps.
"I've been involved with Gweedore Celtic for a couple of years now and I can see a lot of clubs in Donegal are doing the right thing, playing from the back, playing through the thirds. Clubs are buying into that and it's great to see."
Conrad Clarke – Finn Harps U12 Development Squad manager
Conrad Clarke was at the helm of the Donegal Schoolboys League side who reached the U12 Foyle Cup final yesterday.
The Donegal Schoolboys might have lost 3-0 against Cliftonville, but it was a memorable week for Clarke and company.
Clarke now takes over at Harps' Under-12 Development squad – a role he says is 'a fantastic opportunity'.
"Developing footballers is what I want to do and is why I came into coaching," he said.
Before dipping his toes at county level, Clarke was involved at Erne, at Under-12 and Under-14 levels.
His role with the Donegal Schoolboys League has given him a new perspective and means he's well tuned for his new job at Finn Park.
He said: "That has given me a whole new level of working with the elite footballers and I always wanted to get into the professional game.
"I have that opportunity now to develop the elite and the bring the best of the best into Finn Harps to see if we can push them on.
"I went in last year to the county squad and I went scouting straight away. I took the best into the county and I know the players who are out there. There are a lot of lads who were borderline for the county too."
However, Clarke sees a big difference in that his brief at Harps will be much wider.
He added: "It's not just about Donegal. Now, I'm only looking at Donegal, but at this role you'll be looking at Inishowen and the rest of the North West."
A parent's perspective – Eugene McGarvey
Eugene McGarvey says signing with Finn Harps was 'the best thing that ever happened' his son, Patrick.
A goalkeeper, McGarvey was recruited last September and has gone from strength to strength.
McGarvey played for Harps at U15 level last year and was this year called into the Republic of Ireland U15 squad.
"It's been a great experience," Eugene McGarvey said.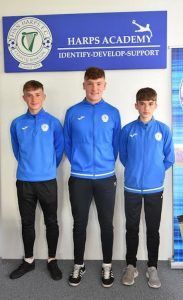 "He has gained great learning from the coaches here. Playing in the League of Ireland at this level is a great insight into what's ahead of them. For players to move on, that's vital.
"Patrick has moved on as a footballer and a person. He's got a wealth of experience and it's been brilliant. The coaches are very encouraging and are always developing them.
"Patrick came in on a trial and was over the moon to be in the squad. That was the best thing that ever happened him."
McGarvey has been a long-term Harps supporter himself and is of the view that 'more people should back Finn Harps'.
Seeing his son involved as a player within the club has given him a new perspective.
He said: "Both on and off the field, even down to a dress code for their home matches, it is so professional.
"They have a certain attire and everything is so professional. It's down to how they represent themselves, the club and their families.
"Patrick would be fairly regimental with his training anyway, but they give the players a programme at the start of the year and they check them at different intervals. It's very professional at Finn Harps and they deserve a lot of credit."
Tags: