Tickets are selling fast for Oakfest, a new two-day family-friendly music festival which takes place in the grounds of Oakfield Park, Raphoe on Saturday, 25th and Sunday 26th August.
Headlining the Saturday is one of Ireland's most acclaimed bands, The 4 of Us, while Irish acoustic folk rock band, Hermitage Green headline Sunday.
Other top acts for Oakfest include Ryan Sheridan, Little Hours, Mark Black & The Trips, ROE, Chelsey Chambers, In Their Thousands, Katie Laffan and Cronin.
As well as a top-class musical billing, Oakfest at Oakfield Park will have plenty for the whole family to enjoy, including a mini disco for little music lovers, arts and crafts, face-painting, puppetry, nature walks, train heritage, folklore and storytelling.
Away from the main stage, festival goers can expect jazz in the garden, music in the maze, folk music in the marquee and Trad on the Train. The event will also have a strong food offering with Oakfield Park's Piazza courtyard opened up to artisan food producers. For more information and to book tickets visit www.oakfieldpark.com/events or call 074 91 73068.
Day One – The 4 Of Us
The 4 Of Us has been a steadfast part of Irish music history for over 25 years, blending contemporary roots with rock. The award-winning band was formed by Newry brothers Brendan and Declan Murphy and their truly unique sound has garnered a large and loyal fan base and an enviable catalogue of timeless songs, including six Top 20 Irish charting albums and several hit singles. See The 4 Of Us live at Oakfest on Saturday 25th August from 6.45pm.
Ryan Sheridan
Ryan Sheridan is one of Ireland's most celebrated singer songwriters, renowned for his upbeat, highly musical live shows. In the space of a year, this multi-instrumentalist went from busking on the streets to being a centre stage headline act. A gifted and inventive guitarist, Ryan has combined his six-string skills with percussive attack to create a unique sound that has thrilled packed houses worldwide. Check out his acoustic-driven, anthemic songs on day one of Oakfest, Saturday 25th August from 5.30pm.
Mark Black & The Trips
Don't miss a truly great live music experience, with Mark Black & The Trips, featuring amplified 12 string acoustic guitars, lap steel, didjireedoo, pumping driving roots rhythms grooves and funky blues. Also featuring Seamus Devenny on drums and percussion and Rhys McBride on bass.
ROE
With performances at Output (Belfast) and The Great Escape music showcase (Brighton) already under her belt, ROE has been moving from strength to strength with increasing momentum. Selected as one of 21 acts from around the UK (and the only Northern Irish artist) to perform on the BBC Introducing stage at Glastonbury, the future looks incredibly bright for ROE. Catch her from 3 – 4pm on Day One of Oakfest at Oakfield Park.
Chelsey Chambers
Chelsey Chambers is a local singer songwriter who first picked up the guitar at the age of nine. After releasing her first EP 'I'm falling' in 2014, she has supported many acts, including Don McLean across the UK and Irish legs of his tour. In 2015, the 23-year old also played the acoustic stage at Glastonbury and more recently in 2017, supported Paul Carrack from 'Mike + The Mechanics' in the Millennium Forum".
Day Two – Hermitage Green
Headlining Oakfest on Sunday 26th August is Hermitage Green. Formed in July 2010, this Irish acoustic folk rock band has earned a name for themselves in the Irish music scene, having spent the last couple of years touring and selling out shows in Ireland, the UK, and Australia.
Little Hours
Also performing on day two of the festival is Little Hours whose EP 'Too Much Patience' entered the iTunes chart at no.1 and was recently played by Elton John on Beats 1 Radio Show. Little Hours has supported Birdy, Hudson Taylor & Rodrigo y Gabriela across the UK and supported Gavin James last month in the Trinity Summer Series. Don't miss the chance to see Little Hours perform on home soil, live at Oakfest on Sunday 26th August at 4.15pm.
In Their Thousands
In Their Thousands have been recognised on a national level as one of the best live bands in the country, leaving their mark on audiences across Ireland, the UK and mainland Europe. Expect an honest style of songwriting that fuses Folk, Irish Trad, Country, Americana into a Rock show and a rush of energy from their live set. Their new album is ready to release in October (recorded at Attica Studios), so don't miss the opportunity to catch them at Oakfest on Sunday 26th.
Katie Laffan
From her debut EP of lo-fi funk 'Dead as Disco' and last year's alternative disco anthem 'Tastemaker', Katie Laffan delights in taking influence from a wealth of genres – producing most of her own music in her home studio. Katie was named Best New Artist by The Ticket – Irish Times and spent much of 2017 playing with her band at festivals including Electric Picnic, Other Voices, Body & Soul and the St Patrick's Festival Young Blood event at the National Concert Hall. See Katie Laffan live on day two of Oakfest at 3pm.
Cronin
It's been an eventful few years for Midland's-based band, Cronin. While finishing off their debut album, Pete Doherty gave them various shout-outs in arenas and Noel Gallagher used their CD cover to hide behind, when he was trying to escape London paparazzi. Niall Horan also turned up at their gigs and band member, Mick played with an all-star band at Shane MacGowan's 60th birthday celebration, drumming for the likes of Bono, Johnny Depp and Nick Cave, while the rest of the band performed at the after-show on Shane's request. Cronin's latest single 'She Saves' is out now on Gentlemen Records and Live Transmission Records. See Cronin live at Oakfest on Sunday 26th August at 1.45pm.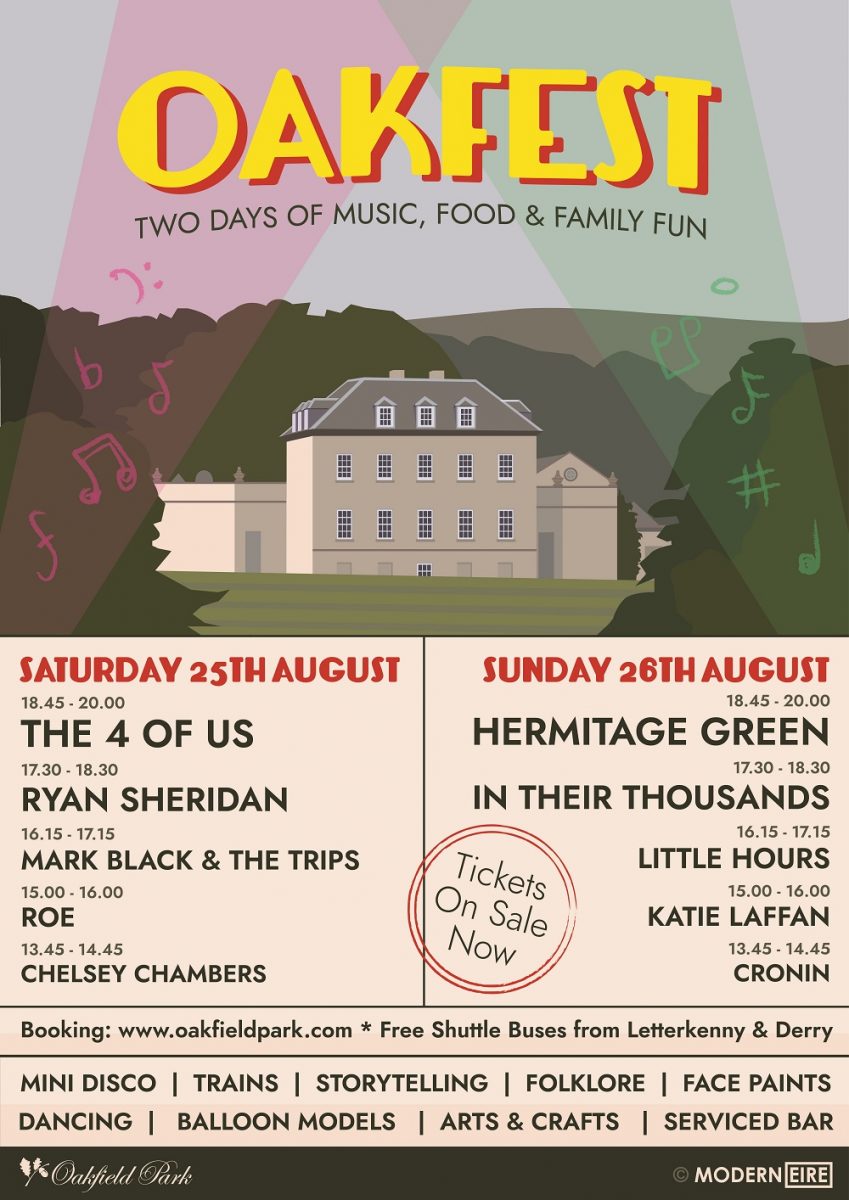 With such a stellar line-up, tickets for Oakfest are selling fast and early booking is advised. Oakfield Park's gardens and parklands provide the perfect backdrop for this late summer festival, giving people of all ages a unique opportunity to enjoy a memorable experience together on the last weekend of the summer holidays.
The park will open as usual at 11am both days, but will extend its evening opening hours until 8pm, to facilitate two days of music, food and fun for all the family.
For more information and to book tickets visit www.oakfieldpark.com/events or call 074 91 73068.
Follow Oakfield Park on Facebook and Instagram for all the latest news.
Tags: