A fantastic night of music and charity will be held this Saturday (Septemeber 1st) in Gweedore for BUMBLEance. 
Sean Ogs bar will host a Folk Night with a top line-up of acts, headlined by singer-songwriter Mick Hanly.
Hanly, famous for songs such as 'Past The Point of Rescue' and 'Homeland', will be performing alongside great special guests including local talents An Crann Og, Niki Pollock, Shauna McDaid and Emma Ni Dhomhnaill.
The event will be in aid of BUMBLEance Children's Ambulance Service – providing vital transport for sick children from all over Donegal.
Another special event on the night will be a presentation from Hughie O Ghallachóir.
Hughie cycled from Kerry to Donegal along the Wild Atlantic Way many weeks ago and will be presenting a cheque of over €11,000 to BUMBLEance representatives. It is hoped that the folk night will add to this impressive amount.
Tickets are only €15 and available online at eventbrite.ie or by calling Sean Ogs at 0749531999. Concert begins at 9pm latest.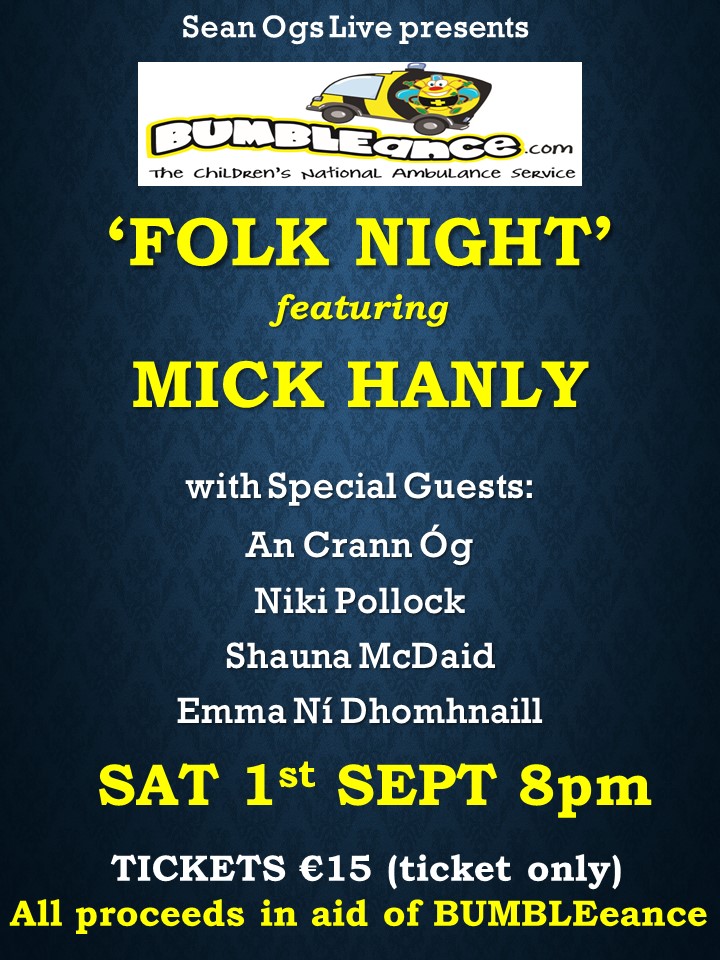 Tags: