Kelly's at Mountain Top Letterkenny are celebrating their successes of the year by saying a big thank you to customers this Friday.
Kelly's Centra Customer Appreciation Day takes place on Friday 31st August. All are welcome to grab great offers and goodie bags, enter store giveaways and enjoy delicious tastings throughout the day.
To mark the occasion, the store team have taken the opportunity to look back on how Kelly's at the Mountain Top leads the way in convenience shopping and food on the go:
Business owner Mairtin Kelly is the first to acknowledge that it's the support and encouragement of his customers which has helped the business expand and become what it is today.
Seven years on since they first took over at the Mountain Top they've continued to keep with consumer trends and they have shaped their product range to suit an ever changing demand for healthy meals.
Tomorrow (Friday) Mairtin and his staff will show their thanks to the people who have put them on top of the convenience store pile with a customer appreciation day.
This is the 5th time the team at Kelly's has held these type of events and it has set a trend that others have followed across the county.
"This is a great way to showcase our new ranges and also a great way to give back to our loyal customers" explains Susan Doherty, event co-ordinator and a senior member of the management team at Kelly's.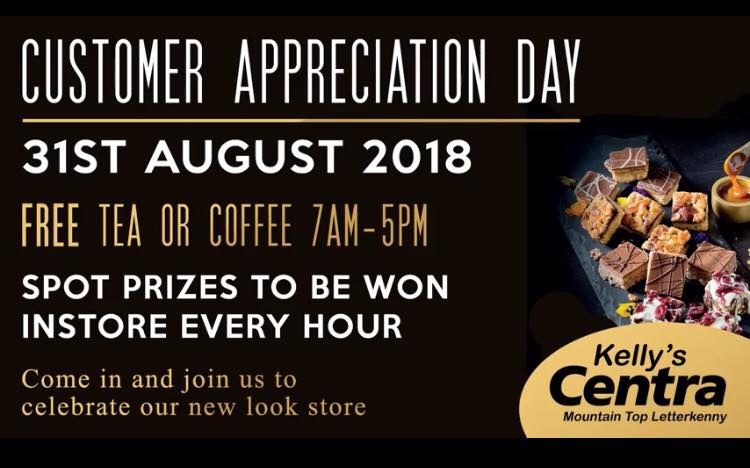 As a genuine thank you there will be loads given away to customers in vouchers and hampers and also customer goodie bags.
There will be great offers to be had on the day like wine, and great offers in the deli and diner not to mention plenty of tastings!
Kelly's at the Mountain Top are really leading the way in terms of convenience retailing and fresh and healthy on-the-road dining.
The high profile site has a multi award winning Centra store and an all new award-winning Diner.
With Topaz-Circle K as a fuel partner you're sure to get quality fuel at a very keen price.
Kelly's Centra has won the National Centra Convenience Store of the year and has been in the final every year for the past 7 years. Having won this award they feel it's important to continue with the very high standards and this is why it was time again to see how they could improve their offering to the customer.
They set about increasing the space at the front of store making it much easier to shop and added extra space to fresh fruit n veg, fresh homemade takeaway meals not to mention a whole new section given over to fresh world breads, from Polish to Romanian to Italian style bread all delivered fresh instore daily.
Clare McGlynn deli manager said "We have been hard at work bringing new and interesting products to the store and with all the healthy breads, we felt that some tasty treats were needed too, so we've some new products from our Aine Brand that will tickle your taste buds."
Kellys has seen a lot of requests over the last 6 months or so from consumers to improve the range for vegetarians and vegans, with this in mind they've really increased the range to accommodate these requests.
Mairtin Kelly said: "We are delighted with the range we now have in store and on top of the fresh products we make in store we carry THE HAPPY PEAR range exclusive to Kelly's Centra here in Letterkenny.
"We are currently in talks with the founders of the HAPPY PEAR brand to come and visit their fans here in Letterkenny so watch this space".
On top of this they added a new self service hot food unit with a range of tasty products including cooked chickens, chicken strips, bbq ribs and BBQ chicken wings to name just a few.
This offering runs well into the evening and, with people working later, the team at Kelly's felt it is a great way of helping busy families grab something for the tea on the way home.
The Centra BEAT THE QUEUE app is another way to help the time strapped customer. This is an app for ordering your lunch in advance via your phone or from your computer and than simply collect at store – NO QUEUEING NO WAITING ….. SIMPLY GRAB & GO. Get the app here: Centra 'Beat the Queue'
Kelly's Diner has become famous over the last 7 years for quality food at affordable prices, portions are big and the service is the best around.
Our diner has seen a facelift at the start of 2018 and customers are loving it.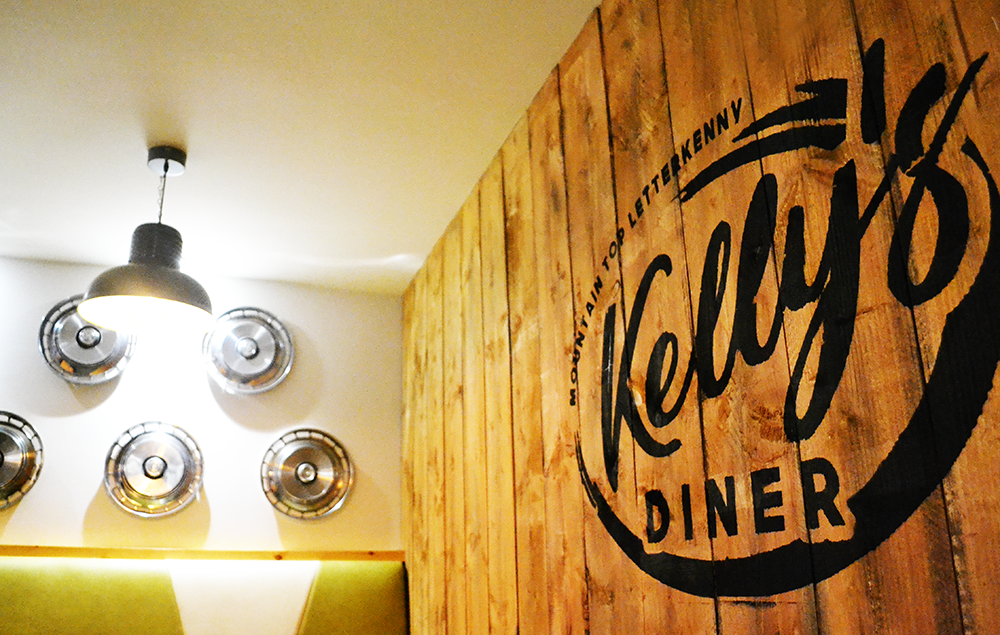 We are just delighted to serve what we see as the best burgers and breakfasts around and with FRANK & HONEST coffee selling in our diner it's a great place to meet up and share a treat and cappuccino with friends.
After a recent trip abroad to the UK, Mairtin Kelly was surprised to see how his diner was very similar to the best he has visited.
"I believe we've captured perfectly what other high profile diners in the UK do really well and we've put our own stamp on it in our own restaurant," said Mairtin.
2018 saw Kellys win a national award for Customer Service Excellence. Having been recognised as a leader in this department, the staff are only too aware that the customer is king and they really go the extra mile for them every day.
Most recently the store won yet another award for Customer Service from Topaz for the best mystery shopper results for the region of Donegal and in the top 2% in Ireland.
David Bonner manager at Kelly's Centra says "This is further recognition of the hard work the team put in every day meeting and exceeding customers' expectations, we just want customers to experience the very best service we can offer".
And they will prove that once again tomorrow with an unforgettable customer appreciation day.
For all the details check out Kelly's Centra of Mountain Top's Facebook page at www.facebook.com/kellys.centramountaintop
---
Sponsored Post
Tags: