The North West Simon Community is calling on businesses, entrepreneurs and individuals from all walks of life to sign up for the Annual Sleep Out this October.
'Sleep Out for Simon' takes place on Friday 5th Oct in Letterkenny and Sligo this year. This event forms part of Simon Week, an awareness campaign on homelessness and its causes taking place nationally from Mon1st to Sun 7th Oct.
Last year alone, North West Simon Community supported 177 individuals, couples and families from becoming homeless.
Collette Ferguson from NW Simon Community said: "We feel it is imperative that people be made aware of the growing number of people at risk or already made homeless in the counties of Donegal, Leitrim and Sligo."
You don't have to be sleeping on the streets in a big city or town to prove you are homeless
Ms Ferguson added: "There is an evolving face to homelessness that we encounter today and it affects people closer to home than we may care to imagine; people from our own villages and towns, and isolated rural areas; and those coming out of our failing institutions, is really what lies behind these growing and damning national statistics."
The most vulnerable in our society are the first to be locked out of the housing market, Ms Ferguson added. The North West Simon Community works to prevent people from becoming homeless. The organisation provides vital services to minimise the duration and impact on the increasing number of people who have been made homelessness this year. Assisting them to be resettled back into a place they can call home, with on-going support, as soon as practicably possible.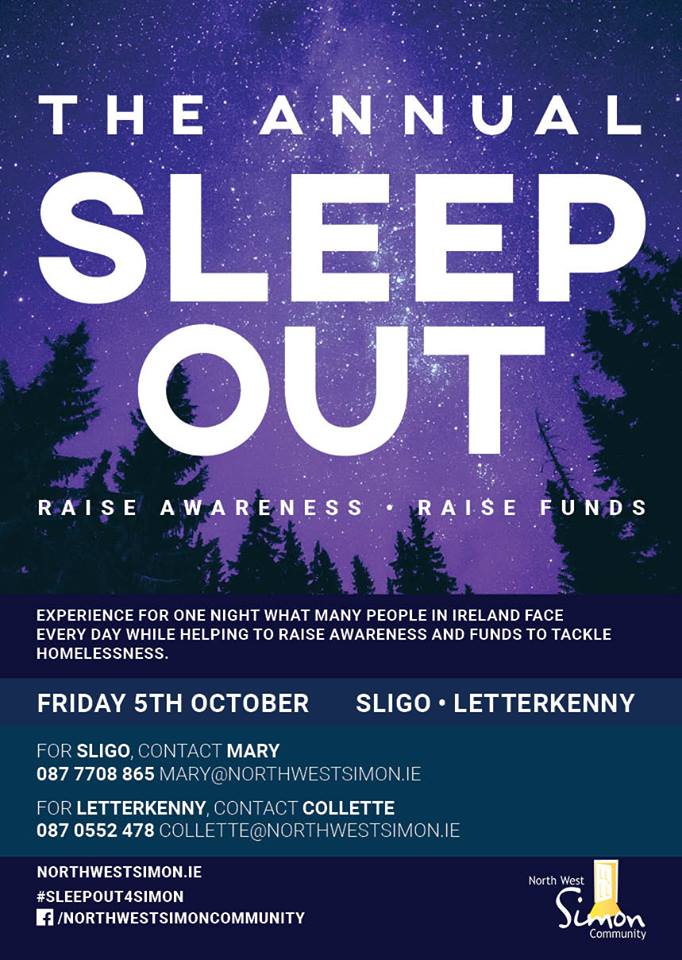 The Annual Street Sleep is taking place in Letterkenny & Sligo on Fri, 5th Oct and the North West Simon are urging businesses, entrepreneurs and individuals from all walks of life to sign up today and support our worthy cause!
You hold the key to a brighter future! So sign-up today and help change someone's life for the better! – Collette Ferguson.
If interested, please contact Collette on: T: 074 9121613 M: 087 0552478 or E: collette@northwestsimon.ie you must be over 18 years to take part in the Sleep Out.
Each participant will receive a Certificate and return home with the satisfaction that they have helped make a difference in their local Simon Community.  
Once a participant signs up and meets the fundraising team they will receive a fundraising pack which will provide details of the event and include a Sponsorship Card.
For further details, check out North West Simon Community facebook page www.facebook.com/northwestsimoncommunity
Tags: