Are you of renovating before the winter? Here, Letterkenny Credit Union Ltd share an insight into how their flexible loans can make home improvement dreams a reality:
Winter is fast approaching, and that means that home improvement is on the minds of many. DIY and renovations have seen an increase in popularity in recent years.
New figures released on the Home Renovation Incentive show that since the scheme launched in 2013, more than 107,000 homeowners have carried out renovations. A total of €1.7 billion has been spent on home upgrades – an average of €16,187 per project.
A 2017 survey by the Irish League of Credit Unions (ILCU) also found that a significant two-thirds of adults had carried out home improvements since 2014. One quarter estimated that they spend between €1,000 and €3,000 when upgrading their home. 42% said they would choose to transform their home with new carpets and flooring. 38% said they would opt for new heating or insulation and 23% said they would fit new windows or doors.
While these upgrades work wonders for your home, they can be costly endeavours. The good news is that those surveyed by the ILCU had the right idea when it came to funding their home improvements. Of those who said they would need to borrow, six in ten said they would use their local credit union.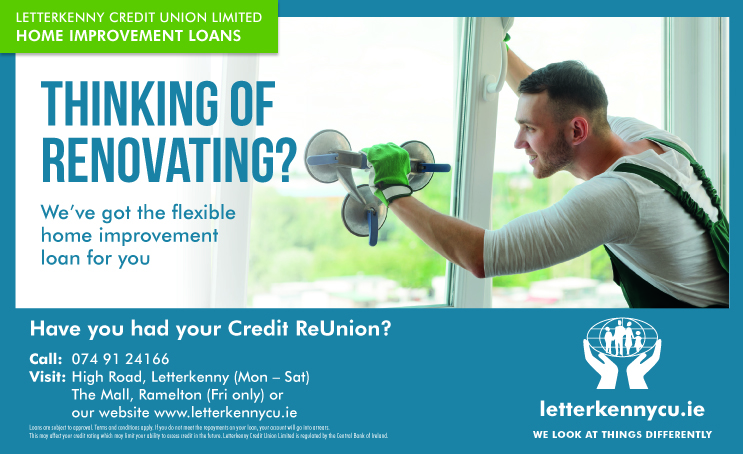 Commenting on this, Paul Hume, Chairperson Letterkenny Credit Union said; this is no surprise to us as we are seeing a large number of queries from people in the Letterkenny area asking about our home improvement loan. It's easy to see why there is such interest in the product. We offer the loan at a great value APR rate of 8.2%**. Not only that, but our loans are typically approved in 24hrs. We are also happy to offer our loans to brand new members, those members we see every day and of course those members who may have inactive accounts or whom we haven't seen in a while."
Paul continued "There are a lot of other benefits with our home improvement loan. There are no administration fees or hidden charges and we can structure repayments in a way that suits every individual's circumstances. Borrowers are also free to repay the loan early, should they wish, without any penalties. So we would encourage anyone planning on doing some home improvements to contact us and enquire about a 'Credit ReUnion' with Letterkenny Credit Union. We'll be happy to help make your home improvement dreams a reality."

---
Sponsored Post
Tags: