Donegal ETB's Abbey Vocational School in Donegal Town have officially opened a brand new computer suite funded by Letterkenny based company Pramerica. 
Leaving Cert students will be logging on to lessons using this new computer suite that has been fully kitted out with state of the art computers, 20 PCs and 10 laptops. 
Abbey VS is one of only 40 schools in the country and one of only two in Donegal who were chosen to offer the new Leaving Certificate Computer Science subject to twenty-five of their students starting this September.
The school has also announced plans to be proactive in promoting the subject amongst female students in the school and have looked at studies carried out in this regard with a view to taking on board the many recommendations evidenced.
Abbey Vocational School Principal Geraldine Diver said, "The school has over 900 students and each of the students have studied digital literacy and computer science. Our Junior Cycle students are studying coding as a short course and our senior cycle students all studying computer class as part of their curriculum. 
"The computer science subject was offered to our students last year and the take up was very high. We could easily have filled quite a few classes.
Principal Diver continued: "Pramerica have made it possible to further extend and enhance the teaching of this subject to more students in an enhanced way. The Pramerica logo of a rock which symbolises durability, dependability and reliability is something we want to model in terms of what we do here in the world of computer science. We wish to name the computer room the Rock to honour the kind gift from Pramerica."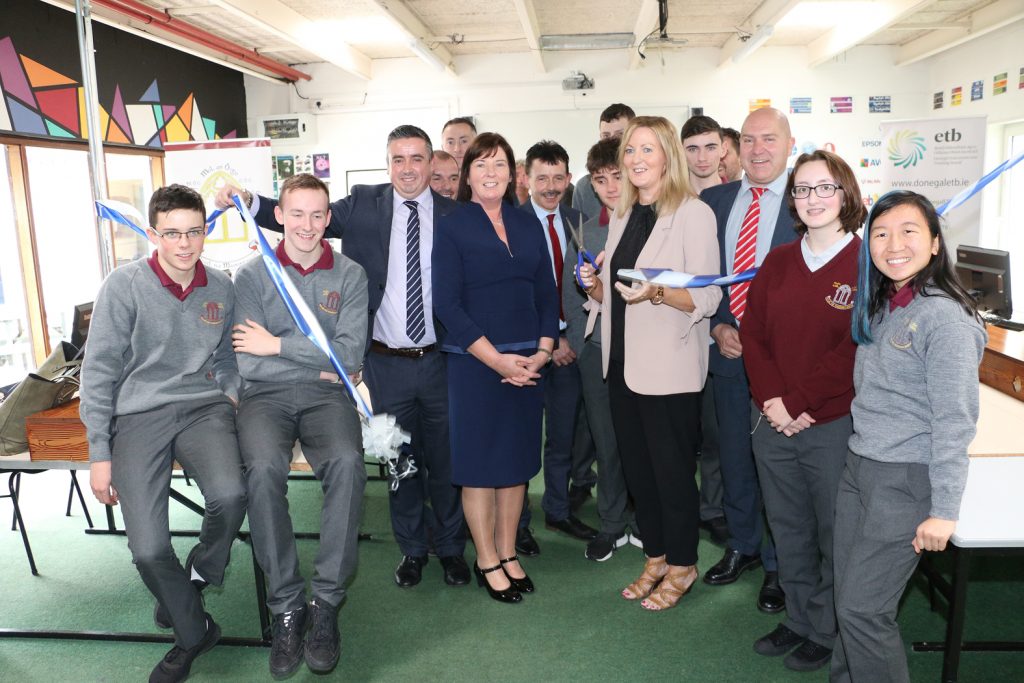 (Pictured: Gerard Grant, Vice President of Technology, Pramerica Ireland; Pauric Kennedy, Mayor Donegal Town, Gavin Gorman staff, Geraldine Diver, Principal; Dr. Martin Gormley, Director of Schools, Donegal ETB; Andrea Mc Bride and Geoffrey Browne along with students from the Computer Science class.)
Dr Martin Gormley, Director of Schools, Donegal ETB, said: "This day is all about the students and Donegal ETB will do everything it can to support them all."
Gerard Grant, Vice President of Technology at Pramerica stated: "The students are exceptional and we were delighted to support this new venture in any way that we could."
The suite was officially opened by Andrea McBride, Vice President of Systems at Pramerica.
Also in attendance were Gerard Grant, Vice President of Technology and Shane Grant, Director of Facilities Management, both at Pramerica.
Other guests included members of the Board of Management including Chairperson Geoffrey Browne, Gabrielle O Donnell, Mary Mc Gucken, Chris Darby and Oliver Plunkett, Parents Association Chairperson Patrice Duffy, Donegal ETB's Director of Schools Dr Martin Gormley, Town Mayor Mr Pauric Kennedy, the AVS ICT team and computer science students.
Tags: