This week our fitness columnist Emmet Rushe discusses how you can find the time to exercise without having to neglect other duties. 
Time is the most valuable commodity we have.
Around this time of year, the feeling that we have none to ourselves can be huge, but more often than not, it isn't that we do not have enough time, it is that we are not using it wisely enough.
When it comes to your health and fitness goals, time management is essential.
This is the time of year where everyone's schedules are being planned out and everything for the upcoming year is being scheduled in.
You will plan around everything around:
Kids
Work
Shopping
After school
After school activities
Sports practices
Music lessons
Partners activities
Weekend activities
Then when you stop and look at it, you have left no time for YOU! It is very easy, as a parent to put everyone else before yourself.
To plan out everyone, to make sure they get to everything on time and have everything that they need, while at the same time neglecting yourself and forgetting about what you might need.
You are as important as everyone else.  Your needs are as important.  Your health is as important as everyone else's, if not more important. After all, if you get sick or run down, who is going to do the endless list of things that you have set out for yourself to do?
We are great at doing this to ourselves. Packing our schedules so full that our heads are spinning.
But, keeping active and getting your exercise in doesn't have to be a mammoth task.
You just need to assess your schedule and see where you can fit it in.
When you write out your daily routine hour by hour, you will usually find large gaps where you can fit in time for YOU!
I'll give you an example in the image below.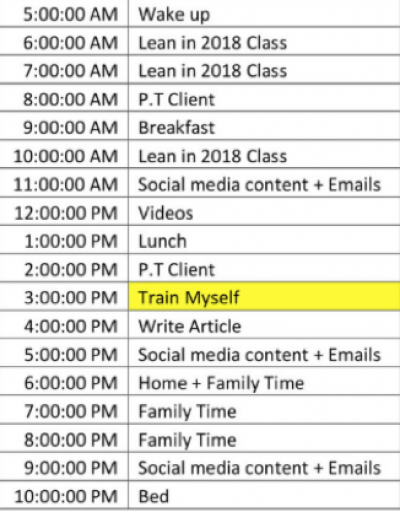 This is an example of one of my days hour by hour.
Everything is planned out to make the most of my time, but to also get important work done so I don't end up procrastinating.
We are all very good at telling ourselves that we are too busy to get any exercise done.
But if you asked someone what was happening in the new season of Game of Thrones, or Power, or Love Island when it was on, they could rhyme off every episode.
This is not a criticism.  Everyone needs downtime. I have mine scheduled in with my wife and kids above and this also allows for some television, but not much.
But, I have also my training time scheduled in and it is unbreakable. Three/four times per week, I get my training session in.
What I am trying to show you is that, if you planned it into your day, NOW, you will keep it as part of your day.
Where you could be spending hours on Facebook, YouTube, Instagram, PlayStation or watching Netflix or television.
It is in those hours is where you can fit exercise into your schedule.
If getting up at 5:30 am, so you can get your exercise done at 6am before the family wakes up, does not sound appealing to you and you can't get it done straight after work, then you may need to sacrifice an hour of leisure time in the evenings.
We are not talking about two hours of training per day, 7 days per week here. I have had hundreds of members get results training 2-3 times per week for 1 hour each time.
If you can't make it to a gym, go walking, or running or jogging. Got a bike? Go for a cycle. Stuck in the house?
Do bodyweight exercises.
You have endless options that can help you to stay active and to keep your health and fitness goals alive. It is about planning ahead and setting them in stone now, today.
One of the biggest regrets people have when they start to get in shape is wishing they had started it earlier.
So, do it now before you get left behind and end up wishing you had more time for yourself.
#leanin2018
Our next set of Lean in 2018 classes starts on September 17th.
Now the kids are back to school, you can get back into a routine and have time for yourself. Let us help you to achieve your goals.
Click the link below to see our extensive range of times and membership options.
https://www.rushefitness.ie/class/lean-in-2018-gym-plan/
Spaces are filling up fast so don't delay, get booking NOW!
Tags: