Twelve top class chefs from all over the county came together in Harvey's Point this week to showcase the very best of Donegal food and show how the county is rising the ranks as a top foodie destination.
The 'Donegal Signature Dish' event welcomed up to 70 special guests to be treated to a splendid display of Donegal food on Tuesday night.
Mouth watering dishes were prepared by some of Donegal's most talented chefs using local produce from local suppliers. Guests, including high profile food writers and bloggers, were blown away by the high standard at what was the first ever Donegal Signature Dish event.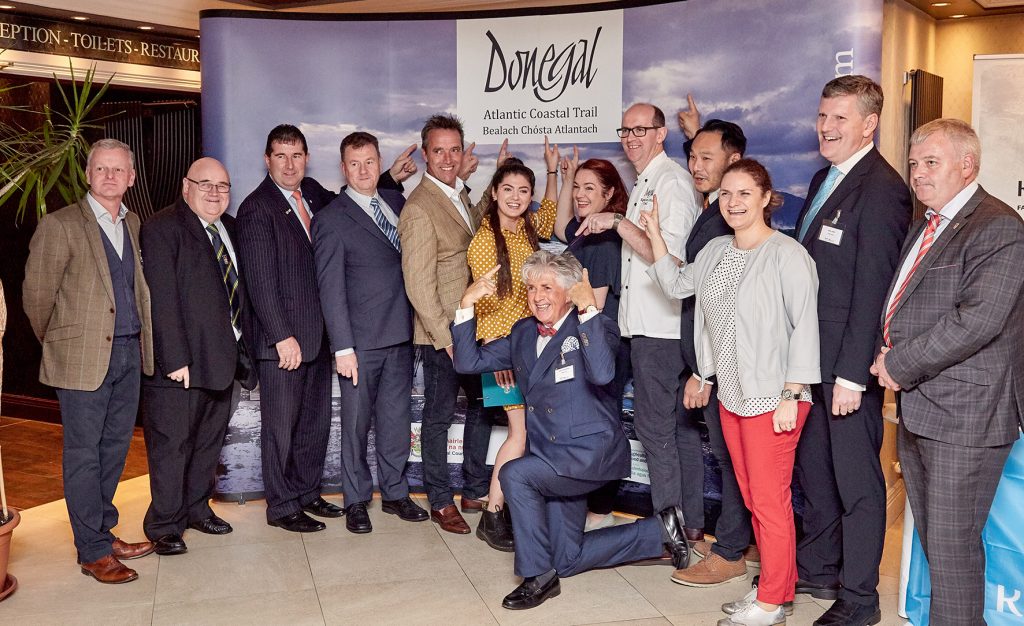 (Pictured: Noel Cunningham welcoming guests to the Donegal Signature Dish event in Harvey's Point Hotel on Tuesday night from left to right Dr Ciarán Ó hAnnarcháin, LYIT School of Tourism; Barney Mc Laughlin, Donegal County Council; Cllr Micheál Naughton; Seamus Neely, Donegal County Council/Donegal Tourism CLG; Celebrity Chef Kevin Dundon; Farida Zeynalova, National Geographic Traveller Food; Aoife Carrigy, Irish Food Writers' Guild; Chef Brian McDermott; Kwanghi Chan, Bord Bia Shanghai; Iga Lawne, Donegal County Council; Dr Seán Duffy, LYIT School of Tourism and Cllr Martin Harley.)
In the ambience of the beautiful Garden Suite, the event started with a drink reception during which canapés were served.
Attending guests also had a chance to sample a selection of locally produced drinks including craft beers, gin and whiskey compliments of Bog Hopper Brewery from Muff, Donegal Brewing Company from Ballyshannon, Kinnegar Brewing from Letterkenny, Old Mill Brewing Company from Convoy and Sliabh Liag Distillery from Carrick.
The sit down tasting dinner consisted of 10 different dishes from around the county cooked on the night, which was a real feast for the stomach, as well as the eyes. The dishes were chosen by the organising committee in a selection process earlier this year. Each dish had to fulfil two criteria – consist of Donegal produce and be available on each establishment's menu either currently or on a seasonal basis.
Cllr Seamus O'Domhnaill, Cathaoirleach of Donegal County Council said "we have outstanding, creative chefs in Donegal who utilise the delicious, locally grown foods produced by farmers and marine producers to prepare new dishes of cuisine that highlight our heritage and culture. We must tell a renewed story about Donegal food and drink experience, focusing on quality, authenticity, innovation and value for money and this is why we are here this evening."
Barney Mc Laughlin from Donegal County Council thanked the committee, the chefs who submitted their dishes, the guest host Chef Brian McDermott, table hosts, suppliers, Harvey's Point staff and management and all the guests for their attendance.
Mr McLaughlin paid a special tribute to the chefs who took on a challenging task of cooking and serving their dishes, making it a very memorable evening for all attending.
Among the invited guests was Irish celebrity chef, television personality, author and owner of Dunbrody House Kitchens and Cookery School Kevin Dundon; Assistant Editor with National Geographic Traveller Food, Farida Zeynalova; Chairperson of the Irish Food Writers' Guild, freelance journalist, author, restaurant critic and HolyMackerel.ie food blogger Aoife Carrigy; Fáilte Ireland's Food Ambassador, Irish Food Guide Blogger and Donegal Chef Zack Gallagher; Michelin trained chef, founder of ChanChan and ambassador with Bord Bia Shanghai, Kwanghi Chan; representative of the Restaurant Association of Ireland, Sean Redmond and representing Fáilte Ireland Máire Áine Gardiner.

(Signature Dishes served during the Donegal Signature Dish event on Tuesday night – Top L-R Greencastle Smoked Haddock and Balymoley Leek Chowder by Chef Gary McPeake, McGrory's Hotel; Autumn Beetroot Salad (V) by Chef Christopher Molloy – Lemon Tree Restaurant; Top of the Cliff to Bottom of the Bay by Chef Anthony Armstrong, Nesbitt Arms Hotel; Arnold's Surf & Turf by Chef Brian Mc Monagle, Arnolds Hotel; Bitter Chocolate Torte by Chefs Joe & Brenda O'Hora – Benny & Co, Ballybofey.  Bottom L-R: Turf Smoked Donegal Lamb by Chef Ian Orr, Browns on the Green; Castle Grove Walled Garden Tomato & Basil Pressed Terrine (V) by Chef Paul Brady, Castle Grove Country House; Donegal Beef by Chefs Chris McMenamin and Colin McKee, Harvey's Point Hotel; The Olde Castle Seafood Platter by Chef Marco Letterese, The Olde Castle Bar; Donegal Dúlamán Gin Infused Carrageen Moss by Chef Karl Murtagh, The Silver Tassie Hotel & Spa.)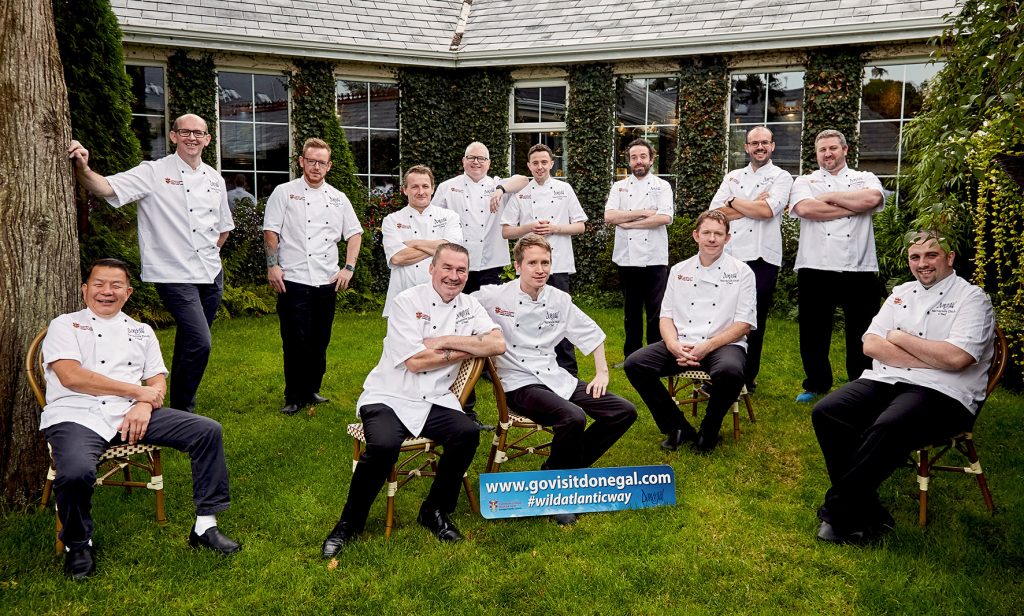 (Pictured: Donegal chefs participating in the Donegal Signature Dish event in Harvey's Point Hotel on Tuesday night Standing left to right: Brian McDermott, Guest host and MC; Paul Brady, Castle Grove Country House Hotel; Marco Letterese, The Olde Castle Bar & Restaurant; Gary McPeake, McGrory's Hotel; Christopher Molloy,The Lemon Tree Restaurant; Brian McMonagle, Arnolds Hotel; Ian Orr, Browns on the Green; Karl Murtagh Silver Tassie Hotel & Spa.  Sitting left to right: Kamal Rai, McGrory's Hotel; Anthony Armstrong, Nesbitt Arms Hotel; Colin McKee, Harvey's Point Hotel; Joe O'Hora, Benny & Co Coffee Bar & Restaurant and Chris McMenamin, Harvey's Point.)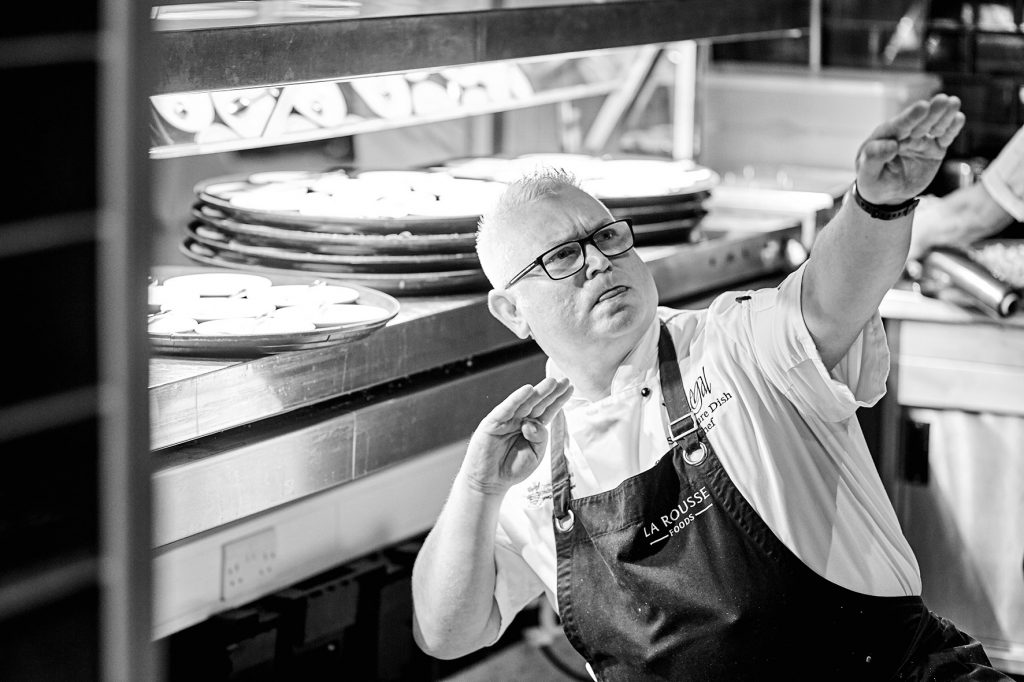 Tags: