A DONEGAL man is on his way back into the county after driving his 1961 Massey Ferguson 35x from Mizen Head in memory of his late wife.
Paddy Duffy's journey was inspired by a chance conversation with friend Liam Skelly in the Trawlerman Bar in Moville a couple of months ago….and will end in Malin Head tomorrow.
Paddy's late wife Kathleen died from a hereditary heart condition; and his two daughters Sharon and Annemarie suffer from the same condition.
Sharon had stents put in recently and Paddy, a 73-year-old retired mechanic, was determined to raise money for CROI House in Galway which provides accommodation and support to families whilst they are at University Hospital Galway.
"Paddy said to me he'd love to take his vintage Massey from Mizen Head to Malin Head and try to raise some money but it was just a chat and I said he should do it," said pal Liam.
"He was just worried about the fundraising side of it, so I said I'd do that if he got the tractor to County Cork for the start of the journey. Then on Tuesday Paddy rang me out of the blue to say he was ready to go….THIS WEEK!
"Paddy and his son in law Noel took the tractor to Mizen Head on Wednesday and set off for Malin Head on the Thursday morning.
"Thursday saw Paddy cover 210km from Mizen Head to Patrickswell in Co.Limerick then on Friday he set off from Patrickswell to Kilkelly in Co. Mayo.
"Today Saturday he will travel home to the hills of Donegal from Kilkelly to Letterkenny and tomorrow Sunday it will be Letterkenny to Malin Head followed by parade around Moville….and then we might go back to the bar stools in the Trawlerman where it all began."
The journey has captured the imagination of the public along the route with radio appearances too on radio stations in Cork, Galway and the Midlands.
Liam has urged everyone on route through the county today and tomorrow to give Paddy a wee toot of their car horns….and some money towards a great cause too.
Donations will also be made to the Beaumont Hospital Foundation which is working with Donegal families.
Donegal Daily readers can help Paddy and his daughters by making a donation on the gofundme page below….he's hoping to raise €5,000.
https://www.gofundme.com/paddy039s-tractor-run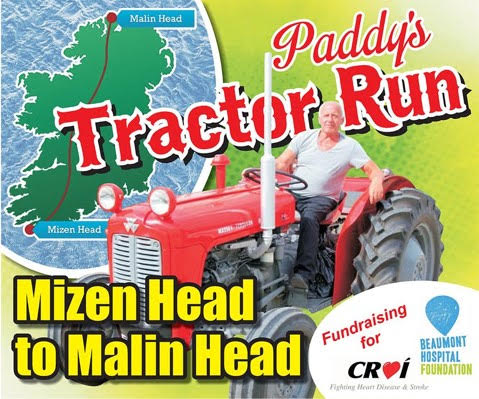 Tags: