A new brand has been developed by Údarás na Gaeltachta for the promotion of Ireland's Gaeltacht areas and the excellence of their products worldwide under one inclusive brand.
'Gaeltacht na hÉireann' (Ireland's Gaeltacht) will act as a stamp of approval for everything that originates in the Gaeltacht and will be a visual representation of the vibrancy, enterprise, cultural richness, provenance and unique language of the Gaeltacht regions.
Údarás na Gaeltachta Chairperson, Anna Ní Ghallachair, is launching the brand today at an event in Na Forbacha in County Galway alongside client companies from all Gaeltacht counties – Donegal, Mayo, Galway, Kerry, Cork, Waterford and Meath. Amongst the companies supporting the launch were Folláin Teo., Táirgí Cáise Buabhall Mhaigh Chromtha Teo. (Macroom Buffalo Cheese), Nemeton, Criostal na Rinne agus Potadóireacht na Caolóige (Louis Mulcahy), Marine Harvest, Irish Seaspray, Randox Teo as well as other Gaeltacht companies and organisations.
Ireland's Gaeltacht is promoted as a vibrant and creative region unique in its language, history, culture, people and landscape and an attractive place in which to live, work, locate a business or to visit. The Gaeltacht na hÉireann brand values reflect what this distinctive region represents.
· Provenance
· Quality
· Community
· Gaeilge (Irish Language)
· Pride
· Culture
The brand will be a resource to promote the Gaeltacht and all aspects of Gaeltacht life to assist with the strengthening of the Gaeltacht community and the Irish Language. The 'Gaeltacht na hÉireann' brand was developed so as to maximise the benefit of the natural features of the Gaeltacht and to realise the region's best possible potential in terms of the development of resources and employment and to attract mobile investment.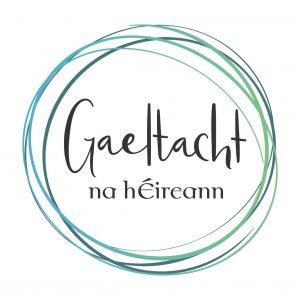 The Gaeltacht na hÉireann logo is a visual emblem and an agreed identity which will assist those located in the region to tell their own story and to develop specific recognition in national and international markets which confirms their origin as being rich in culture, natural beauty, a creative spirit and an innovative mindset.
The logo will be will be available for companies and organisations located in the Gaeltacht to use on promotional material and branded communications, on signage, online and on printed marketing materials, on products, packaging and uniforms.
Launching the new brand Údarás na Gaeltachta Chairperson, Anna Ní Ghallachair said, 'the Gaeltacht is an organic identity that can be easily imagined with a brand of its own. Due to the number of fantastic developments happening in this special region, it is particularly satisfying for the Board that Údarás na Gaeltachta have developed a specific brand to promote the regions excellence worldwide."
Údarás na Gaeltachta, Chief Executive, Mícheál Ó hÉanaigh added "The brand is available for everyone located in the Gaeltacht to use- our clients, other Gaeltacht businesses, community organisations, the tourist sector, the Arts and other sectors. Companies and organisations who wish to use this stamp of approval will be able to use it on their services or products to inform their customers that their products are being made in the Gaeltacht, by a Gaeltacht workforce and supporting the economy of the Gaeltacht and surrounding areas."
Tags: