James Corry felt a piercing pain in his lower in January and had noticed a 'lump' some weeks previously, but was initially 'too thran' to visit a doctor.
Ballyclare High School, where the Stranorlar man works as a PE teacher, had a scheduled staff development day on Monday, January 8, and he asked for it off. 
He can admit now, ten months on, that he'd have worked through the pain had it been a normal school day.
But within a life-changing week, he was diagnosed with testicular cancer and by the Friday evening was back at home having had surgery to remove a testicle.
"I hardly had time to think about it and the testicle was out," he says.
His journey from there to here – back captaining Lisnagarvey in the Irish Hockey League and working again at Ballyclare High – has been remarkable and inspiring.
He learned in February that the cancer spread to his lungs and underwent nine gruelling weeks of chemotherapy.
In the space of a week in May, he moved into a new home with his girlfriend, Jenna, ran a leg of a relay in the Belfast Marathon and got the all-clear on May 8th.
"It was just hell for five months," Corry says.
"It all happened so quickly. About a week before Christmas, I thought I had a lump in the testicle. Around the New Year, I had pains in my lower back. I asked out of a staff development day and I didn't know what was wrong.
"The doctor sent me straight to the Royal and had an ultra sound. They told me that it was 90 per cent cancer. That was confirmed the next morning and I had the testicle out on the Friday. I was in for surgery about 9 in the morning and was out that evening. But I was just crippled, bent over for five or six days before I could move. 
"They tore through my lower abdomen to take it out so it was tough."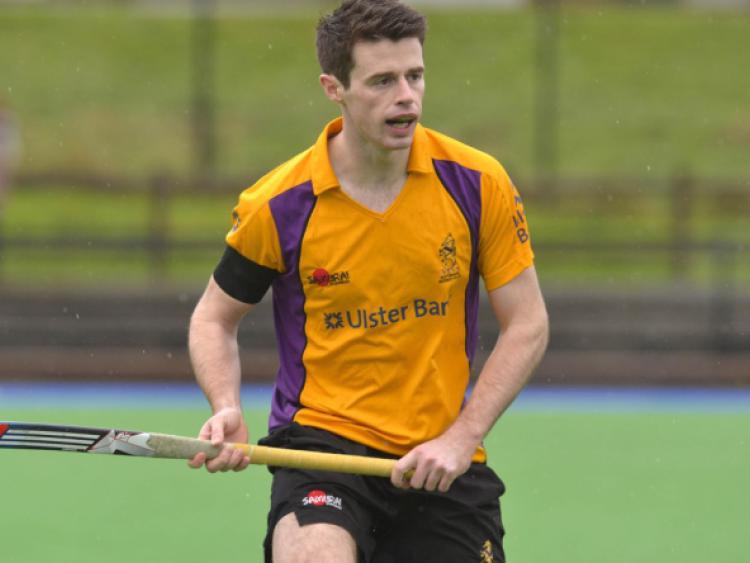 Just three weeks later – 'I had no aches or pains and thought I was fine, though  a wee bit run down', is how he describes his mood that day – he went for a follow-up CT scan. 
The words became a blur. His mind went into overdrive.
'The…cancer…has…spread…to…your…lungs.'
" I thought that was the end of me," Corry says now.
"That was the day that the shit hit the fan. I had multiple sports on my lungs. Although it was on the lungs, it was still testicular cancer. 
"I thought I'd never work again, never play hockey again. I didn't know what was happening. I'd bought a new house in November. Would I still be financially able? We were to move into the house on the 4th of May.
"It was stage 4 in the lungs. The next stage was the cancer going to the brain and we'd be into Lance Armstrong territory."
At Belfast City Hospital, he had chemotherapy for nine weeks. 
At the beginning, he even went out for a run.
"By the end of the chemo, I couldn't even walk 100 yards," he says.
"I had nine weeks of it. I was one of the lucky ones. There were guys who had been in for years, other guys who were much younger. It wasn't a pleasant sight in there. 
"There were four of us with testicular cancer, similar diagnosis. One of them was an older guy, of about 43, who's also back to work now. 
"The thought of having to do that treatment…it's not pretty. You can't eat, you can't drink and you can't concentrate. I didn't have to vomit with it or anything.
"I had three big days in one round and then basically I was lying, pretty much unconscious, on the sofa for five or six days.
"It the 'good stuff', though, and it worked its magic on me.
"I lost my hair after the first round and it was completely gone by the third round. I was very conscious of that and I didn't go out at all. Once I got the all-clear, I was straight out again, trying to train."
On May 4, on their original schedule, James and Jenna, moved into their new house.
"She was a massive help," he says. "It would have been very different and very lonely without her. It was hard on her too, but we got through it."
As a youngster in Raphoe, with Raphoe Hockey Club, and at the Royal and Prior, he was always marked out as one who would have a big future in hockey.
When Instonians came calling in 2010, he couldn't say no and he stayed here until their relegation in 2017, when he joined 'Garvey.
This Saturday, Lisnagarvey face Banbridge at the recently-developed Comber Road in Hillsborough. They lost their opening game to Pembroke, but defeated Cookstown 4-0 last weekend. 
"I was always aiming for the first week in August – I knew pre-season would start then," he says.
"I was trying to run most days and got into the gym as often as I could. The first day I went to the gym, I couldn't even squat the bar. I lost a serious amount of energy and strength.
"The first game back was an eye-opener. The lungs just weren't where I wanted them to be. They're still not, but I'm able to play for the majority of games now again. 
"The summer break definitely helped. It's brilliant being back with the boys again. The doctors all said there'd be no work or hockey until after Christmas. 
"But I found exercise was the best thing for it. If I sat in the house, I'd be thinking too much about it. 
"It's great being back. It's something I probably never appreciated much, training two or three times a week and having a match on a Saturday. 
"I always said I'd be back for this season. I still have to push my fitness, mind you."
He was back at Ballyclare High before the end of the summer term and has defied a lot of odds to get to here. 
Team-mates at Lisnagarvey, former team-mates and friends at Raphoe and at the Ballybofey & Stranorlar Golf Club – 'I used to spend days on end there, too,' he says – have checked in regularly. He plays off a 4 handicap these days in Lisburn and is yearning for some consistency on the course.
For the next year, he'll have a CT scan or an x-ray every three months. Next year, it will be every four months. Long-term, he'll have a scan once a year for the next ten years.
"Every time I go back fir a scan, waiting to hear if it's clear or nor is the worst bit," he says. 
"That could change everything. 
"I'm just focussed now on dealing with it. I don't know what caused it or when it actually came on. I wasn't doing anything different. I thought that I was fit and healthy.
"I'd be struggling if I hadn't have gone to the doctor that day and I owe a lot to her for referring me straight away too. Only for that day I took off, I'd be that thran, I'd just say 'ah, there's nothing wrong' and work away. 
"I played hockey the Saturday before that. Maybe in hindsight, I was a bit wheezy, but it's amazing that I could play hockey on the Saturday and the next Friday I was lying having a testicle removed."
Life – and its various intricate aspects, even the hockey – have a whole new meaning now. 
Tags: