It has been confirmed that 50 new signs will be installed across county Donegal highlighting the fines for illegally parking in disabled bays.
Ten signs will be erected in key areas in the five Municipal Districts of Donegal.
The signs were custom-made for Donegal after calls came from the public and county Councillors to have signage elevated above ground and to display the fine cost of €150.
Since there is no such signage provided for in the Traffic Signs Manual from the Department of Transport, the council has come up with the non-standard signage below and are having them manufactured, according to Betty Holmes of Donegal Action for Cancer Care.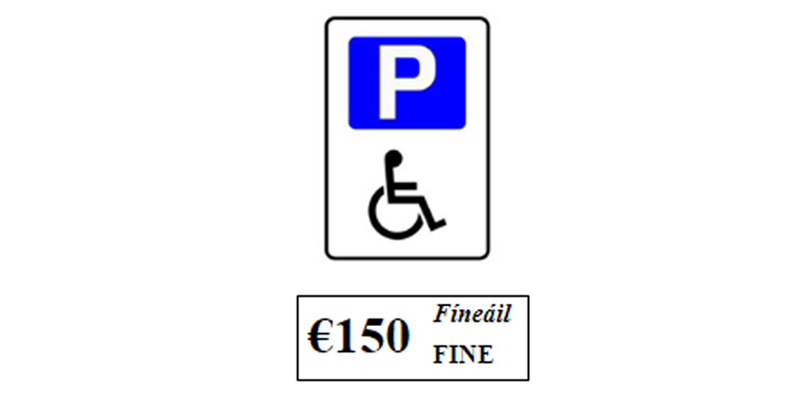 The DACC brought the issue to the council through Cllr Gary Doherty and Cllr Jack Murray back in March 2018.
The group has welcomed the adoption of the councillors' motion and the update that plans are underway to erect the signs before the year end. DACC had originally called for signs to be erected in all disabled parking bays, but this is subject to funding.
Ms Holmes said: "DACC have kept the pressure on and followed up on this as it was agreed that it would happen within 6 months. We are happy it will now happen."
DACC was told that the County Council are funding the 10 signs in each Municipal District through existing budgets. Further funding would be required to provide such signage at all spaces.
Ms Holmes added: "DACC will now be writing to Donegal County Council and indeed the County Councillors in each of the Municipal Districts to ensure that funding is secured in the budgets to ensure that more signage is erected next year to cover the county.
"DACC are all voluntary and unpaid but we will continue to work hard like we always do."
Tags: