As Amber Barrett reflects on the journey so far, the Milford woman's mind is littered with instances of FOMO.
At just 22, Barrett has packed quite a lot into a career that still remains in its infancy.
That she has done so much is down as much to those bouts of a Fear Of Missing Out.
On Sunday, as Barrett walks out to to the carpet of the Aviva Stadium to play in the WFAI Cup final for Peamount United, it will be worth remembering that her journey could've had so many more destinations.
At the crossroads, the indicator in her mind flashed in 2017 and turned her towards soccer.
She'd played in the 2017 League with the Donegal senior footballers and had scored 2-9 in the All-Ireland U21 'B' final win over Longford in 2015, but by the time the 2017 Championship came around, Barrett had decided that soccer was her calling.
The latter half of 2017 – winning the Player of the Year gong with Peamount; finishing as top scorer in the Women's National League; making her Ireland senior debut; and being joint captain of Ireland fir the World University Games – told her that her call was right.
It all came after Donegal had won the Ulster Championship and Barrett still feels the pulls on her heart strings.
"That spark is still there now," she says, ahead of Sunday's televised final with Peamount against Wexford Youths.
"They've won two Ulster titles and unfortunately I don't have those medals.  But I've made an impact on the Irish women's team and I'm so thankful for that.
"It was hard to walk away from a team that had ambitions of winning an All-Ireland. It was hard to say 'no', but I had to make the decision, difficult and all as it was. Part of me still misses the Gaelic, but I don't regret moving or choosing.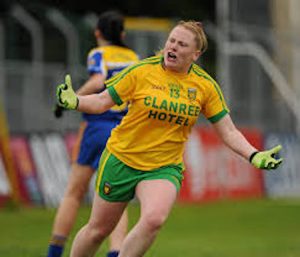 "There was this whole thing where I basically had FOMO. I was scared of leaving one and that one I let doing well. When I went to Peamount, the Donegal ladies were pushing and looking to win Ulster titles."
You wonder if she were to stand in a time machine now and rewind six years where she'd wander.
The young Barrett stuck being a dual star as long as she could – and perhaps longer even than that. A bout of glandular fever that had her sidelined for six weeks in 2017 was ultimately a nod to make a decision.
Take her back into her mid-teens and she muses that she may well have chosen a different track altogether.
"Part of me wishes that I'd stuck to athletics," she says.
Eamon Giles, her coach at Cranford AC, encouraged her to 'give it a go'. Giles' pushed, Barrett says, 'till he was blue in the face' as his pupil competed at a high level – the top level in her grades, in fact – in sprints and the long jump.
She says: "I loved the athletics. I probably miss it the most. I was very passionate about it and was good at it; I won underage All-Irelands.
"I just fell away from it then and was caught between football and Gaelic then. There's no point wondering what if or what might have been.
"I'd done so much at underage level. Patsy McGonagle told me once that I needed to make a decision by the time I was 16. He was right, but I didn't listen. I'd tell youngsters now to make a decision early and not carry it all the way I did.
"You're never going to turn around and tell someone to choose at 12 years of age, but by 16 you probably do need to focus 100 per cent on one. I got caught between doing one, doing the other and doing something else. It's not physically feasible to do that."
Wheels in many ways have come full circle.
As Barrett was lining out this year for the Republic of Ireland in 2019 World Cup qualifiers, Letterkenny woman Ciara Grant, who has 25 senior caps to her name, was part of the Donegal senior football squad.
"I remember when I was growing up, Ciara Grant was going to the World Cup with the Under-17s and I always looked up to her," Barrett says.
"Ciara always stood out. She always seemed to be doing well. Ciara was up at underage and then went to seniors. She sort of set the tone and was a role model for us."
Last September, Barrett made her Irish senior debut as a substitute in the 2-0 away win over Northern Ireland – on the same night that St Johnston's Tyler Toland created history in becoming Ireland's youngest senior international. Roma McLaughlin was already a part of the squad and they've since been joined in the senior ranks by Amy Boyle-Carr.
Like Grant before them, that quartet is now lighting a fuse in the budding footballers in the Donegal and Inishowen Women's Leagues.
"I can see now that little girls are aspiring to be in the position that I'm in," Barrett says.
"We're all lucky to be in the positions that we're in. We've worked very hard to get here, but we know we're showing that it's possible.
"The girls coming out of Donegal now are as good as are anywhere. I'm as proud a Donegal woman as you'll ever meet. There's something in the air up in Donegal that people around here in Dublin would love to have.
"The Leagues are stronger now. When I was playing for Lagan, we dominated for a few years and were beating teams eight or nine-nil. It seems to be more competitive now and there are more teams playing.
"I played on teams with the boys and that was great for developing. It helped me a lot to be competing with the boys teams in Milford."
In April, Barrett's image beamed from the back pages and became an internet sensation for a while after scoring a dramatic late winner for Ireland in the World Cup qualifier against Slovakia at Tallaght.
Her thinking is selfless and she doesn't list that moment at the top of her list.
"Obviously it was a huge thing to score for my country…but in a broader aspect, the draw against the Netherlands was a bigger highlight," she says, in reference to the 0-0 draw with the reigning European champions in Nijmegen.
87: GOOOAAALLLL!!!
IRELAND 2-1 Slovakia. What a finish from Amber Barrett. How important could that goal be? #COYGIG #IRLWNT pic.twitter.com/LdXKavavkg

— eir Sport (@eirSport) April 6, 2018
"Unfortunately, results later on didn't go our way, but that game showed us the quality. Our backs were to the wall for the majority of it, but it was a really resilient Irish performance.
"To be part of that team for that game, in a sold out stadium, was something else. As good as the goal against Slovakia was and as immensely proud a moment it was, that game against Netherlands is probably above it."
Ireland missed out on qualification, but Colin Bell has instilled a new level of professionalism in the Girls in Green.
"We have to have ambition as players," Barrett says. "And when Colin talks about professionalism, it's not about how much money your making from football; it's about what you're doing to make yourself better and how you're conducting yourself. When you sit and speak to him, it's clear that he comes from a first class set-up. He won a Champions League with Frankfurt. He's been really good for us."
These are good times for Irish footballers: Niamh Fahey has signed for Liverpool and Leanne Kiernan bagged a move to West Ham in the summer. Media coverage has never been higher , but Barrett can feel the expectation on that, too.
"There is a responsibility on us players, too," she says.
"More and more media are giving games coverage. It's easy to point to people and say 'aww those people don't bother their asses going to games' but there's been a massive shift. More and more people are going to games now.
"There was a massive crowd at our semi-final. The final on Sunday is going to be televised. It's great to have that coverage, but we have to try and avoid it, too, because you can get caught up in it. People definitely can't complain of a lack of coverage anymore.
"Getting to play at the Aviva was always something I wanted. I'm delighted to have the opportunity. It's brilliant for the game to be played before the men's final. I think, in time, the Ireland senior women will have a chance to play there too.
"More people than ever are coming to watch the Women's National League now. It's going to be a massive occasion. You can see that from the build-up. I think some players don't realise how big it is. Wexford have had the chance before and we can't wait for Sunday to come around."
There were whispers of a move for Barrett in recent times. She's in the process of completing a masters in eduction and is on teaching placement.
The noise regarding moves anywhere else haven't raised her eyelids just yet.
She says: "Next year, I will have to think about what I want to do – teach in Ireland or maybe something else. It's all up in the air, but I would probably veer towards staying at home. It's my responsibility to put myself on the map.
"I just try to perform at my highest level any day I go out. People are always watching. I've not had any contact up to now. There was a bit of talk about scholarships in America before I did the Leaving Cert, but I'm more than happy with what I chose.
"There is more opportunity now to play at a high level. I wanted to finish my undergrad and my masters. I'm very happy with how everything has gone for me. It's good to have the school to get out of football. That's an experience in itself and betters me in a way. There is more opportunity for players now. Not everyone makes it away. Some people just want to stay and are home birds. It's worked out for me so far."
When Peamount came calling initially, it was via Eileen Gleeson. By the time Barrett rocked up at the Greenogue club, Gleeson had left for UCD and there was uncertainty in the air.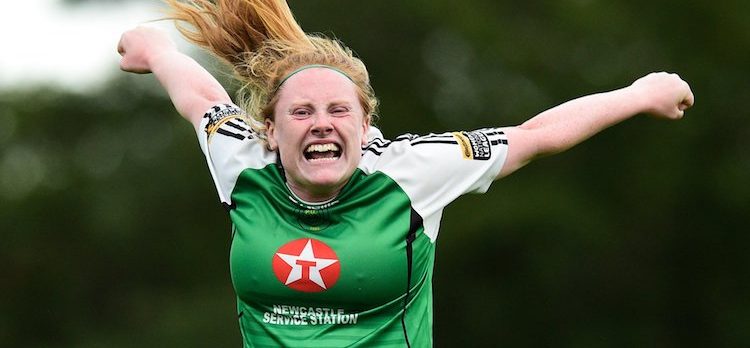 "Peamount basically were starting from scratch," she says. But Barrett found contentment at Peamount.
"I had offers from Shels and Raheney, Eileen wanted me over at UCD, but there was something about Peamount. I liked it and actually fell in love with Peamount. It was ideal for me. I'm glad now I stayed. I've even here for four or five years now and can see it improving every year. A lot of girls are coming through and are all starting to mature now."
Barrett was the WNL Player of the Year and the Top Goalscorer last season.
In 2018, she has retained the golden boot. A hat-trick against Cork City at the weekend was her seventh treble of the season. She also scored Cup goals against UCD, Kilkenny and the winner against Shelbourne in the semi-final.
"I had a couple of dips over the season and I had to manage myself how I was playing," she says.
"I tweaked my game and tweaked what I was doing. I had to bring myself into games more, open things up and basically not try to score every time I got the ball.
"I had to be more patient and not snatch at things all the time. I've set up more goals now and am getting into a lot of good positions.
"I've had quite a good season. My aim at the start of the year was to score more goals and I did that."
Amber Barrett – 2018 WNL goals

March 17 – Shelbourne 1 Peamount 4  1 goal

March 24 – Peamount 4 Kilkenny United 0 3 goals

April 14 – Wexford Youths 2 Peamount 2 1 goal

April 21 – Peamount 3 Limerick 0 1 goal

June 30 – Peamount 1 Wexford Youths 2 1 goal

July 8 – Limerick 1 Peamount 9 3 goals

July 21 – Peamount 3 Cork City 0 3 goals

August 4 – Peamount 6 UCD Waves 2 4 goals

August 18 – Peamount 8 Kilkenny United 1 4 goals

October 13 – Peamount 10 Limerick 1 5 goals

October 20 – Peamount 3 Galway 1 1 goal

October 28 – Cork City 1 Peamount 9 3 goals
Peamount and Wexford – who were beaten by Cork in last year's final – have already met in a Cup final this year, with Peamount winning the League Cup final 2-1.
Barrett says: "Getting the golden boot again is a great personal achievement – but we didn't win the League.
"You sort of wonder if a lot of the goals were in vain. I've done well the last couple of years, but obviously you'd swap all of that for some success as a team.
"I just want to do the best I can do. It's coming together now. Winning the League Cup was a huge confidence booster. I know I need to be on form and I want to push on all the time."
Tags: