The Halloween fireworks were still in the air on Saturday night as Raphoe ABC toasted its 30th anniversary in style at a major tournament.
By Chris McNulty, ringside at Deele College. Photos by Geraldine Diver
1992 Olympic welterweight gold medallist Michael Carruth was in attendance with a handful of boxers from Drimnagh ABC, where he is now a coach.
Carruth stormed his way to history 26 years ago when he won Ireland's first boxing gold at an Olympic Games, beating Cuba's Juan Hernández Sierra in the final, and had that Olympic Gold nugget with him in Raphoe.
In the ring, an All-Stars Selection, including Carruth's crew, won the night 8-5.
Raphoe's former Irish champion Eoin McGarrell showed flashes of his capabilities as he defeated St John's rugged Peter Convery in one of the night's eagerly-awaited contests. Referee Sadie Duffy had to be involved quite a bit in an often-scrappy affair, but McGarrell did enough to take the verdict.
McGarrell was an Ulster champion in the early months of 2018 and there were moments here when he bit on the mouthpiece and showed why his talents have been ranked highly. McGarrell has the ingredients and the success of the recipe will be down to his own doing in the coming months. The potential is waiting to be unlocked and McGarrell needs to stay busy and build on what was an encouraging return to action.
Another former Irish champion, Cody Lafferty, was beaten by Alanna Mayes.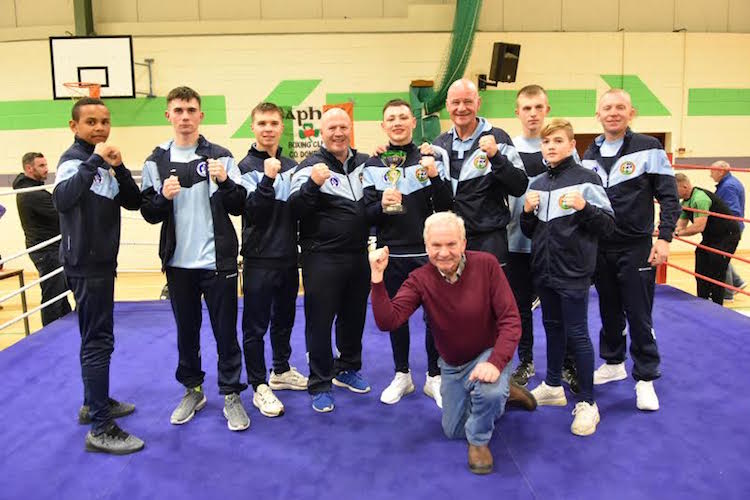 Lafferty kept a distance throughout the bout and it was perhaps to her detriment as Mayes picked off a number of shots. Lafferty responded with a neat left-right combination in the third round, but Mayes was able to stay in control of things.
Mayes, a multiple Irish champion, was the busier of the two, but the three rounds here will stand to Lafferty, who had some injury trouble before returning to the ring this year.
The Ballindrait dynamo holds an important part in the history of the Raphoe club. In 2014, she became the club's first Irish champion since Danny Ryan in 1993 when she won the Girl 1 title with a memorable win over Rathkeale's Fiona O'Keefe.
Through their high performance training in Dublin, Lafferty and Mayes have become good friends and Lafferty was edgy coming up against her mate from Newtownstewart. There could be no qualms about the verdict, but it's a bout that will do Lafferty good.
It was a sweet 16 for Raphoe's Liam McMonagle who defeated Jack Gill from Drimnagh on a split decision. McMonagle celebrated his 16th birthday with a hard-earned win and Raphoe's Oisin McHugh held away in an entertaining bout against Dunfanaghy's Oisin Wallace.
Letterkenny's Sean Devine and Raphoe's Conor McGurk engaged in a real war at 70kgs and it was edge-of-the-seat stuff with Devine, but only just, getting the nod.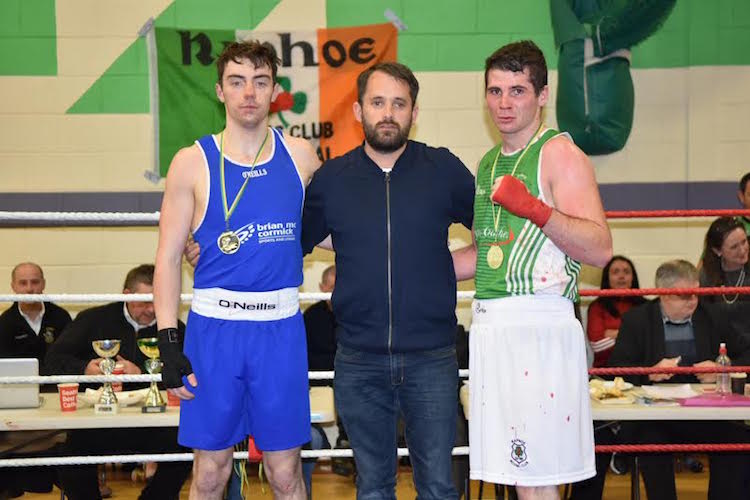 The blood dropped from McGurk's nose in the second round and troubled him again in the third. But he was undeterred and made for a closely-fought battle to the finish.
NABF middleweight champion Jason Quigley was joined by former Irish heavyweight champion Eamon Coyle and former Commonwealth Games bronze medalist Paddy Doherty in a capacity crowd at Deele College as Raphoe toasted a big milestone.
The Raphoe ABC was found by Peter O'Donnell, Tommy Stewart and Brendan Ryan (RIP) 30 years ago and their anniversary year has been a memorable one with star turn Leah Gallen winning a pair of Irish titles and last month clinching a European Junior bronze medal in Russia.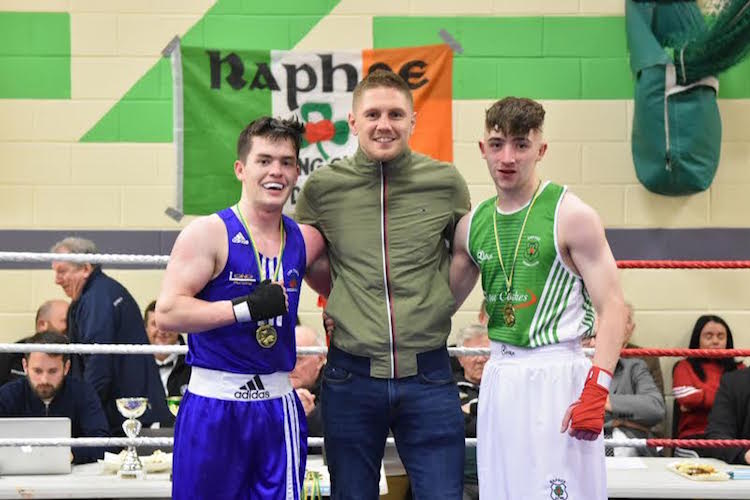 In the night's opening bout, Kyle McHugh got the ball rolling for the home club with an excellent unanimous win over Twin Towns' James Maughan.
Drimnagh southpaw Westley Okwartna gained the upper hand on Raphoe's Liam Crawford in a cracking 60kgs contest. Okwartna was on top in the opening round and landed a couple of heavy lefts on the Raphoe puncher, who hit back by the final stanza.
Crawford made Okwartna earn his corn, but the taller Dubliner had done enough.
Drimnagh's Ben Williams had the upper hand against Raphoe's Brendan O'Hagan, while Conor Friel soared to an excellent win over Twin Towns' Michael Curran in a bout that belied the fact that it was a battle of two debutants.
A standing ovation from the big crowd was testament to the calibre of the fight. Indeed, Friel was named as the Raphoe Boxer of the Night, a superb way to end his first night between the ropes.
Carrigart's Eoin Green overcame Jamie Magee in an explosive clash at 64kgs. The two traded in a ferocious exchange, but Magee visibly tired as the fight wore on and Green was able to maintain the gas. Green took a deserved unanimous verdict with Magee having been given a count midway through the third.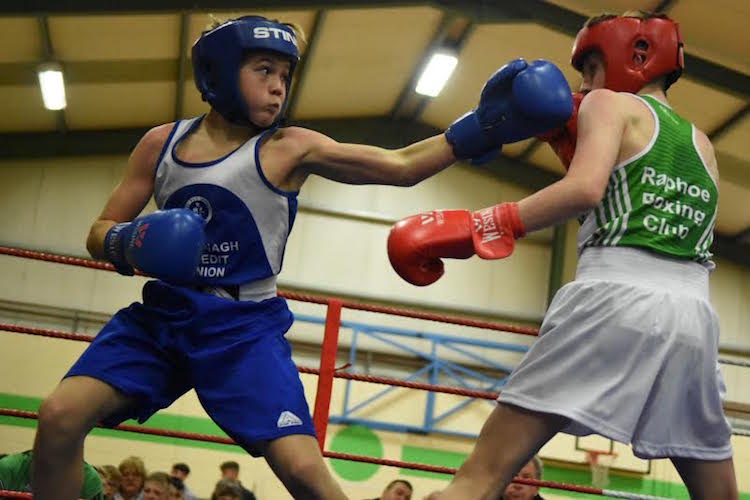 The lively James Euzel from Drimnagh unleashed a stinging volley and an eight count on Danny Buchanan in the first round of their scrap.
Euzel inflicted a series of such tirades and Buchanan was spared any further punishment as his corner retired their man on the stool at the close of the second round.
Drimnagh's Gavin Bradshaw had too much for the experienced Raphoe boxer Dennis Lafferty, but Raphoe middleweight Paul Darby recorded a fine win over Pearse Berryman to end the night on a winning note for the home support.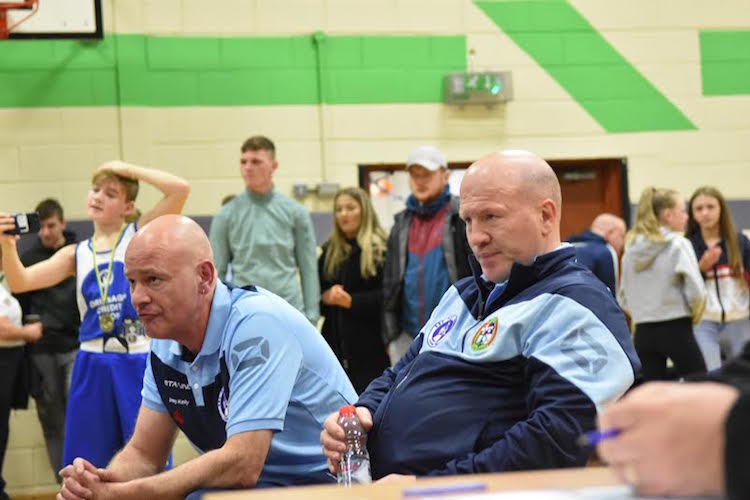 RESULTS

Boy 2 46kgs Kyle McHugh (Raphoe) beat James Maughan (Twin Towns) 3-0

Boy 4 60kgs Liam Crawford (Raphoe) lost to Westley Okwartna (Drimnagh) 1-2

Girl 6 46kgs Cody Lafferty (Raphoe) lost to Alanna Mayes (Two Castles) 0-3

Boy 4 47kgs Brendan O'Hagan (Raphoe) lost to Ben William (Drimnagh) 0-3

Youth 1 64kgs Jamie Magee (Raphoe) lost Eoin Green (Carrigart) 0-3

Youth 1 57kgs Danny Buchanan (Raphoe) lost to James Euzel (Drimnagh) RSC3

Youth 2 64kgs Conor Friel (Raphoe) beat Michael Curran (Twin Towns) 3-0

Youth 2 57kgs Eoin McGarrell (Raphoe) Peter Convery (St John's) 2-0

Youth 2 66kgs Liam McMonagle (Raphoe) Jack Gill (Drimnagh) 2-1

Youth 60kgs Oisin McHugh (Raphoe) Oisin Wallace (Dunfanaghy) 2-1

Youth 70kgs Conor McGurk (Raphoe) Sean Devine (Letterkenny)

Senior exhibition Matthew McCole (Dungloe) v Paddy Adamus (Drimnagh) exhibition

Senior 60kgs Dennis Lafferty (Raphoe) lost to Gavin Bradshaw (Drimnagh) 0-3

Senior 75kgs Paul Darby (Raphoe) beat Pearse Berryman (Dunree) 3-0
Tags: