Staff and students of Finn Valley College in Stranorlar have recorded a special CD to pay tribute to the Irish lives lost in World War One.
The CD entitled – 'To the Fallen' – marks the centenary of the end of the Great War, in which an estimated 50,000 Irishmen and Irishwomen lost their lives.
The record contained 20 poems and songs about the war and is the brainchild of Mr Shaun Byrne, a history teacher in Finn Valley College.
Mr Byrne, together with Mr Freddie Godliman and Ms Lisa Treanor, sourced and arranged the tracks, which were recorded in the Valley Recording Studios of Terry McGinty in Ballybofey and performed by over 40 members of the school community.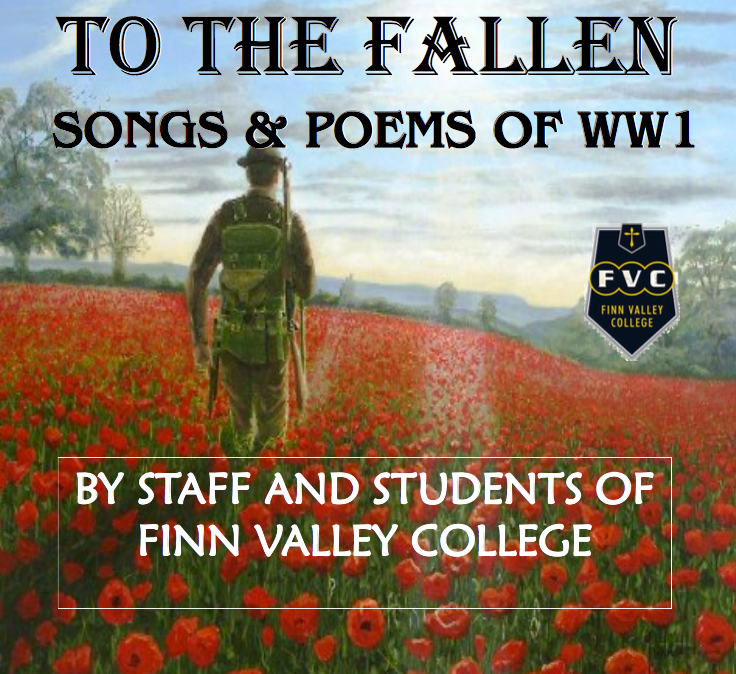 A highlight was working on a series of Patrick McGill war poems and adapting the work into a song that is beautifully delivered by 3rd year student Caitlin McNulty.
McGill, originally from Glenties, documented his war years in his writings and his haunting imagery coupled with his longing for home is arranged beautifully by Messrs Byrne and Godliman into the composition – I Wish the Sea was not so Wide – to the air of The Parting Glass.
Some tracks chose themselves, such as the popular ballads The Green Fields of France and Danny Boy and the more famous war poems such as The Last Post and In Flanders' Fields.
Some songs were adapted to add in Donegal elements, such as a Scots Gaelic tune written by a private from the Isle of Skye. The tune was adapted and transported to Donegal and the Island of Gola, with the resulting version of Isle of my Heart, sung by Irish teacher Ms Eimear Ni Fhearraigh, becoming a very fitting track.
In all, 16 people were involved in the poetry readings, 10 others with the individual songs while a special in-school recording of Marching Medley overseen by Lisa Treanor involved over 30 more students.
On the project Mr Byrne said: "I believe the recordings act not only as a fitting tribute to the memory of those brave men and women who fought in the Great War but also as a reminder to present and indeed future generations of the role they played.
"Indeed this will probably be the lasting legacy of the project. As such I believe the recordings act as a valuable document in our shared cultural heritage in this corner of the island and therefore honours our debt and gratitude To the Fallen."
It is hoped that the CD will be launched on the anniversary of the signing of the Armistice, which marked the end of the war on the 11th hour of the 11th day of the 11th month in 1918.
The project was funded by Donegal County Council through Creative Ireland and part-funded by Donegal ETB.
Tags: