This week the team at CG are finalising the plans to host a very special Gourmet Fundraiser in collaboration with Ramelton's very own Chef Gary O'Hanlon.
Ringing in the Season of Goodwill in aid of Shaun Dunworth Recovery Fund
Gary O'Hanlon needs no introduction.  Having gained recognition far and wide, it was no surprise when he won the 2018 Georgina Campbell Hospitality Hero Award for services to Irish Food.  His culinary expertise is well renowned and he's back in town for a marvellous feast not to be missed!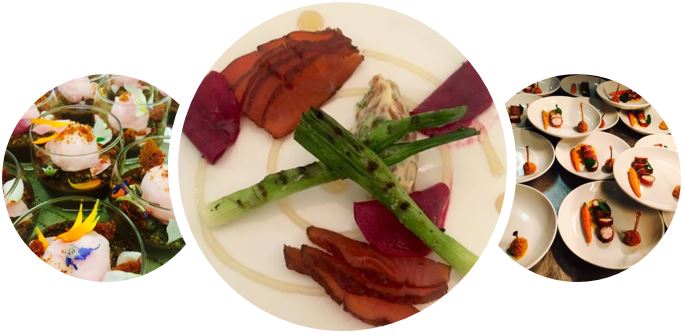 As a local family-business we are delighted to welcome Chef Gary to Castle Grove as we ring in the Season of Goodwill together, in support of the Shaun Dunworth Recovery Fund. We're all thankful that Shaun has returned home having battled back from life-threatening injuries, but we're mindful that the recovery journey continues for Shaun and his family.
Mary T summed it up nicely:  "We're delighted to host the event in support of the recovery fund. It's always good to support the local community and we're looking forward to welcoming Gary to CG.  The Dunworths themselves have been involved in the local food trade for many years – so what better than a night of amazing food to support them."
We invite you to join us with your support for a most worthy local cause.  
This fantastic event will see Chef Gary collaborate with our kitchen team, led by Chef Brady.  Diners can expect to be wowed.
The evening commences with a Champagne Reception followed by a 5 course Tasting Menu complete with expertly paired fine wines. Diners can also expect to meet the critically acclaimed and multi-award winning Chef Gary in the dining room during the course of the evening.
We are all very excited to be involved in what promises to be a great night.  
We look forward to seeing many familiar faces on the night and we call on our regular customers to come out in support of a great local cause.
So please join us for this foodie extravaganza with Chef Gary, Chef Brady and the amazing CG team.
Champagne Reception

5-Course Tasting Menu

Chef Gary O'Hanlon collaboration

Fabulous wine pairings

Great local cause

November 22

nd

, 7pm
Booking is essential. €65 per person. Champagne served from 7pm. Dinner served at 8pm.
Reserve your table today by calling us on 074 91 51118 or email reservations@castlegrove.com

CHEF GARY O'HANLON       
Gary is Culinary Director at Baxter Storey Ireland and prior to that had been Head Chef of Viewmount House, Co. Longford from 2008-2018.
Winner of the Georgina Campbell 'Best Restaurant in Ireland' 2014, Food & Wine Magazine 'Best Chef Leinster 2016, RAI Best Chef Leinster 2010 & 2017, & 'Country House of the Year 2017' Gary has been ever present on our TV screens since 2008 with appearances on MasterChef Ireland, Four Live, The Today Show, Late Lunch Live, The Six O Clock Show.
He is resident Chef on 'The Restaurant' and also featured on RTE's Healthy Appetite. Gary is a regular columnist with The Irish Times and has a weekly Food slot on Newstalk's Lunchtime Live. Gary won the 2018 Georgina Campbell Hospitality Hero Award for services to Irish Food.
SHAUN DUNWORTH RECOVERY FUND
Set-up to support 21 year old Ramelton man, Shaun Dunworth, following life threatening injuries sustained in a horrific fall in Sydney, Australia.  
Having fought back from a critical condition, Shaun spent months in hospital in Sydney before recently returning home.

The brave recovery journey continues for Shaun and his family and this fund is dedicated to supporting them along the way.
Reserve your table at the Shaun Dunworth Recovery Fund Dinner on November 22nd 7pm by calling Castle Grove on 074 91 51118 or email reservations@castlegrove.com
Tags: