The dark night will be illuminated by a pack of runners, walkers and wheelchair users in Gweedore tonight as crowds take part in 'Run in the Dark'.
A pop-up edition of the global fundraising movement will be held tonight (14th November) to raise funds for the Mark Pollock Trust.
Participants wear flashing armbands for the 5k wheelchair accessible run or walk which will start from 8pm at the Amharclann, Ard na gCeapairí, Derrybeg, before circuiting the Gweedore industrial estate twice and returning to the Amharclann for refreshments.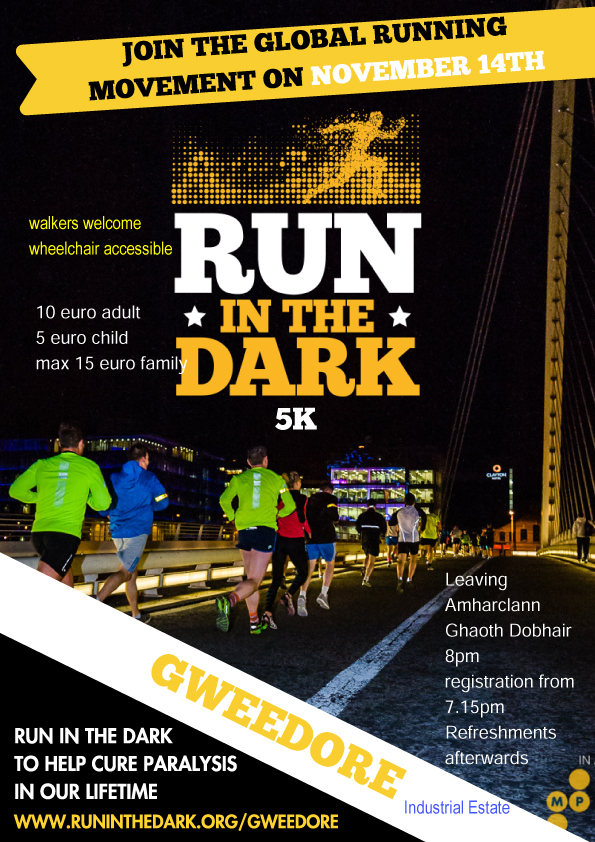 The Run in the Dark started as an idea on a notepad and has grown from several hundred people running around Trinity College Dublin (Ireland) in 2011 to a global event of 25,000 people.
Donegal champion is Sonia McGarvey, mother of Noirin who sustained a spinal cord injury at the age of 4, is hoping for an even bigger attendance at this year's event – moving the event closer to home so Noirin can participate. 
A total of €12,567 has been raised through the years and the event's first pop-up in Glenveagh National Park was the largest pop-up Run in the Dark event worldwide with 400 participants.
The annual affair fuels the Mark Pollock Trust whose mission is to cure paralysis. A former ultra-endurance athlete, Pollock suffered a catastrophic spinal cord injury in 2010 when he fell from a second-storey window that left him paralysed.
Pollock is now carrying out research into the effectiveness of the Exoskeleton suit for treating spinal injury and investigating future avenues for progression in this field.
The Mark Pollock Trust strives to find a cure for paralysis and promotes universal access to Eksobionics Exoskeletons for paralysed people, stroke patients, those with MS and other neurological conditions.
The Trust funds an exoskeleton in UCD for public use and this year the No Barriers Foundation in Letterkenny secured enough funding to purchase their very own exoskeleton for the North West – the only one available in Donegal.
The equipment will be present for people to see the state of the art rehabilitation equipment on the night. There are currently 14 people in Donegal making use of it to date, with a total of 56,000 steps taken.
Registration is from 7.15pm in the Amharclann on the night. An entry fee of €10 per adult, €5 per child and €15 for families has been set.
The organisers are looking forward to a good turn out on the night and more information can be sought on Facebook, the Run in the Dark website or you can contact Sonia McGarvey on 0833064381.
Tags: