A very special member of An Garda Síochána has taken on a new duty to kick-off the Christmas season at Voodoo Venue Letterkenny.
Jack Beattie (aged 7) from Raphoe is the guest of honour at a charity Christmas event in Voodoo this Sunday 18th November.
All proceeds from the family fun day will be donated to the Bumbleance Children's Ambulance Service. Being a Bumbleance Ambassador is just one of Jack's ways of helping the community, as he is also Donegal's first Little Blue Hero junior garda!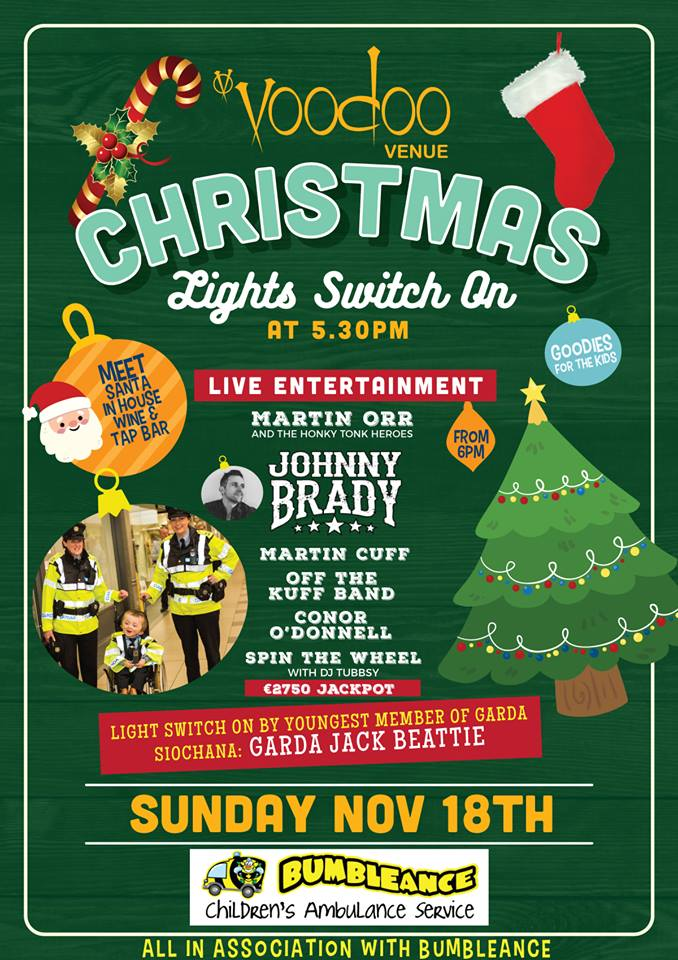 Voodoo Venue, the epicentre of entertainment on Lower Main Street, will be transformed into a winter wonderland this weekend. 
Santa has reserved space outside to park his slay and will be meeting all the boys and girls in House Wine Bar and Tap Room where he will be handing out plenty of goodies.
At 5.30pm the Christmas lights will be switched on by Garda Jack. 
From 6pm it's time to kick back and relax in the lounge with a marathon of musical talent including: Martin Orr & The Honky Tonk Heroes, Martin Cuff, Johnny Brady, Conor O Donnell and Off The Cuff Band.
After the live music DJ Tubbsy will be spinning the wheel for a chance to win a monstrous €2750.00
This will be a fun-filled evening for all of the family in association with Bumbleance, the children's ambulance service.
There will be no cover charge, all money collected throughout the evening via bucket collections and raffles will go directly to Bumbleance! The prizes will be plentiful, and the craic mighty – everyone is welcome.

Tags: