There has been a lot of hype surrounding McCafferty's Bar after their grand opening on Lower Main Street Letterkenny.
Many curious customers have been checking out the three-storey Irish pub and enjoying the live music venue this month. Some may notice something very familiar about it… that's because there are now four McCafferty's in Donegal and the UK!
The history of McCafferty's Bar charts back to early 2017 in the heart of Donegal.
The first McCafferty's Bar began in Donegal Town on Friday 13th January 2017 when the Boyle family bought a famous bar on the Diamond.
The bar had its name going back through generations of McCafferty families from the locality.  
After purchasing the bar, the new owners began renovations and brought a new lease of life to the historic bar.
McCafferty's is now a well-established hotspot for the revellers of the north-west.  Tourists love the traditional Irish theme of the bar and daily live music.
Moving on from this success story, the family brought the McCafferty's brand across the water to North Harrow, London. They also host live authentic Irish music and create a home away from home for many Irish overseas.
Epsom in the UK was the 3rd of the McCafferty's Bars who opened its doors to the public on October 26th.  From a pint to a cocktail, from events to birthdays, they offer such great quality and atmosphere you'll keep coming back for more!
Jumping back to Ireland, the 4th of the McCafferty's bars opened in Letterkenny, Co. Donegal on 31st October 2018.  
The bar, having only been opened a short time, is already proving to be a hit with the locals 7 nights a week.
It comprises of 3 floors packed with great spots to enjoy a drink and take in the interesting decor.
On the bottom floor is Nellie Rua's – the cocktail, gin and whiskey bar.
Moving up to the middle floor in McCafferty's where they host live music 7 nights a week.  
Sonny McSwine's on the top floor has many widescreen TVs and daily coverage, making it a popular destination for sports fans.
McCafferty's bars may be newly opened, but they are steeped in tradition and history. Why not call in and see for yourself this weekend!
---
Find out what's on in a McCafferty's Bar near you by checking out their pages:
McCafferty's Letterkenny: www.facebook.com/mccaffertyslk
McCafferty's Donegal Town: www.facebook.com/McCaffertysBar
McCafferty's Epsom: www.facebook.com/McCaffertysBarEpsom
McCafferty's Harrow: www.facebook.com/McCaffertysHarrow
---
Planning your Christmas party? Why not book the Bayview!
The Bayview Bar & Restaurant in Dungloe is a top spot to book your Christmas party this year. With great food and great atmosphere, they are hosting festive dinners and lunches with complimentary Mulled Wine.
For more, check out www.facebook.com/bayviewbardungloe1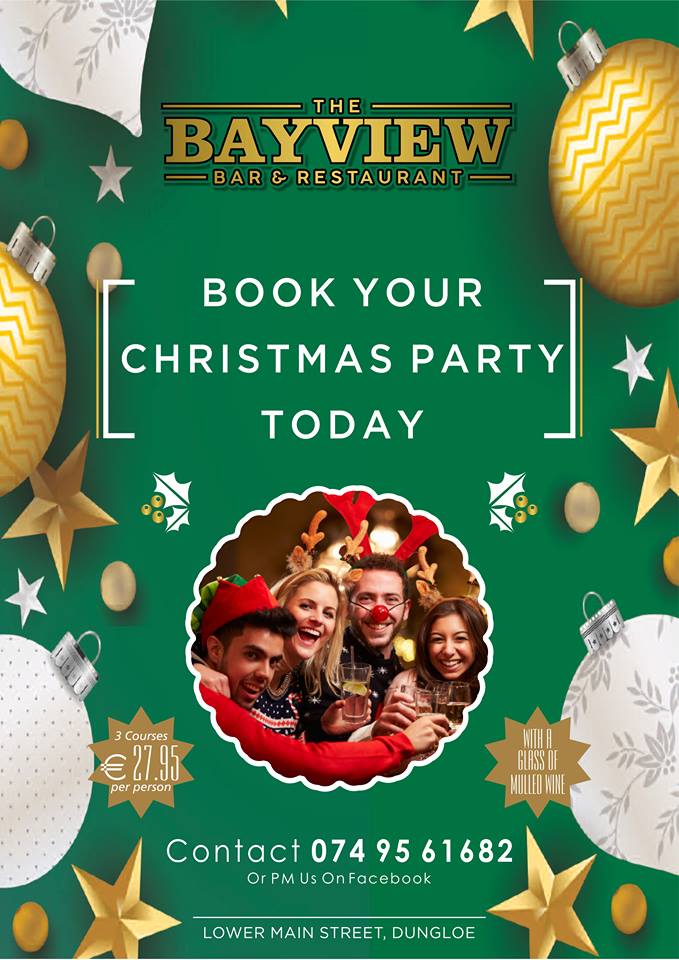 Tags: