Poachers are suspected to be behind an incident in Glenties when a deer's hooves were left hanging from a telephone wire.
The legs of the animals had been sawn off and deliberately hung on the wire.
Local man Joseph Brennan came across the horrific find while out walking in the area.
The area is known locally as Beanna Buí, a wild open area popular with red deer as well as Golden Eagles close to the Gweebarra River on the main Glenties to Fintown Road.
Mr Brennan, a well-known member of the Donegal Mountain Rescue Service said he has no doubt who is behind the shocking incident.
"This is the work of deer poachers and obviously intended to give the proverbial two fingers to the National Parks and Wildlife Service and the Gardai in their attempts to stamp out deer poaching in the area.
"A pair of legs, sawn off and hung to blow in the wind. Needless to say done under cover of darkness."
Poaching has been a major issue in the area with large numbers of wild deer being shot illegally.
Many of the deer come from the large herd which live in the nearby Glenveagh National Park.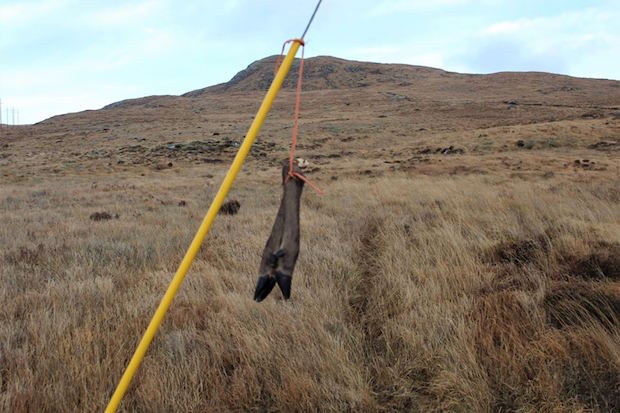 Tags: