Tinney's Oil & Coal in Letterkenny & CPL Fuels are about to launch an exciting giveaway on home fuel tomorrow.
The Bonagee suppliers are giving a free 10kg bag of Supertherm fuel to every customer who buys a Supertherm 40kg on Friday (23th November).
The offer begins at 12noon and runs until stocks last! Make sure to get down to the Tinneys Business Park in Bonagee, off the Port Road in Letterkenny, to bag yourself this hot deal.
The offer is limited to 5 bags per person while stocks last. Strictly exyard yard offer only.
For details on how to WIN 5 free bags check out our Facebook competition here: www.facebook.com/donegaldaily
Supertherm is Ireland's fastest growing low smoke solid fuel. It's perfect for use on open fires and glass fronted stoves. Supertherm combines all the traditional qualities of a real fire, is slow burning, easy to control and produces 80% less smoke and 20% less CO2 than house coal.
Pink is the new black at Tinneys Fuels & CPL Fuels this month, where they are supporting the Irish Cancer Society with limited edition pink coloured 20kg Supertherm bags. When you buy a bag of the special PINK 20kg Supertherm not only will it help keep you warm this winter but you will also be contributing towards a great cause.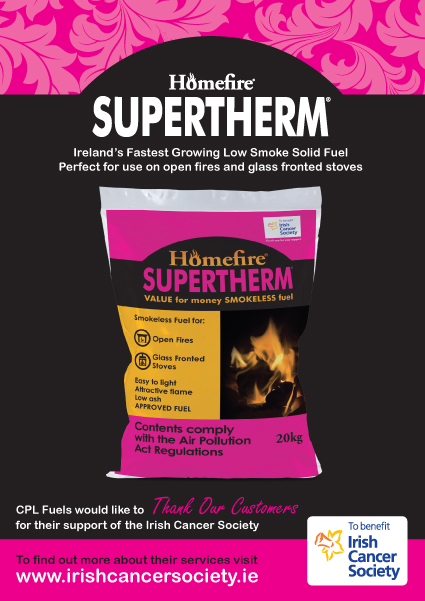 Why Choose Supertherm?
Great Performance
Independent tests show that Supertherm® produces more sustained heat output and lasts significantly longer than house coal.  So whilst a bag of Supertherm® may cost more than house coal, you will use less to heat your home.
Outstanding Quality
Supertherm® is manufactured to strict quality control standards, using best quality bituminous coal and anthracite. Because Supertherm® is a manufactured fuel, consumers are guaranteed a consistent quality product with every bag and Supertherm® is readily available with no unpredictable interruptions in production.  The same cannot always be said of house coal which often varies in quality and burning efficiency from load to load.
Better for the Environment
Supertherm® produces 80% less smoke and 20% less CO2 than house coal and is approved for use in smoke control zones.
Don't forget to enter the Donegal Daily Supertherm giveaway at:  www.facebook.com/donegaldaily
For more products and offers check out the Tinneys Oil & Coal Facebook page here: www.facebook.com/Tinneys-Oil-Coal…
Tags: