Bonagee United unravelled right after getting themselves back into this FAI Intermediate Cup tie at Dry Arch Park.
Bonagee United 1 Midleton 4
By Chris McNulty at Dry Arch Park . Photos by Joe Boland, North West News Pix
Goals by James Leahy and Adam Wilson had Midleton in command before Mark McLaughlin pounced to give Bonagee a 63rd minute lifeline.
McLaughlin tucked into an unguarded net after Ryan Rainey and Garbhan Grant created the opening.
But within 90 seconds, Midleton's two-goal cushion was restored as Ray Lally volleyed home down the other end to stick a knife through the home hopes of making it to the last 16 – and the first round of the 2019 FAI Senior Cup.
Bonagee had missed a couple of chances of their own, but losing the goal at a time when they'd hardly had time to digest McLaughlin's strike was the game's big moment.
With the last action of the game, substitute Conor Fitzgerald added a fourth, chipping John Roulstone after nipping in to intercept a loose back-pass. It left the score lopsided in favour of the Munster Senior League champions, but there were could be few complaints from the natives.
Midleton broke the stalemate just two minutes before half-time,
James McCarthy got the better of Micheal Doherty in front of the stand and his cross was turned home first time by Leahy.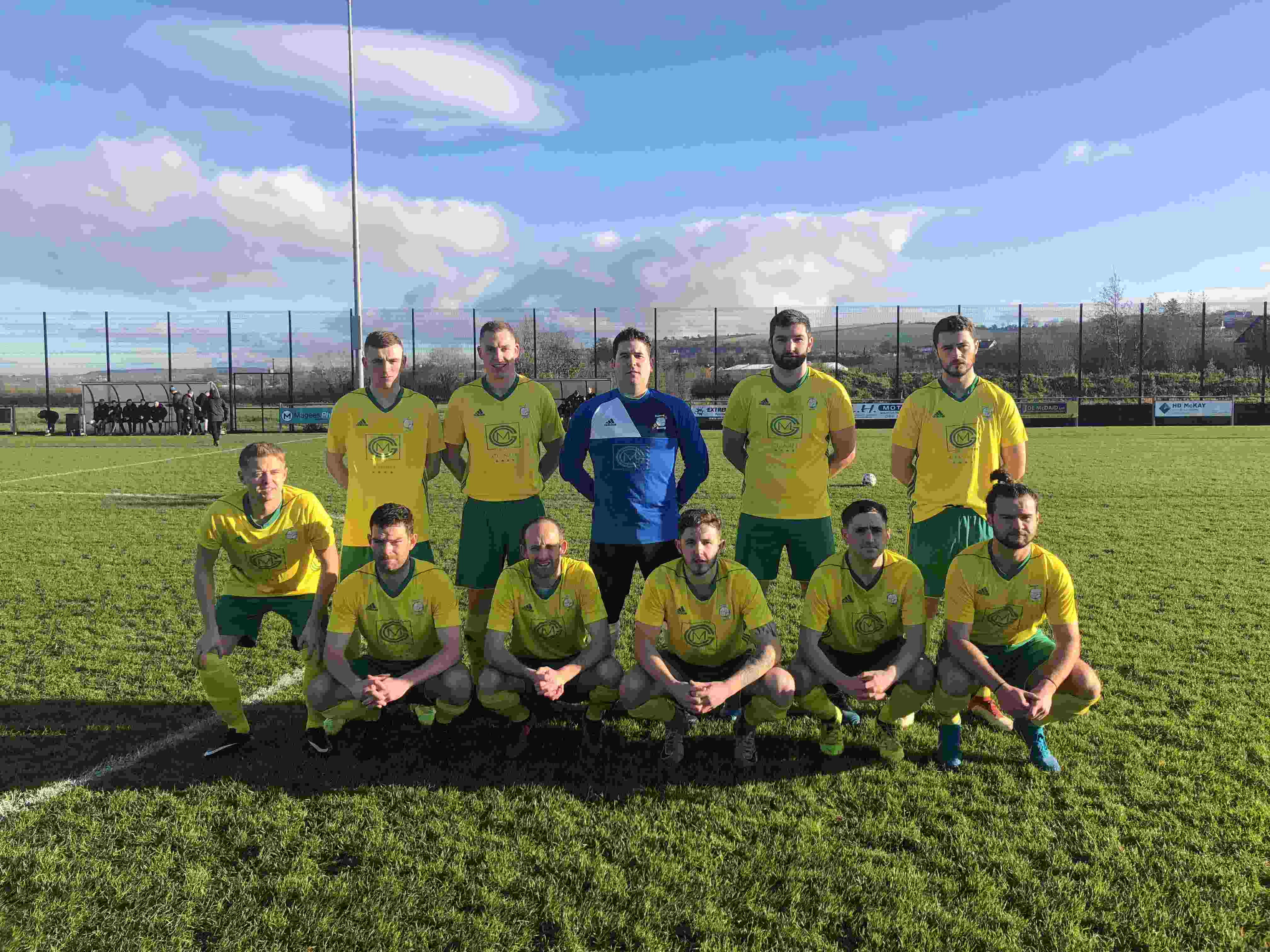 Bonagee had a big chance early in the second half. Rainey's superb pass released Michael Funston, whose low delivery across the area was dealt with by Midleton with a posse of home attackers arriving just a fraction too late.
The game was done and dusted when, just before the hour mark, Wilson burst through the middle, surging in himself with Midleton on a three-v-one break, and found the bottom corner.
Midleton were without Kelvin Krushell and Jake Hegarty, both of whom who were in Donegal with the Munster Senior League for last month's FAI Intermediate Inter-Provincial Tournament.
The absence of Krushell and Hegarty certainly represented a blow to Midleton, who lost to Letterkenny Rovers in each of their previous two visits to Donegal.
When Midleton defeated UCC 2-1 to win the MSL Premier Division in May, Krushell and Hegarty were the goalscorers for Mark Duggan's team.
They fired an early warning the way of Roulstone, who was standing in for the injured Shaun Patton in the home goal.
Tijani Aibor's cut-back was perfect for Kevin Tatton, but hit shot had just a little too much elevation.
When Aibor skipped past the over-committed Gareth Breslin and taken down by the equally over-zealous Sean Hume, there were anxious glances from the hosts as referee Marty Quinn assessed the situation.
Hume was rather fortunate to have spared an early bath by the official and Tatton's free was palmed away by Roulstone.
Just four minutes later later, fearing the former Aberdeen man was on the verge of toppling from the tightrope, Gibson withdrew Hume in an early reshuffle of his pack.
It had been Bonagee – 8-1 winners over Swilly in the previous round – who began the brighter.
Six minutes in, Doherty found himself in on goal, but Midleton goalkeeper Andrew O'Donoghue spread himself well at the feet of the Bonagee attacker to make the save.
It was a chance that felt defining, even at that early point and that notion came to being when Leahy steered home.
An early effort from Funston had called O'Donoghue into action without really troubling the visiting net minder and it would be a similar tone for much of the way with Midleton moving into the next round.
Bonagee United: John Roulstone; Mark Harkin, Sean Hume (Mark McLaughlin 22), Gareth Breslin, Thomas McMonagle; Deano Larkin, Michael Funston, Ryan Rainey, Micheal Doherty; Garbhan Grant (Codey Brogan 77), Darren McFadden (Jordan Armstrong 63).
Midleton:Andrew O'Donoghue; Alan Healy, Kevin Murray, Gary Collins, John Keane; Ray Lally (Seamus Farrell 86), James Leahy, Kevin Tatton, James McCarthy (Cillian Morley 83); Adam Wilson (Emmet Cotter 78), Tijani Aibor (Conor Fitzgerald 90).
Referee: Marty Quinn.