Like a few thousand others, Amy Boyle-Carr had her tickets at the ready with European champions, the Netherlands, in town.
It was April and the Oranje were in Tallaght for a World Cup qualifier against Colin Bell's Republic of Ireland.
Last November, Ireland had drawn 0-0 with the Dutch in Nijmegen; a result that sent the shockwaves rippling.
Boyle-Carr had been with the senior panel for a camp in Portugal in January and kept a place in the panel for the visit of the Netherlands. Boyle-Carr shuddered herself when Bell announced his team and the Glenties native was in.
At just 17, not only did she not need the tickets – those who used them would now be watching her in action.
"It was a bit of a shock to the system," Boyle-Carr says.
"I wasn't expecting to get playing. I wasn't even expecting to be called into that squad. I had my tickets and all for the game to go and watch the team. It was amazing to be a part of that.
"I didn't know what I was doing, but Colin had the trust in me. He believed in me and the team believed in me. That's all I needed. I just had to go out and do my job.
"Playing against them was a big step up. Playing senior international is a step up in itself, but playing Netherlands was something else."
Boyle-Carr is a talented all-rounder.
Earlier in her teenage years, she ran in the blue and white singlet of the Finn Valley Athletic Club.
This year, she doubled-jobbed. As well as playing for Sion Swifts and Ireland she played for the Donegal senior football team and featured as a substitute in the All-Ireland semi-final defeat to Cork.
They were busy times, not to mention the fact that she sat her Leaving Certificate in June.
Soccer, though, is her number one now and she's mulling over her destination and possibilities for the 2019 season at the moment.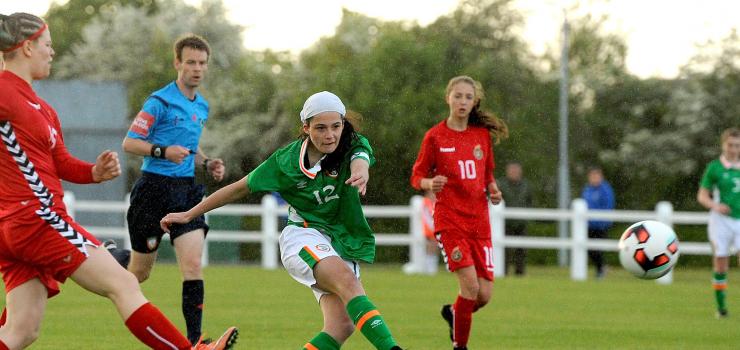 She worked with Bell at under-17 level and the presence of the likes of Tyler Toland, Amber Barrett and Roma McLaughlin in the senior ranks helped the transition.
Boyle-Carr says: "It's been a massive jump from underage. Going from 17s to seniors is a huge difference.
"We worked with Colin for a few months at 17s. Working with him before made it easier because I was familiar with the surroundings.
"I knew Tyler all growing up. I knew of the rest, but hadn't met them. Once I went into camp, they were great."
Boyle-Carr, now a health science and physiology student at IT Sligo, scored for the Irish Under-17s in a qualifier against Ajerbaijan in April, but they didn't make it out of the group.
She says: "We didn't perform as well as we could. We dropped points we shouldn't have against Iceland, but we performed well against Germany. It wasn't enough."
A recent quad injury kept her out of games with the Under-19s, but next April she'll be part of the Under-19 squad that heads to Spain to face Spain, Hungary and Serbia in Elite qualifiers.
At club level, she won the Electric Ireland Challenge Cup with Sion Swifts in 2017. There is a strong Donegal connection in a Sion squad that didn't quite match the same heights in 2018.
Boyle-Carr says: "We were a bit disappointed with the season we had with Sion after last season, but we went into every game last year with no pressure. We felt more pressure this year and that probably affected us."
Tags: