The Donegal Railway Heritage Centre has acquired a something a little bit special that for all train enthusiasts and lovers of railway travel art.
Just in time for Christmas, the group has got their hands on copies of the most famous Donegal Railway travel poster ever produced, in fantastic detail, in its original "B1" size in glorious colour.
The poster features many landmarks from Donegal including Donegal Castle (Donegal Castle, Barnsmore Gap, Killybegs, the cliffs of Slieve League, Lough Eske, Glencolumbkille as well as a nice view of Derry City.
Niall McCaughan, Manager at the Museum stated: "When I first started at the museum, one of the things that caught my eye was the beautiful Donegal Railway poster produced in 1910.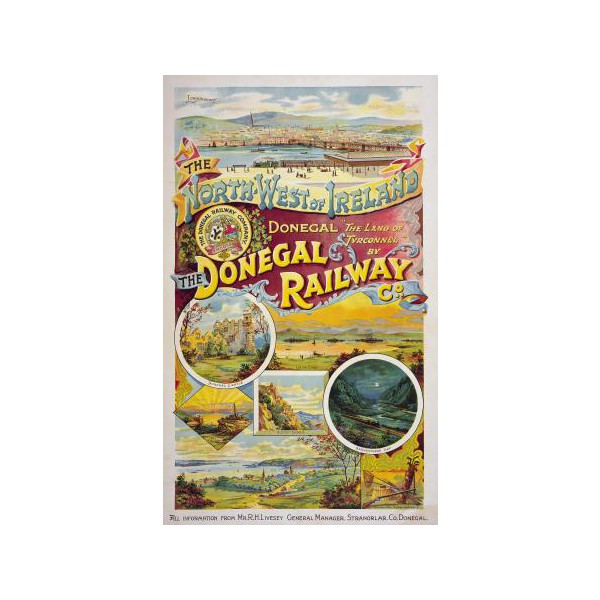 "Around the turn of the 20th Century, the railway companies across Ireland commissioned some of the most famous artists in Ireland to design exquisite "travel posters" in order to promote these regions.
"These posters were mainly were made up of a collage of well-known landmarks from that region. They were a tourist poster and were used to entice people to visit, and in doing so use the rail network to get there!
"It's taken a while, but we have been able to acquire and reproduce a high-quality copy in its original size; it is certainly very eye-catching. The poster presently is available through the museum directly, but we are hoping to have it available through a variety of bookshops in Donegal and Derry.
It is worth also noting that several of our publications including "Though the Hills of Donegal", "Donegal Railway Diary Part 1 1954-1955", "Londonderry and Lough Swilly Railway" and "Drumboe The Donegal Engine" are now for the first time also available in various bookstores across the North West.
Tags: