As James Carroll led the packed Magheragallon clubhouse in a familiar chorus, his mind wandered a little.
It felt fitting that it was Carroll who had the mic.
"Céad slán ag sléibhte maorgaa Chondae Dhún na nGall…"
As the words passed from Carroll's lips, he surely knew that timing, indeed, was everything.
After all, but for the decision to return home last summer – after four years in Dubai – he'd have missed all of this.
Carroll, a Donegal SFC winner in 2006, had been in Dubai since September 2013 and, like many of his generation, felt the boat had set sail on the chances to take more silverware behind Errigal.
And the words of Proinsias Ó Maonaigh's Gleanntáin Ghlas' Ghaoth Dobhairstruck a chord in more ways than one.
"I mo dhiaidh bhí Gleanntáin Ghlas' Ghaoth Dobhair,is beag nár bhris mo chroí…"
It was with an ache in his own heart that he bid farewell in the autumn of 2013 – a time when days like this weren't even a dream.
In their wildest of dreams, Gaoth Dobhair had never countenanced the very thought of winning an Ulster title.
On Sunday, Carroll mentioned a telling contribution off the bench as Gaoth Dobhair pipped Scotstown in the Ulster final.
Carroll recited a few names, mentioning Danny Curran, Sean McGarvey, Ciaran Ferry, Jonathan Harkin, Eoin Ward and Jamie Reynolds as he reflected in the afterglow of the win.
"You feel for those boys that they're not here to experience this," Carroll said.
Four years away had taught him a lot about valuing home.
You could see what it meant to Carroll on Sunday.
He said: "It's unreal. I suppose you go from being sickened about not getting out of groups, losing semi-finals, to being the best team in Ulster."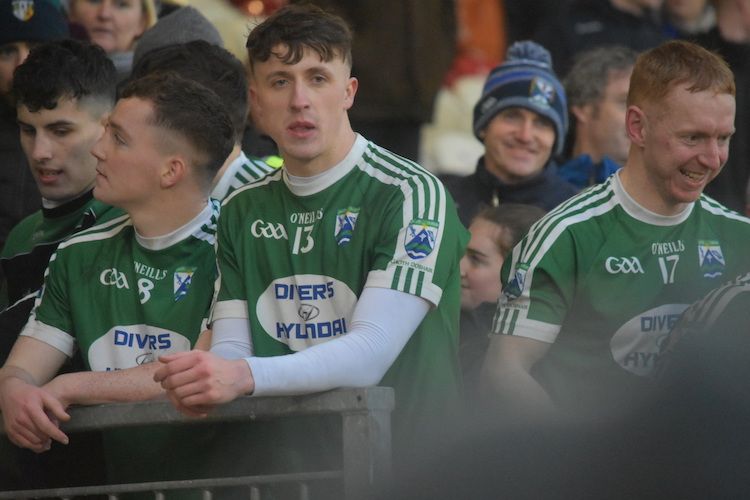 Carroll had been around in 2016, when Gaoth Dobhair lost to Crossmaglen, a week after defeating St Eunan's in the Donegal final. James Gallagher, their captain, and Stephen Cassidy, the goalscorer in the '06 county final, were both absent and Gaoth Dobhair were left to wonder.
Carroll recalled: "We took the feet off the gas and there was a lot of regret after Cross. The focus came back quick this year and it was different."
Dan McBride was there, too, in 2006, but had been plagued by injuries and was toiling with the reserves for a time.
Knee and back issues meant McBride's senior career looked done, but he was in from the off in Sunday's Ulster final; his comeback completed for sure.
Another schooled in the class of 2006 was corner-back Christopher McFadden.
'Ginger' was another who spent some time away having lived in Australia for a couple of years.
McFadden had been honing his golf and was a short spell in the reserves, too, but has come back with a bang.
"It's unbelievable," McFadden beamed on Sunday.
"It's the clubs greatest hours. There were great teams in the 50s and the 60s, before my time. This is a new era now and these fellas coming through just don't give up.
"The legs were gone after 60, never mind 80. Listen, what an effort by the boys.
"For the young fellas, it was no bother, but it was tough on our legs. I was out on my feet. We stuck at it and we got what we wanted."
So engrossed was Carroll in the plays of the game, he didn't realise until afterwards that Gaoth Dobhair trailed for a time by three points in the second half.
Not once did Gaoth Dobhair waver from their game plan.
Carroll said: "I'm only realising now that we were three down. We did well to get back into it.
"We have our way of playing. There was no point changing anything drastic.
"We know we're good at what we're doing. We did miss three or four on the bounce, but there was no point in trying to send ball in and maybe it coming out again straight away."
Two years ago, Kevin Cassidy retired after Gaoth Dobhair suffered one painful defeat too many in the Championship.
Cassidy has been resurrected and reborn at full-forward this year.
"We just went game-by-game and got men back fighting for the jersey," Cassidy said.
"It means everything. Absolutely everything."
Glad you came out of retirement, Kevin?
"By God I am!"
All of them, for their own reasons, with very different emotions as 'ghluais siadsan thart le loch Dhún Lúich' and back to Gleanntáin Ghlas' Ghaoth Dobhair – as kings of Ulster.
Tags: