The staff of Donegal Youth Service are wishing for a 'Miracle on 16-18 Port Road' as they campaign to buy their Letterkenny headquarters. 
The DYS has set out to buy 'La Scala House' and are seeking support from the community to help them reach their fundraising target.
The DYS want to maintain their open presence in the heart of Letterkenny and expand their services to the ground floor for better accessibility. They are appealing for donations to make the dream a reality. In a newly-released video, the team have called on a very powerful man in red to grant them a Christmas miracle.
This fun video aims to highlight the work of DYS and share a serious message – they want to save their headquarters and to avoid the building changing hands to an unknown owner.
Lorraine Thompson, DYS Regional Director said "If Donegal Youth Service are successful in buying the building, it will be a community asset for this generation and for generations to come.  Our door is always open to young people, and a permanent base in the heart of Letterkenny would give security and stability for all of the young people of Donegal."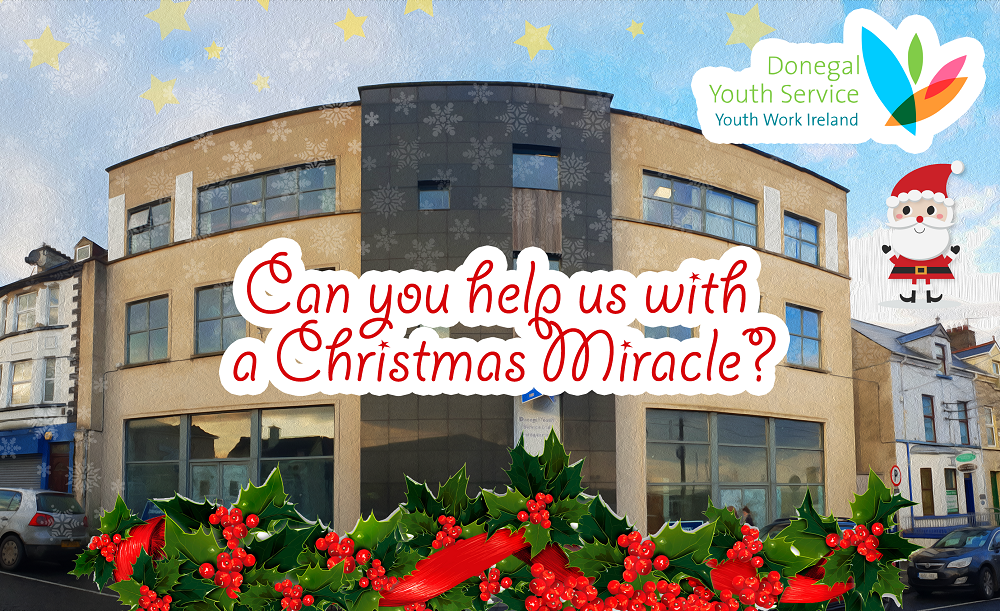 "We are concerned for our future.  We are concerned about rent hikes, and we will be at the mercy of any future landlords.  A permanent space would mean we can expand, and that we can continue to grow to meet demand.  To always be where young people expect us to be in the town. When we buy the building we will open a more accessible ground floor unit.
"A donation towards the building is a donation that will stay in our community.  It will benefit generations of young people in Donegal. It will benefit all of us.  Together we can make a difference and do something great," said Ms Thompson.
More than €2,500 has been raised by donators so far.
The DYS is appealing for donations to their online campaign on www.gofundme.com/help-us-buy-the-dys-building or through facebook.com/donegalyouthservice or on the website via PayPal www.donegalyouthservice.ie/donate or in person, or by cheque to 16-18 Port Road Letterkenny.
Tags: