Cody Walsh scored twice to earn Donegal Women's League a draw with Inishowen in Saturday's FAI U15 Inter-League Gaynor Cup qualifier.  
Inishowen ladies League 2-2 Donegal Women's League
On 8 minutes Brenda Carr's through ball found Codie Walsh only for het shot to be straight at Hollie Ferguson in the Inishowen net.
On 12 minutes Lucy Canning's good corner delivery came right across the goal but the Donegal girls couldn't get on the end of it.
A similar corner a few mins later by Canning caused danger, but Niamh Sweeney's shot skipped past the post.
On 17 minutes, Inishowen's Emma Devlin kept her composure and slotted home the opening goal of the game.
Donegal regrouped with Erin Doherty breaking through the middle with the long range shot just over.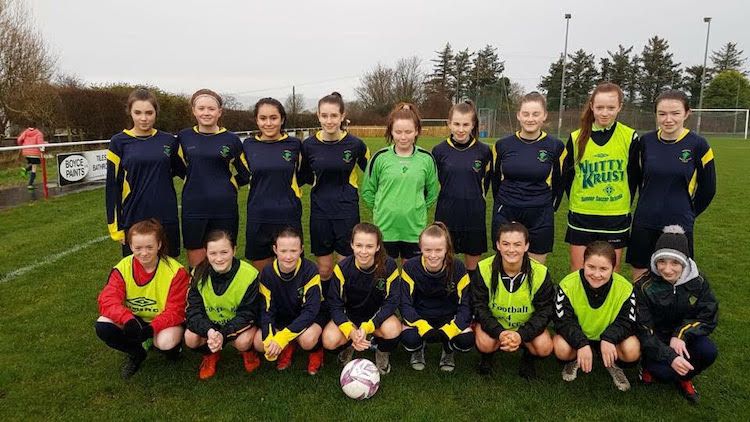 On 22 minutes Donegal equalised. Shania McMonagle's ball over the top caught out the back line of Inishowen and Codie Walsh calmly slotted past the advancing keeper.
At the very start of second half Emma Devlin was through, but Donegal's Jodie McFadden stood her ground and saved it and kept it 1-1.
Shortly after that Inishown's Ellie Long had a shot on goal but once again Jodie saved it and knock it on to the post before the danger was cleared by Erika Gallagher.
Inishowen's Keri Loughrey linked up with Ellie Ling in the middle and played lovely 1-2 passing for Keri to cross it to find Emma Devlin. Devlin scored, as the best effort of the fingertips of McFadden couldn't keep the ball out.
However, three minutes later Donegal's Rebecca McColgan found Walsh with a long ball and she tucked home the equaliser
Inishowen Ladies League: Hollie Ferguson, Katherine Doherty, Chaylee Greene, Aoibheann Doherty, Kate McCallion, Cliona Doherty, Emma Doherty, Ellen Ruddy, Sophie Murphy, Ellie long, Emma Devlin. Subs: Keri Loughrey, Lorrine Greene, Ella McGonagle, Fiona Doherty, Erin Mullan, Alannah Brennan.
Donegal Women's League: Jodie McFadden, Lucy Canning, Shania McMonagle, Rebecca McColgan (Caitlin Hume 60), Erika Gallagher, Brenda Carr (Hannah Hopkins 45) Cora McBride (Aoife Sweeney 35, Emily Irwin 50) Erin Doherty, Aobha Ni Aragain (Gabrielle O'Donnell 55), Niamh Sweeney (Nicole McDaid 45) Codie Walsh. Subs not used: Eimear Connolly, Heather McLaughlin, Ellie Duffy