Away from the battles for honours and trophies, Declan Bonner has one aim for Donegal in 2019: 'We just want to be better'.
Bonner is thirsty for success and an obvious target will be to retain the Ulster SFC crown that was captured this summer.
Much of the talk in the off-season centred around the Donegal backroom team, with the addition of former Mayo manager Stephen Rochford a big talking point.
The retention of 2012 All-Ireland winner Karl Lacey, who initially looked set to leave the set-up, proved another decision that garnered a lot of headlines.
In the Dr McKenna Cup and the League – with Donegal operating in Division 2 – Bonner will attempt to unearth some new blood by giving several youngsters a go.
2018 might have seen the Anglo Celt return to Donegal, after a four-year absence, but Bonner wasn't as fulfilled as he'd have liked in his first year back in a role he held for three campaigns from 1997-2000.
"We have room for improvement," the Lettermacaward man says.
"We've got to be better at it. We want to improve how we're trying to play and we're working hard towards that.
"If we can get some extra games, like by reaching the semi-finals of the McKenna Cup, then we'll take those to get us to another gear."
Bonner admits that the 'Super 8' defeat at the hands of Tyrone in August, when Donegal let go of a four-point lead, 'took a lot out of us'.
The environment in which he now works is unrecognisable from his previous tenure when the century was turning.
"It's a demanding job, but I knew that before I came into it," he says.
"You have so many in the backroom team now and the whole thing takes up a lot of time. Is it enjoyable? Yeah, when you're winning and you can see improvement and the thing evolving.
"There are down sides from defeats and Tyrone took a lot out of us. You just have to get back at it fairly quickly and we want to be better now when we get back."
The shackles, in many ways, were loosened from Donegal in 2018 and Bonner stuck to his word by playing a more open brand of football.
Between McKenna Cup, League and Championship, Donegal scored 23 goals and 294 points in 2018 – a total of 363 points. But the flip-side of that was the 16 goals and 262 points (310) they shipped at the other end.
The differences are thinner still in comparing the League and Championship totals, with just 20 points between the for and against. In the 14 games between those competitions, Donegal scored 15-216 (261) with the other side of the ledger showing 14-199 (241) conceded.
"The game is evolving all the time and it's moving at such pace," says Bonner.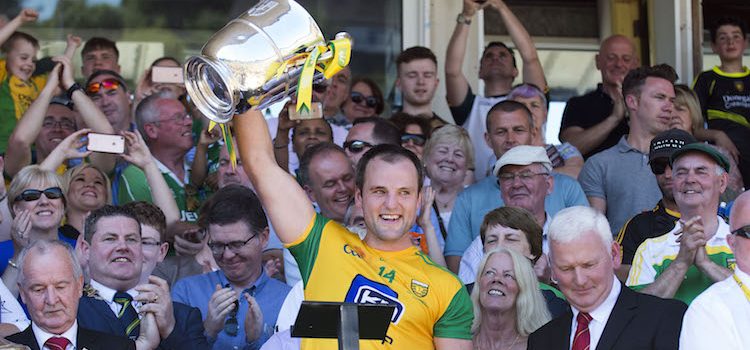 "We evolved last year and we put up big scores, but we're trying to work on the whole package now, between retaining our scoring and improving our concession rate.
"That's part of the challenge for us as coaches and that's exciting when you're working on things like that."
Bonner recently hit out at the new rules that are being trialled during pre-season competitions like the McKenna Cup. The Donegal manager believes they have succeeded only in slowing the game down – the exact opposite of what had been intended.
Indeed, Bonner believes that the whole game had begun to turn a corner.
"From the top teams, you can clearly see it has become more positive," he says.
"People compare hurling and football all the time, but that's unfair. The two games shouldn't be compared. They're completely different sports and in one you can get 100 metres up the field with one puck of the ball.
"In football, the top seven or eight teams have all gone out and opened up their game. Teams have realised that 15 men behind the ball won't win a lot of matches now."
That was something that derived largely from a blueprint that Jim McGuinness armed Donegal with in 2011 and 2012, but Bonner is at pains to note: 'People forget how good Donegal were, offensively, in 2012'.
He says: "It was a shock to the system with what Donegal came with. They won the All-Ireland and teams, club and county, and underage, have copied it. Or, at least, they've tried to. A lot of them were getting the bodies behind the ball, but so many of them forgot to play the ball right when they had it.
"When Jim came in, Donegal were leaking a lot of scores, so he worked on the defensive aspect first and foremost. He got Donegal difficult to play against.
"In 2012, Donegal actually opened up and it worked a treat.
"Now, the game is so fast paced and teams realise that to outscore the opposition you have to work on the scores."
The returns of the likes of Michael Murphy, Frank McGlynn, Ryan McHugh and the Gaoth Dobhair contingent, including Odhran Mac Niallais and Neil McGee, are to be staggered between January and May – when Donegal face Fermanagh in their opening Ulster SFC game.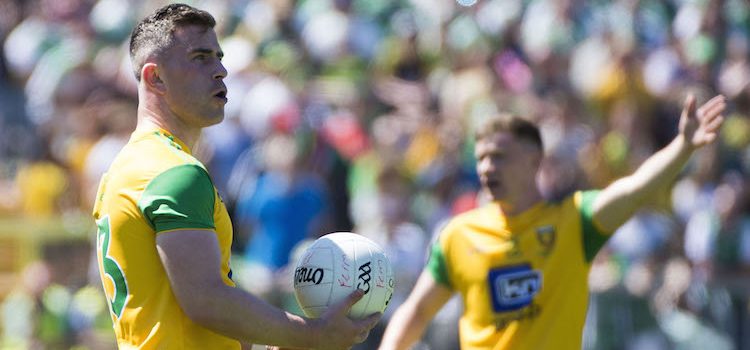 Patrick McBrearty, currently rehabbing after knee surgery, could be in the frame by then, too.
"We want to and need to be ready for the end of May," Bonner says. "Everything leads to that and, at the end of the day, we'll be judged on the Championship. We have a lot to do between now and then – a lot of work and a lot of improving.
"It can be exciting, no doubt. We want to defend the Ulster title and get to the Super 8s.
"We want Donegal at the top table. We want to get better and, ultimately, we want to be dining at the top table with the top teams – and beating them."
Tags: